Novena for the gift of prayer to St. Charles de Foucauld
Pray this novena of prayer to St. Charles de Foucauld for the gift of a deeper interior contemplative prayer. The novena asks for a gift to find the inner room that JESUS has promised.
Click Join (on the right if on your computer or above if on your phone) to pray with Brother Samuel Mary every Sunday!
This Novena
Join us during 9 days with this Novena after Charles de Foucauld's canonisation on 15 May 2022. Discover his spirituality, learn from his writings, and become a saint yourself!
Everyday you will receive:
a Reading from the Bible 📖
a quote from Bl. Charles 📕 
a short meditation 🕯️
a Prayer 🙏
His spirituality: 
Invites us to discover the traces of the infinite in the ordinary.
At the heart of Charles' way of prayer was a deeply eucharistic spirituality. He saw in the gift of Jesus' body and blood the sign of God's abiding presence among us, a love capable of healing and saving our broken humanity and the image of his own way of presence to others. Being fed from the table of the Gospel the Word of God we understand our hunger.
His belief in this double presence -presence to God and presence to others – was a unifying and healing factor in his life. The real presence of Jesus in the sacrament of the Word, the real presence of Jesus in the Sacrament of the Eucharist, and the real presence of Jesus in the sacrament of the other, especially the poor and those at the margins of society.
Charles lived this out in Algeria, which played such an instrumental part in his conversion, and among the Tuareg people. He saw his way of presence and friendship, as well as his life of prayer, as his mission and thought of himself. He understood that it was not a time for conversions and felt that his life could be about creating bonds of understanding and respect with these people.
Charles was killed Dec.1, 1916. He died alone without any followers, looking like a complete failure.
The weakness of human means is a source of strength. Jesus is the Master of the Impossible.
Charles had no followers at the time of his death and would have remained virtually unknown had it not been for a biography published a few years after his death by Rene Bazin.
 + Today there are 20 recognized groups counting 13,000 members in the world. New communities continue to be founded as more discover the life and charism of St Charles of Jesus.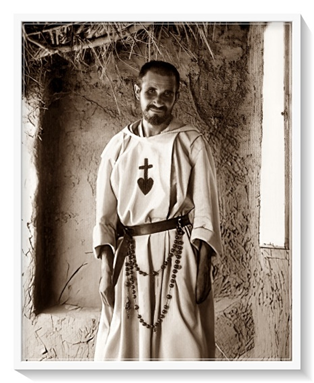 Our novena calls us to deeper daily life with Jesus, living in the Nazareth of our homes and world.
We never have to leave where we are to cry the Gospel with our lives.
Faith invites us to discover the traces of the infinite in the ordinary-ness that often appears as an unbearable burden.
Two things follow from this:
First, it is necessary "to overcome the evident closeness of the seemingly endless world of the ordinary and to understand everything that is given as an unconditional gift, i.e., as creation," so that even the simplest things and everyday relationships "can become an occasion for trust in the giver of all gifts."
Secondly, however, it is important to recognize God's call and his task in the givenness of the ordinary. Precisely because the everyday world is the world we share in common, in which I am bound to and am intertwined with others in a way that is in a certain sense predetermined, we must take responsibility for one another, practice solidarity, walk with one another along the path toward the improvement of our everyday relationships, and keep our eyes open for the "great hope" that is promised us. We must cry the Gospel with our lives.
USA website:
Buy Charles de Foucaulds Biography:
https://www.amazon.com/St-Charles-Foucauld-Journey-Tamanrasset/dp/B09K19VHBQ
Prayer from the novena
The Prayer of Abandonment
Father, I abandon myself into your hands; do with me what you will. Whatever you may do, I thank you: I am ready for all, I accept all. Let only your will be done in me, and in all your creatures - I wish no more than this, O Lord. Into your hands I commend my soul: I offer it to you with all the love of my heart, for I love you, Lord, and so need to give myself, to surrender myself into your hands without reserve, and with boundless confidence, for you are my Father. Charles de Foucauld 1858-1916
Pray now for this novena by clicking on "Pray"