May our fathers be compliant – Joseph most obedient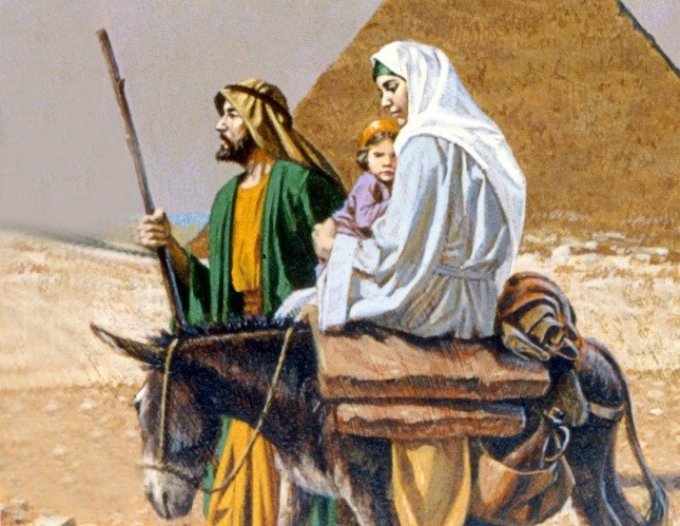 Faith and obedience are intensely shining virtues in St. Joseph's soul, as well as Mary's. Joseph, the man of God's will, displayed obedience thrice: first, when the angel told him not to fear to take Mary, his wife, into his house (cf. Mt.1,20-24). Then, when the angel woke him up in the middle of the night, commanding him to flee without delay into Egypt (cf. Mt. 2,13-15), and finally, when the angel ordered him to come back to the land of Israel (Mt. 2,19-21). St. Joseph allows God to lead him like a child, without even a muttering. Joseph is a just and generous man, ready to all sacrifices, ignoring all counsels of human prudence to obey God's orders instead. For Joseph, serving God is paramount and above all. Showing obedience is to subject one's life to God's good will.
(source: http://site-catholique.fr/index.php?post/Saint-Joseph-selon-Abbe-Paul)
Today, let us ask the Lord that the fathers may be strong enough to lay every action and every saying within their home under the eyes of God. In a world where we think we're in control, where our knowledge seems without limits, may they not rebel in face of the injustice of unemployment, suffering, or loss of a child. May they know that their place is in God's hand, may they keep the soul of a child, a child who dares ask God everything in his prayer to his Heavenly Father, as nothing is impossible to God. May they have the understanding and the wisdom to discern the gift of God among the trials of family life, and may they remember to give thanks in better days.
Lectio divina: Mt. 5,3-12 (NABRE)
Blessed are the poor in spirit, for theirs is the kingdom of heaven.
Blessed are they who mourn, for they will be comforted.
Blessed are the meek, for they will inherit the land.
Blessed are they who hunger and thirst for righteousness, for they will be satisfied.
Blessed are the merciful, for they will be shown mercy.
Blessed are the clean of heart, for they will see God.
Blessed are the peacemakers, for they will be called children of God.
Blessed are they who are persecuted for the sake of righteousness, for theirs in the kingdom of heaven.
Blessed are you when they insult you and persecute you and utter every kind of evil against you falsely because of me. Rejoice and be glad, for your reward will be great in heaven. Thus they persecuted the prophets who were before you.
Prayer:
Here's a wonderful prayer, attributed to St. Francis of Assisi. I pray it every morning, and I strongly recommend every dad to do the same!
Lord,
At the dawn of the day, here I come asking for peace, wisdom, strength.
Today, I want to see the world with loving eyes,
Be patient, understanding, gentle, and wise.
See your children, beyond all appearances, as You see them Yourself,
And thus, only seeing the good within everyone.
Close my ears to slander, keep my tongue from all malice,
May only blessing thoughts remain in my spirit.
May I be so benevolent and joyous that all who approach me will feel Your presence,
Clothe me with your gentleness, O Lord, and I shall reveal You all day long.
Practical action:
If I know an unemployed dad, or a dad whose child is sick, a dad who needs to make a choice for his family, a dad who is prey to doubt and discouragement, I pray that this dad decides to place himself under the eyes of God: may the Holy Spirit enlighten his decision-making process. I praise the Lord if this dad can discern the gift of God among life's trials.
Take a moment to treasure up all these things and ponder them in your heart (cf Luke 2,19)
Let your speech always be gracious, seasoned with salt, so that you may know how you ought to answer everyone. Col 4:6