May our fathers be brave – Joseph most courageous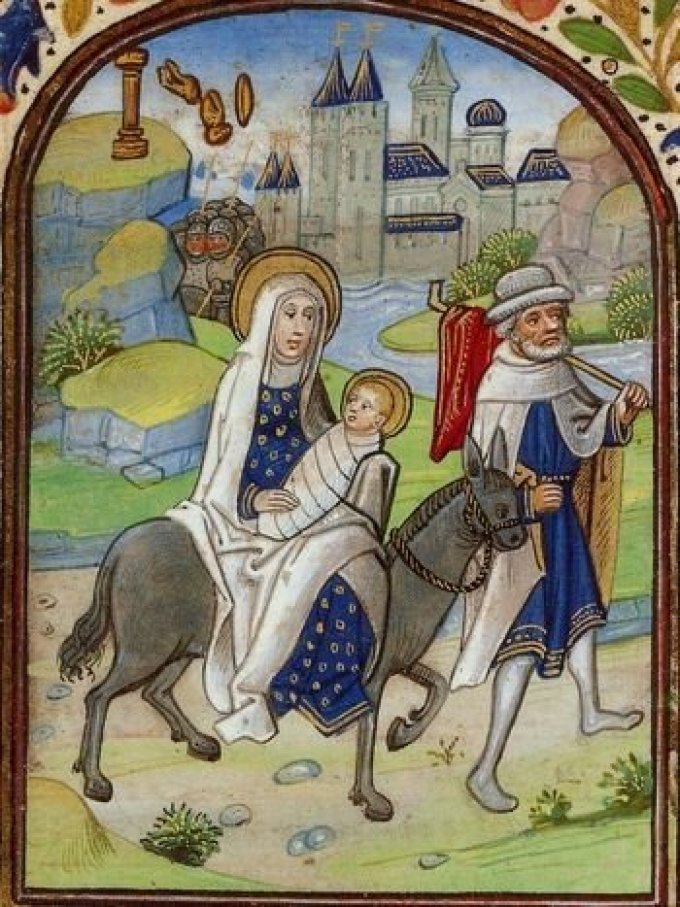 In the middle of the night, the angel of the Lord woke Joseph up: "Rise, take the child and his mother, flee to Egypt, and stay there until I tell you. Herod is going to search for the child to destroy him."
O Lord! What a trial for Joseph's faith! His Son, the Son of the Most High, is threatened by a cruel tyrant who swore his dead. The angel himself seems alarmed of the impending peril. It seems that terror crept into Heaven before spreading on earth. Joseph obeys immediately, in utmost compliance: he takes the Child Jesus in his arms and travels to Egypt with him and Mary.
(Source: http://etoilenotredame.org/actualites/un-mois-avec-saint-joseph-10-mars-2017-l-exil)
Like Joseph, dads are in dire need of courage to face the different ordeals they must go through: unemployment, illness, addiction, hardship, relationship issues within their couple or with their children… May our prayer help them be brave, that is, keep faith and hope during these trying times. The Lord does not send these to punish us, but if He allows them, it is to give us the opportunity to profess our faithfulness to Him in face of adversity. Let us pray so that dads will know that they are always loved by their Father in Heaven!
Lectio divina: Mt 2,13-15;19-23 (NABRE)
When they had departed, behold, the angel of the Lord appeared to Joseph in a dream and said, "Rise, take the child and his mother, flee to Egypt, and stay there until I tell you. Herod is going to search for the child to destroy him". Joseph rose and took the child and his mother by night and departed for Egypt. He stayed there until the death of Herod, that what the Lord had said through the prophet may be fulfilled, "Out of Egypt I called my son."
When Herod had died, behold, the angel of the Lord appeared in a dream to Joseph in Egypt and said, "Rise, take the child and his mother and go to the land of Israel, for those who sought the child's life are dead". He rose, took the child and his mother, and went to the land of Israel. But when he heard that Archelaus was ruling over Judea in place of his father Herod, he was afraid to go back there. And because he had been warned in a dream, he departed for the region of Galilee. He went and dwelt in a town called Nazareth, so that what had been spoken through the prophets might be fulfilled. "He shall be called a Nazarene".
Prayer:
On the sand, the traces of my life (by Adémas de Borros, Brazilian poet)
Tonight, I had a dream: I was walking on the beach, along with the Lord. Traces on the sand stood as evidence of my life: the footprints of the Lord and mine. We were walking toward the end of the journey. Sometimes, there was a single set of prints, it was the trace of harder days, days of angst, of fear, of pain…
I said: "Lord, you told me that you would be with me every day of my life, I agreed to live with you. Why did you abandon me at the worst times?"
He answered: "My son, I told you: I'll be with you all along your journey. I promised to never leave you. Did I abandon you? When you see only one set of prints, it means that this day, I am the one who was carrying you."
Practical action:
Today, I will pray for a dad in the throes of unemployment, of hardship within his couple or his family, of disease or addiction. Whether he is baptized or not, may he always remember that God created him and loved him first, and entrusted to his care a wife and children to bear witness to this love.
If I am a dad, I pray to be brave enough and repel the temptation to give into anger and always cultivate peace in my home.
Take a moment to treasure up all these things and ponder them in your heart (cf Luke 2,19)
Let your speech always be gracious, seasoned with salt, so that you may know how you ought to answer everyone. Col 4:6