Advent retreat 2019 with Padre Pio
Advent retreat 2019 with Padre Pio
Active

Enter into Advent wisdom with Padre Pio and the Franciscans of the Renewal! Receive podcasts paired with inspiring meditations that help you navigate through the themes of this joyful season
Active

Enter into Advent wisdom with Padre Pio and the Franciscans of the Renewal! Receive podcasts paired with inspiring meditations that help you navigate through the themes of this joyful season
From Dec 1 to Dec 25, 2019 - Each Sunday
This year, spend the Advent with Padre Pio!
Let's speak about the themes of this season: hope, longing, expectation, gifts, joy, and more… Let's speak about them with Padre Pio!
Subscribe by clicking on 'I join' and receive:
an audio track from a Fr Joseph Mary (cfr) each Sunday of the Advent,
a praise and worship audio lead by Br Damien Joseph (cfr) once a week,
two quotes from Pio's writings throughout the week,
…and experience the special closeness to God that Padre Pio felt during this joyous season!
In this podcast series, Franciscans Friars of the Renewal from Limerick (Ireland) help us experience God's nearness, as Padre Pio hastens to the God-Child following the star.
Program:
1st Sunday of Advent: Expectantly waiting
2nd Sunday of Advent: Actively seeking Jesus
3rd Sunday of Advent: The joy of the Lord
4th Sunday of Advent: What can we give Jesus for Christmas?
If it's not already part of your life we invite you to pray with the heart at least one decade of the Rosary per day, while meditating on a mystery of the rosary during. For help how to meditate the mysteries please click on this link HERE (written meditations), or HERE (audio meditations).
To pray with us, find our audio decades on those links:
- The Annunciation, lead by Br Seraphim Marie
- The Visitation, lead by Br Seraphim Marie
Under 18, we encourage you to pray at least one Hail Mary per day.
"Some people are so foolish that they think they can go through life without the help of the Blessed Mother" Padre Pio
Enter into Advent wisdom with Padre Pio!
Weekly podcasts are paired with inspiring meditations from Padre Pio that navigate members of this community through the themes of the season. Spending a few moments each day with Saint Pio will help prepare your heart to receive the Saviour.
Join now, it's free! Click on the blue button 'I join' on the top right corner.
"Be close to Jesus." Padre Pio
Who are the Franciscans Friars of the Renewal?
This online retreat is lead by the Franciscans Friars of the Renewal from Limerick.
Learn more about them, through their website.
And visit their Facebook page "Limerick Franciscans".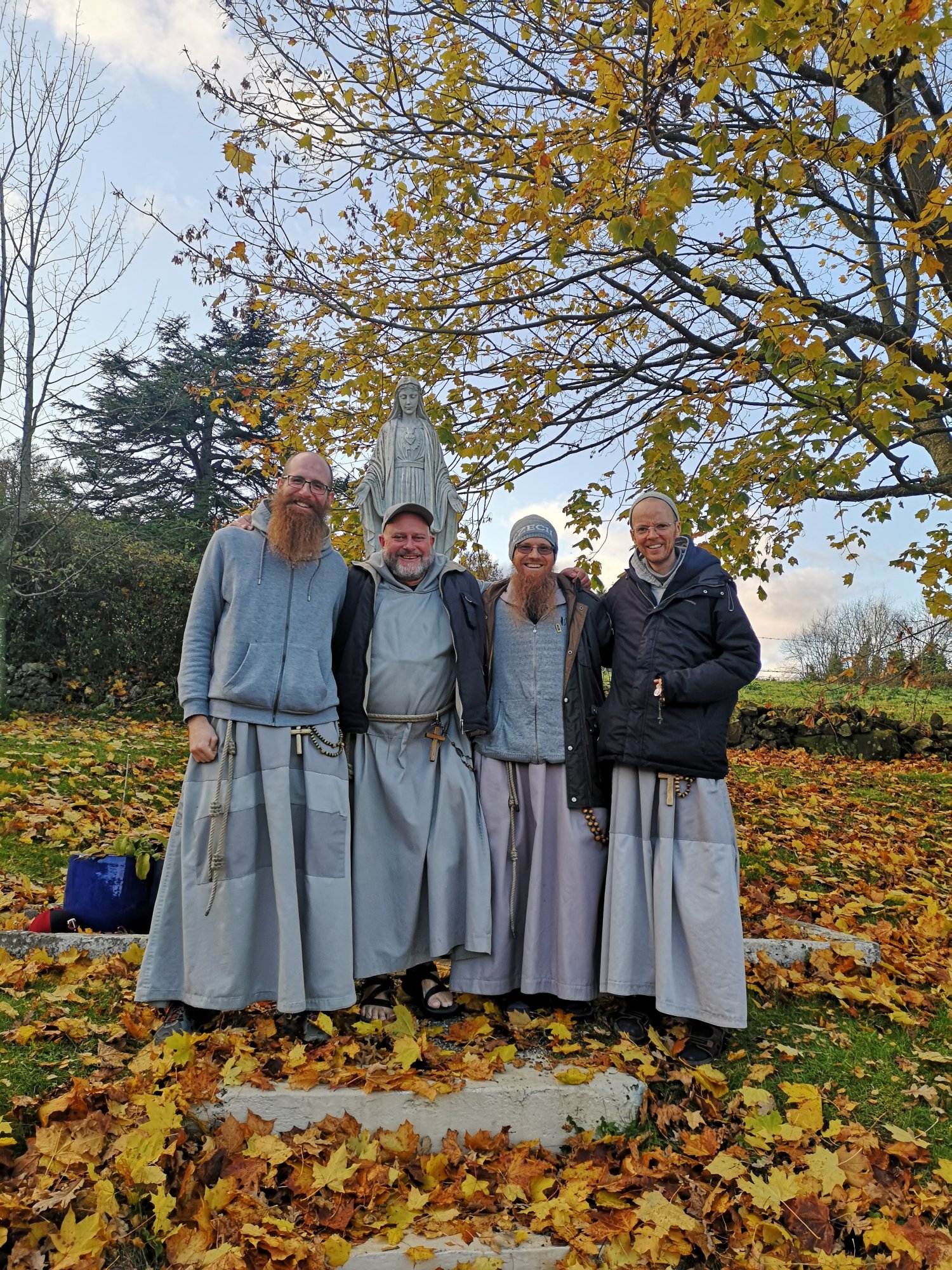 The Franciscan Friars of the Renewal were founded in 1987, in the Archdiocese of New York, when eight American Capuchins desired a form of Franciscan life dedicated specifically to service of the poor and evangelization. Currently, there are about 100 perpetually professed members of the institute serving in 10 dioceses and archdioceses, in six countries, committed to the mission of serving the poor and most vulnerable, and passionately preaching the Gospel in the New Evangelization. The Holy See describes the Institute's charism: "After the manner of St. Francis of Assisi, the friars seek to follow in the footsteps of Jesus, as a prophetic witness that life is a pilgrimage to the Father, of faith, hope, and love of God and neighbour, made possible by the Holy Spirit. They participate in Christ's renewal of all things through their prayer, fraternal life, service of the poor, and evangelization, as a complement to the work of those whose mission is to serve parochially."
Website: www.franciscanfriars.com
St. Padre Pio and St. Mother Teresa had and still have a great influence on the Franciscans Friars of the Renewal.
Community prayer
Our Father
Our Father, who art in heaven, hallowed be thy name. thy kingdom come, thy will be done, on earth as it is in heaven. Give us this day, our daily bread, and forgive us our trespasses as we forgive those who trespass against us. And let us not enter into temptation, but deliver us from evil. Amen
Pray now for this community by clicking on "Pray"