The Discernment of Spirits with Fr. Timothy Gallagher
The Discernment of Spirits with Fr. Timothy Gallagher
Inactive

Fr. Gallagher, along with Kris McGregor of Discerning Hearts, helps us understand St. Ignatius of Loyola's Rules for Discernment as invaluable for our spiritual growth today.
Join for free and every Monday you will receive, until the end of January, a new podcast helping you in discerning God's will for your life. Discover Ignatius's Rules with Fr Timothy Gallagher!

Be guided in the big and small decisions!
St. Ignatius Loyola, founder of the Jesuits, is one of the most influential spiritual leaders of all time, yet many find his Rules for Discernment hard to understand. What can Ignatius teach us about the discernment of spirits that lies at the very heart of Christian life?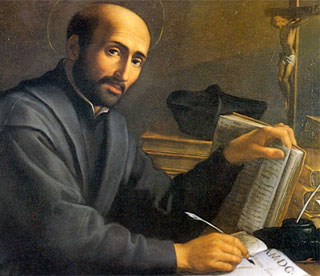 St. Ignatius of Loyola
In this 16 episode podcast series, Fr. Timothy Gallagher, a talented teacher, retreat leader, and scholar, helps us understand the Rules and how their insights are essential for our spiritual growth today. By integrating the Rules and the experience of contemporary people, Fr. Gallagher, along with Kris McGregor of Discerning Hearts, shows the precision, clarity, and insight of Ignatius's Rules, as well as the relevance of his thought for spiritual life today. We discover in his remarkable words our own struggles, joys, and triumphs.
Listen to the Introduction to the series
Through this community, you are welcomed to submit any questions you may have in regards to these teachings
For the other episodes in this series visit Fr. Timothy Gallagher's "Discerning Hearts" page
For more Discerning Hearts spiritual formation programs visit discerninghearts.com
"Discerning Hearts is a trusted resource for Catholic spirituality and teaching. I support it as an apostolate for the new evangelization that brings the Good News to every corner of the world through the internet."
Most Reverend George J. Lucas, Archbishop of Omaha
Discerning Hearts ® became an official non-profit apostolate in 2011. It is dedicated to evangelization and spiritual formation through new media. Discerning Hearts creates engaging multi-media, specializing in audio productions (known as podcasts and radio broadcasts) faithful to the teachings of the Roman Catholic Church and its rich, authentic spiritual tradition. Its mission responds to the Church's call to use the media for evangelization, catechesis, and spiritual renewal.
Community prayer
Suscipe Prayer of St. Ignatius of Loyola
Take, Lord, and receive all my liberty, my memory, my understanding, and my entire will, All I have and call my own. You have given all to me. To you, Lord, I return it. Everything is yours; do with it what you will. Give me only your love and your grace, that is enough for me.
Pray now for this community by clicking on "Pray"