Day 7 - St. Michael, Commander of Heaven's Armies, Strengthen Our Hearts!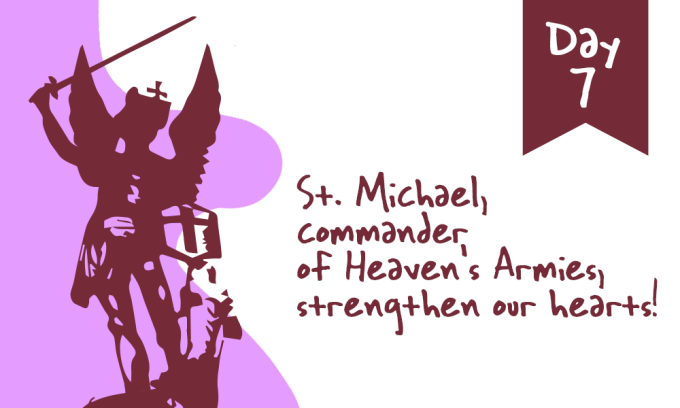 Say 'The Lord's Prayer'
Say three 'Hail Marys'
Say one 'Glory Be'
Prayer of Intercession
O Saint Michael, three times holy Prince of the Sacred Militia,
God made you the commander of the Angelic phalanxes; you are most worthy of every worship, of every praise, of every oration:
Enlighten my inner senses
Strengthen my poor heart, that the storms of life have agitated
Lift my wordly spirit to the heights of celestial wisdom;
Guide my every step, so that I may walk with confidence on the path to Heaven,
and do not let me stray from it;
Heal the wounds of my soul;
Eliminate any trace of suffering that gives rise to woe and misfortune within my heart.
Amen.
Translated from a Prayer by St. Sophronius
Meditation
In today's society, emotions and feelings tend quite often to take over. Reason has become obsolete, and flexible spirits are seen as outdated. Engagements have become meaningless, and abandonment is guaranteed if ever there is the slightest bit of a setback, the slightest amount of effort to provide concerning trust in faith.
"Be alert and of sober mind. Your enemy the devil prowls around like a roaring lion looking for someone to devour. Resist him, standing firm in the faith" (1 Peter 5: 8-9). As you'll notice, troubled waters and inner unrest make for the devil's favorite places. Clarity destabilizes him, truth crushes him, humility throws him off, self-abandonment and reconciliation with the divine mercy angers him!
The more prideful you are... the higher your fall.
There are two instances in the Gospel of Matthew when Jesus Christ opens the path of truth to us: being a disciple means accomplishing 'the Lord's will' everywhere and above all. This is the secret of the oil that burns in the wise virgin's lamps, of the house built on the rock. To do otherwise means to expect to hear this from Christ: "I don't know you, I never knew you" (Matthew 25:10 and 7:23).
We are indeed talking about splitting ourselves from our own will, about entrusting ourselves to the truth of the Son, who entrusted Himself to the will of the Father. Let us not forget that walking the Stations of the Cross is done through the grace received by the Cross. While seemingly satisfying, you will find that choosing to follow your own path is fruitless, if not filled with traps... As long as you resist choosing good, evil will still have power over you. What is suffering, if not to 'untwist' what has been 'twisted'?
Christians must lean on the Cross of Christ just as travelers lean on a staff when they begin a long journey - St. Antony of Padua
Take a moment to treasure up all these things and ponder them in your heart (cf Luke 2,19)
5 comments
Let your speech always be gracious, seasoned with salt, so that you may know how you ought to answer everyone. Col 4:6