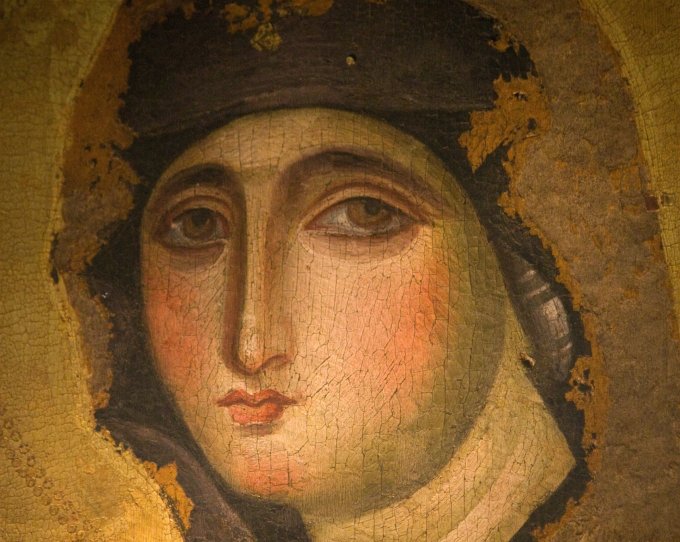 The most exalted title of Mary is Mater, Mother. For it is on account of her divine Motherhood, her unique vocation to become Mother of Jesus Christ, the Word made flesh, that she is endowed with unique graces, and that she is possessed of great joy. Amazingly, in his last will and testament, while hanging on the Cross, Jesus gave his most precious earthly treasure to his beloved disciple – he entrusted his mother Mary to St John. However the Gospel deliberately does not name the disciple. It is written in John 19:26-27:
When Jesus saw his mother, and the disciple whom he loved standing near, he said to his mother, "Woman, behold, your son!" Then he said to the disciple, "Behold, your mother!" And from that hour the disciple took her to his own home.
Each of us, at the moment of our baptism, have become beloved disciples. For indeed, we have been made co-heirs with Christ, and so, just as the Father declared at the Lord's baptism in the Jordan, "This is my beloved Son", so too, by sacramental grace, the Father claims us as his own; we belong to him, and we are each his beloved children through baptism.
Therefore, to each of us, who have been called to be beloved disciples of Jesus Christ, Jesus has entrusted his mother to us. Let us, therefore, take her into our own home, that is to say, into the intimacy of our hearts, and let us share our lives with Mary. Moreover, Christ has given Mary to us as our mother so that she can care for us, protect the life of baptismal grace within us, and show us how to be like her, a perfect disciple of God.
Often we can feel the weight of our baptismal vocation. "Be perfect as your heavenly father is perfect" (Mt 5:48), says Jesus. And we know well our imperfections and our many flaws and sins. But let our awareness of our human frailty and sinfulness not rob us of our joy. Mary is thus Mater misericordiæ, the Mother of Mercy because she constantly extends to us the loving face of God's mercy; she turns her eyes of mercy towards us whenever we call upon her in our need so that we might have the graces of repentance and conversion of life.
Pope Francis has said in 'Misericordiæ Vultus' that "Jesus Christ is the face of the Father's mercy." However, Jesus took his facial features from Mary, so when we look upon Mary's face, we see in some sense the face of her Son, and so we look upon the face of Mercy itself. Hence Mary is fittingly called the Mother of Mercy – not just because she is merciful and compassionate and kind towards us, her wayward children, but more significantly because she is truly the One who has borne Mercy in her own womb. For as Pope Francis says, "Mercy [is] the bridge that connects God and man, opening our hearts to the hope of being loved forever despite our sinfulness."
So, when we call upon Our Lady as Mother of Mercy, we reach out for the tender love of God, and we recall that in his great compassion and mercy for sinners, Christ willed to become Man for us and to die for us, and that he pours our his saving graces upon us through the Sacraments of the Church, who is also like a merciful Mother to us. For God has reached out for us in the person of Jesus Christ! The uncreated Creator of all things has a Mother because mercy impels him to become a baby in Mary's womb, and so he shares her face, her smile, her tender eyes of mercy. As we dedicate ourselves anew to Mary, our Mother, let us experience the joy of God's mercy whom she has brought to birth in this, our broken world. Hence Pope Francis says:
May the sweetness of her countenance watch over us... so that all of us may rediscover the joy of God's tenderness.
Let us, therefore, pray with joy to Mary, our Mother of Mercy, resolving to be her true children!
Take a moment to treasure up all these things and ponder them in your heart (cf Luke 2,19)
Let your speech always be gracious, seasoned with salt, so that you may know how you ought to answer everyone. Col 4:6