Sunday: the Glorious Mysteries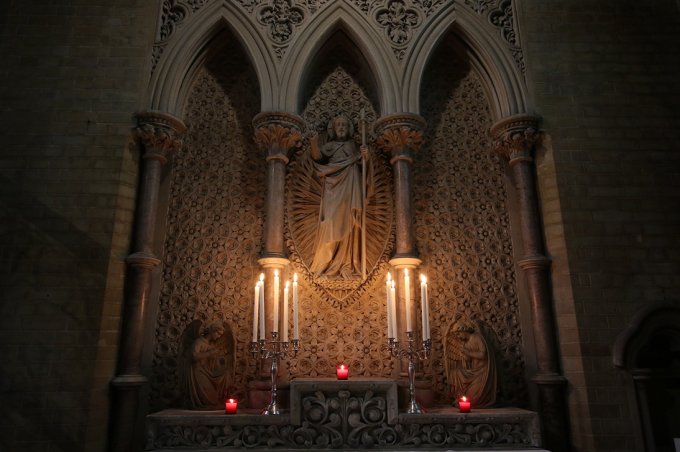 Sunday is the weekly commemoration of the Resurrection of Christ, and our focus is on the Glorious Mysteries of the Holy Rosary. To help your contemplative praying of the First Glorious Mystery, use the photo here, which was taken in the Resurrection chapel in the Rosary Shrine in London – one of the fifteen Rosary Altars and Chapels in this church built by the Dominican friars in 1883 – and then consider:
As the glorified Jesus rose from the tomb on that Easter morning, He brought life and hope to all new beginnings. He is the source of strength and inspiration for all who work for the good of others, and He blessed those who witness to the Truth. (Rosary reflection from the Dominican Nuns of Corpus Christi Monastery in Menlo Park, California, USA)
Hold in your hearts all those who need the strength and inspiration that flows from the Risen Lord Jesus. This Sunday we remember especially all the victims of the COVID-19 "Coronavirus"; health workers; and the Church in Hong Kong and Singapore where public Masses and gatherings have been suspended indefinitely because of fear of infection. We pray also for the Church in Nigeria where another priest has been kidnapped. And we pray for those who have asked for our prayers, and especially for the most forgotten souls.
Pray: 1 Our Father, 10 Hail Mary's, and 1 Glory Be.
Take a moment to treasure up all these things and ponder them in your heart (cf Luke 2,19)
Let your speech always be gracious, seasoned with salt, so that you may know how you ought to answer everyone. Col 4:6