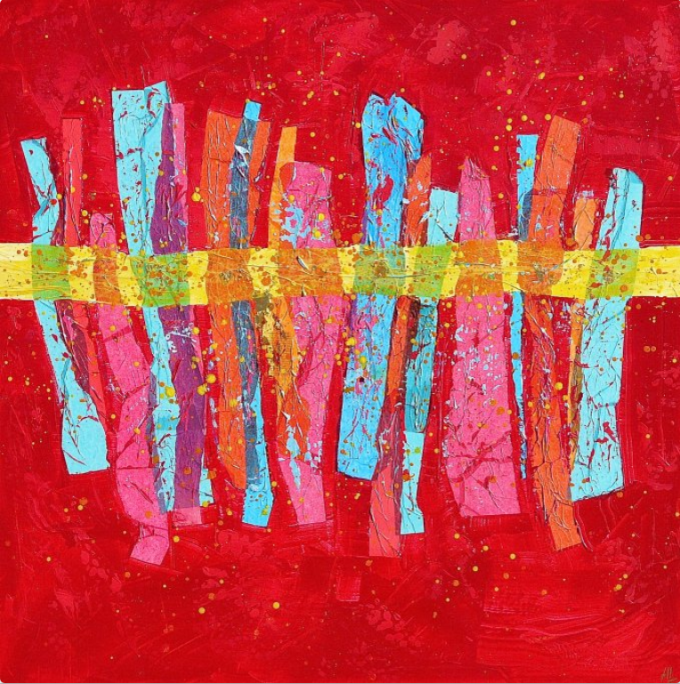 Psalm 147 (146), 1-2.3-4.5-6 //
Canvas "Sing Praise" (Anne-Laure Lavagna)

It is good to sing praises to our God:

For it is pleasant; and praise is comely

The LORD doth build up Jerusalem: he gathered together the outcasts of Israel.

He healeth the broken in heart

and bindeth up their wounds.

He telleth the number of the stars;

He calleth them all by their names.

Great is our Lord, and of great power:

His understanding is infinite.

The LORD lifteth up the meek:

He casteth the wicked down to the ground.



A little help, some keys to meditation through painting?

1. Ask for a grace of availability for this visual prayer.
2. Observe the pink and blue silhouettes that seem to be dancing.
3. Look at the yellow band that runs through this group and reveals new colors.
4. Come closer and read this biblical inclusion, with these words "Sadness will be turned into joy"...
5. Imagine yourself in the scene....in this red intensity, and let the Lord touch you...
Let us give thanks to God for His Presence in our lives. Amen!
Take a moment to treasure up all these things and ponder them in your heart (cf Luke 2,19)
Let your speech always be gracious, seasoned with salt, so that you may know how you ought to answer everyone. Col 4:6