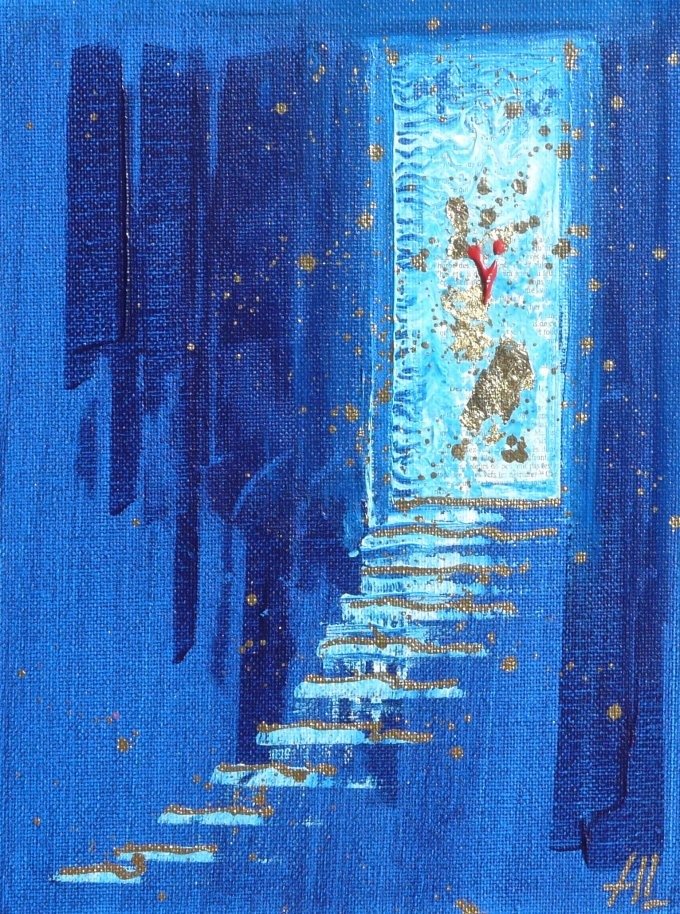 Psalm 25 (24), 4bc-5ab.8-9.10.14.
Canvas:
" He teaches the humble in his ways"
Shew me thy ways, O LORD; teach me thy paths.
Lead me in thy truth and teach me: for thou art the God of my salvation;
on thee do I wait all the day.
Good and upright is the LORD :
therefore will he teach sinners in the way.
The meek will he guide in judgment:
and the meek will he teach his way.
All the paths of the LORD are mercy and truth
unto such as keep his covenant and his testimonies.
The secret of the LORD is with them that fear him;
and he will shew them his covenant.
A little help, some keys to meditation through painting?
1. Ask for a grace of availability for this visual prayer.
2. Look at the colours: the dark blues in the background, and the Light Gate.
3. Look at the staircase rising from the very bottom to climb step by step up to the Light Gate.
4. Approach this door, where Gold sparkles, a light heart is emerging, Scriptures are being guessed.
5. Imagine yourself in the scene...and let the Lord touch you...
Let us give thanks to God for His Presence in our lives. Amen!
Take a moment to treasure up all these things and ponder them in your heart (cf Luke 2,19)
comments
Let your speech always be gracious, seasoned with salt, so that you may know how you ought to answer everyone. Col 4:6