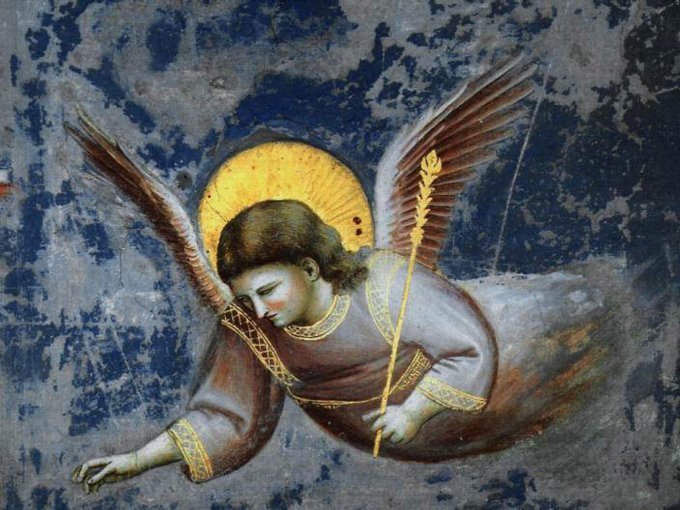 Psalm 91, 11-12
For he commands his angels with regard to you, to guard you wherever you go. With their hands they shall support you, lest you strike your foot against a stone.
Teaching
By Charlotte Jousseaume, author:
Life is a path which we don't always know in advance, and on which an angel is sometimes sent to help us. A path to find riches we deposited in a safe place. A path to marry the man or woman destined to us. A path to receive our part of a heritage. A path of salvation.
The bible book of Tobit is the story of a child who doesn't even know the roads (5,2) and who left home, accompanied by the angel, followed by the dog (6,2). During the journey, the child Tobiah becomes a man, as he is not alone, but walks alongside Raphael, without knowing that he was an angel of God (5,4). Raphael, his travel companion, is a good guide, and the child can rely on him; the angel patiently answers the child's questions and earns his trust.
How to pay back an angel who, in one set of eyes, read our destiny and saw our path? How to give him thanks for his advice and support? Raphael carried the assignment for which he was sent: bring Tobiah back safely, tend to Sarah, return the money, and heal Tobit. The father and the son agree to give Raphael half of the money, but it isn't on money that an angel feeds.
An angel sees the invisible by illumination when we are visibly blinded by the same light. An angel knows that everything is linked in the universe, beyond distance and time, sighs and joys, life and death. In exchange for his knowledge which guided Tobiah, Raphael asks for only two things: "A king's secret should be kept secret, but one must declare the works of God with due honor." (12,11) - Silence and testimony, as it is by paying the price of mystery that angels guide us.
Prayer
Lead, Kindly Light, amid the encircling gloom, Lead me Thou on! The night is dark, and I am far from home, Lead Thou me on! Keep Thou my feet; I do not ask to see the distant scene; one step is enough for me. I was not ever thus, nor prayed that Thou shouldst lead me on; I loved to choose and see my path, but now lead Thou me on! I loved the garish day, and, spite of fears, pride ruled my will: remember not past years. So long Your power hath blest me, sure it still will lead me on, over moor and fen, over crag and torrent, till the night is gone, and with the morn, those angel faces smile which I have loved long since and lost awhile.
By Blessed John Henry Newman (1801-1890).
Take a moment to treasure up all these things and ponder them in your heart (cf Luke 2,19)
Let your speech always be gracious, seasoned with salt, so that you may know how you ought to answer everyone. Col 4:6