Day 9 - Give all to Jesus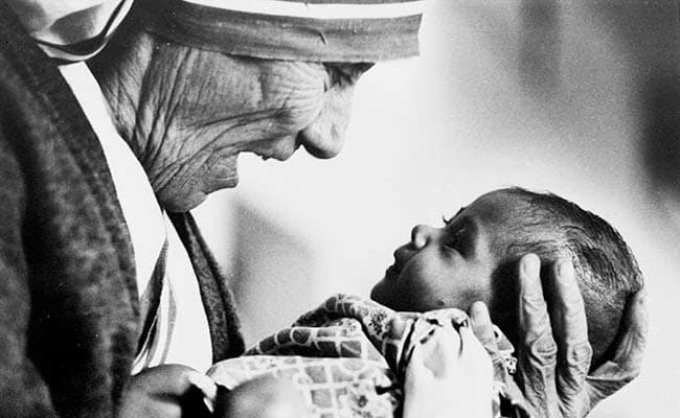 For me, Jesus is my God. Jesus is my spouse. Jesus is my life, Jesus is my only love. Jesus is indispensable, Jesus is my everything - Mother Teresa.
All throughout her life, Mother Teresa dedicated herself to the others, especially those who are hungry, sick, naked, prisoners, strangers. Touching a human being is touching the body of Christ; loving one is loving the other. Like Little Thérèse of Lisieux, her saint patroness, she will keep repeating "to love is to give everything and to give oneself."
Matthew 19, 27-29
Then Peter said to him in reply, "We have given up everything and followed you. What will there be for us?" Jesus said to them, "Amen, I say to you that you who have followed me, in the new age, when the Son of Man is seated on his throne of glory, will yourselves sit on twelve thrones, judging the twelve tribes of Israel. And everyone who has given up houses or brothers or sisters or fathers or mother or children or lands for the sake of my name will receive a hundred times more, and will inherit eternal life."
The detachment needed to follow Christ starts by renouncing ourselves: our tastes, our preferences, the appreciation we would like to receive from others... Thus, when Jesus calls us to love more and invites us to give ourselves more in full conscience, the first thing to do is to get rid of selfishness in our life. Our reward will reflect our love for God. The more generous we are, the higher the reward will be. It is an invitation from God Himself, and He does wish to reward greatly every one of us.
Prayer
Lord, enlarge my heart! Make me generous and allow me to always focus on your love and move forward with a free heart on the path of your commandments throughout this new year. Amen.
Follow this prayer by one "Our Father," one "Hail Mary," and the daily prayer of Mother Teresa, which can be accessed by clicking on "Pray" below.
Today's little resolution: I will take the time to analyze the measure of my love for God, to qualify this measure and find a concrete way to increase it this year.
Take a moment to treasure up all these things and ponder them in your heart (cf Luke 2,19)
Let your speech always be gracious, seasoned with salt, so that you may know how you ought to answer everyone. Col 4:6