DAY 9 - For the coming of the kingdom of the most Sacred Heart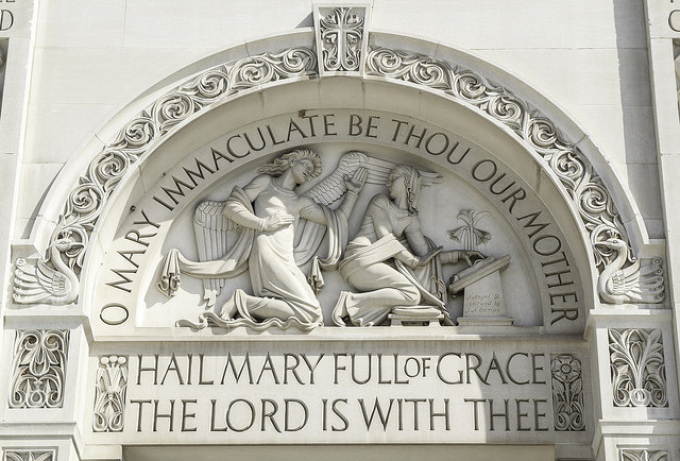 Opening Prayer
How fair are you, O Mary, the original stain is not in you. You are the glory of Jerusalem; you are the joy of Israel, you give honor to our people. You are the advocate of sinners. O Mary, Virgin most prudent, Mother most merciful, pray for us, intercede for us, with the Lord Jesus Christ. Holy Virgin, because you bore His Son, pray to the Father for us.
A Reading from the Writings of St. Maximilian Kolbe
The Most Sacred Heart of Jesus is the love of God toward mankind. His Kingdom is the domain of this love in the hearts of men, the love that Jesus manifested in the manger, throughout His life, on the Cross, in the Eucharist, and in giving us His own Mother as our Mother; and He wants to kindle this love in the hearts of men. To infuse and to enhance the glory of the Immaculata, to conquer souls over to her, means to win souls over to the Mother of Jesus, who introduces the Kingdom of Jesus into them. (KW 1331). We must constantly strengthen the love for the Immaculata in souls, so that they may become one with her – become her herself; so that she herself may live and love (act) in them and through them. Just as she is of Jesus and of God, so each soul will become of Jesus and of God through her and in her. Then souls will love the Most Sacred Heart of Jesus as they have never loved Him before, because, like her, and in ways they have never experienced before, they will plunge into the mysteries of Love: the Cross and the Eucharist. Through her, God's Love shall kindle the world, set it on fire. (KW 991 Q)
Prayer Intention
For Our Lady's intentions for my life, my dear ones, the Church, my country and the whole world. For each and every intention that was carried throughout this Novena. May the Immaculate bring up our prayers to her Son and intercede on our behalf. Amen.
Our Father...
Hail Mary...
Glory Be...
O Mary, conceived without sin, pray for us who have recourse to you, and for all those who do not have recourse to you, especially the enemies of Holy Church and all those recommended to you.
Take a moment to treasure up all these things and ponder them in your heart (cf Luke 2,19)
Let your speech always be gracious, seasoned with salt, so that you may know how you ought to answer everyone. Col 4:6