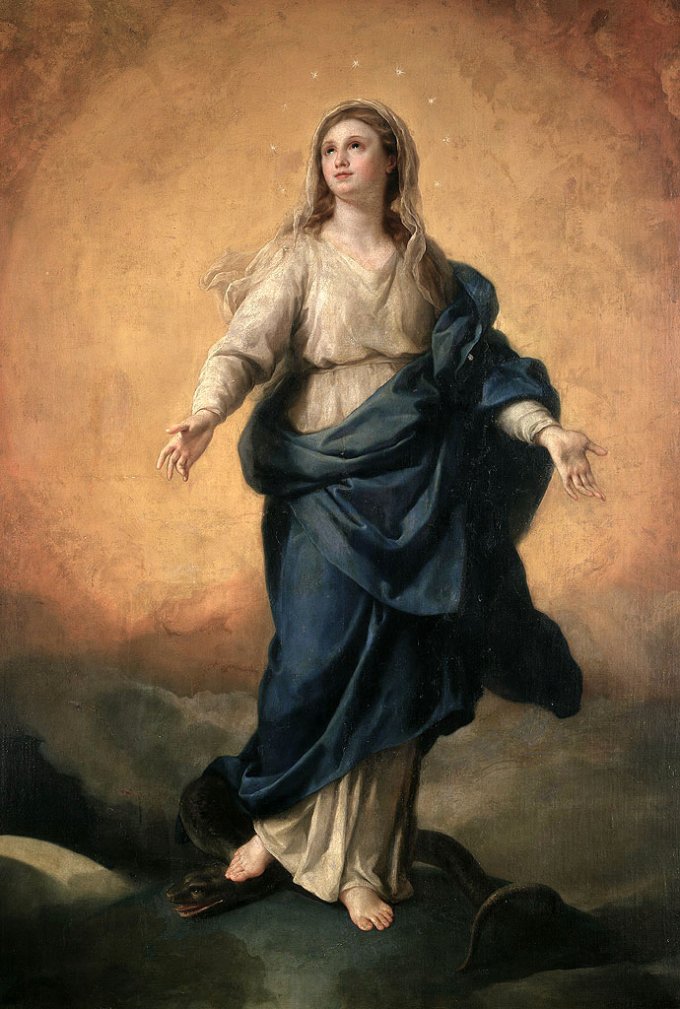 Opening Prayer
How fair are you, O Mary, the original stain is not in you. You are the glory of Jerusalem; you are the joy of Israel, you give honor to our people. You are the advocate of sinners. O Mary, Virgin most prudent, Mother most merciful, pray for us, intercede for us, with the Lord Jesus Christ. Holy Virgin, because you bore His Son, pray to the Father for us.
A Reading from the Writings of St. Maximilian Kolbe
The aim of each man is to belong to God through Jesus, who is the Mediator with the Father, and to belong to Jesus through the Mediatrix of all graces, the Immaculate. At different times, both in public and in private, the souls who love the Immaculate have used several formulas to characterize their oblation to the Mother of God. All wish to emphasize the most perfect form of self-oblation, the greatest possible, even though in the wording and in its immediate sense there are differences. The fact of being completely, in all respects of the Immaculate also belongs to the essence of the Militia of the Immaculata. Consequently, in the act of consecration, MI members invoke the Immaculate: '[I implore you] to take me with all that I am and have, wholly to yourself as your possession and property. Please make of me, of all my powers of soul and body, of my whole life, death and eternity, whatever most pleases you.' The soul who is a member of the Militia of the Immaculata, therefore, ceases to be excessively concerned even with its own eternity. It acknowledges that whatever does not depend on its own will, comes from the hand of God through the Immaculate and, insofar as it is up to itself, it endeavors to do all it can in order to know the Will of the Immaculate ever more perfectly and to carry it out ever more faithfully, even if that were to entail many sufferings and sacrifices. (KW 1329)
Prayer Intention
For the restoration and preservation of the sacredness of marriage and family life according to God's plan for mankind. We ask the intercession of the Immaculate for laws and public institutions that will protect this sacredness. We ask for courage as we stand with children, protecting their fundamental human right to know and be cared for by their mothers and fathers, as far as possible. May no child ever be intentionally deprived of his mother or father without just cause. Amen.
Our Father...
Hail Mary...
Glory Be...
O Mary, conceived without sin, pray for us who have recourse to you, and for all those who do not have recourse to you, especially the enemies of Holy Church and all those recommended to you.
Meditation
I say that we must belong to Jesus and serve him not just as hired servants but as willing slaves who, moved by generous love, commit themselves to his service after the manner of slaves for the honor of belonging to him. Before we were baptized we were the slaves of the devil, but baptism made us the slaves of Jesus. Christians can only be slaves of the devil or slaves of Christ. What I say in an absolute sense of our Lord, I say in a relative sense of our Blessed Lady. Jesus, in choosing her as his inseparable associate in his life, glory, and power in heaven and on earth, has given her by grace in his kingdom all the same rights and privileges that he possesses by nature. "All that belongs to God by nature belongs to Mary by grace", say the saints, and, according to them, just as Jesus and Mary have the same will and the same power, they have also the same subjects, servants, and slaves. Following therefore the teaching of the saints and of many great men we can call ourselves, and become, the loving slaves of our Blessed Lady in order to become more perfect slaves of Jesus. Mary is the means our Lord chose to come to us and she is also the means we should choose to go to him, for she is not like other creatures who tend rather to lead us away from God than towards him, if we are over-attached to them. Mary's strongest inclination is to unite us to Jesus, her Son, and her Son's strongest wish is that we come to him through his Blessed Mother. He is pleased and honored just as a king would be pleased and honored if a citizen, wanting to become a better subject and slave of the king, made himself the slave of the queen."
- St. Louis Marie Grignion de Montfort, in "Treatise on True Devotion to the Blessed Virgin", § 73-75
Closing Prayers
Novena Prayer to the Immaculate
I greet you, ever-blessed Virgin, Mother of God throne of grace, miracle of almighty power! I greet you, sanctuary of the most Holy Trinity and Queen of the universe, Mother of mercy and refuge of sinners! Most loving Mother, attracted by your beauty and sweetness and by your tender compassion, I confidently turn to you, and beg of you to obtain for me of your dear Son the favor I request in this novena (here mention your request).
Obtain for me also, Queen of Heaven, the most lively contrition for my many sins and the grace to imitate closely those virtues which you practiced so faithfully especially humility, purity, and obedience. Above all, I beg you to be my mother and protectress, to receive me into the number of your devoted children, and to guide me from your high throne of glory. Do not reject my petitions, Mother of mercy! Have pity on me, and do not abandon me during life or at the moment of my death.
Daughter of the Eternal Father, Mother of the Eternal Son, Spouse of the Holy Spirit, temple of the adorable Trinity, pray for me. Immaculate and tender Heart of Mary, refuge of the needy and hope of sinners, filled with the most lively respect, love, and gratitude, I devote myself forever to your service, and I offer you my heart with all that I am and all that belongs to me. Accept this offering, sweet Queen of Heaven and earth, and obtain for me of your dear Son, Jesus Christ, the favors I ask through your intercession in this novena. Obtain for me also a tender, generous, constant love of God, perfect submission to his adorable will, the true spirit of a Christian, and the grace of final perseverance. Amen.
Closing Prayer of Identification with the Immaculate
O Immaculate Conception, Mary, my Mother, live in me, act in me, speak in and through me. Think your thoughts in my mind, love through my heart. Give me your own dispositions and feelings. Teach, lead and guide me to Jesus. Correct, enlighten and expand my entire personality and life. Replace me with yourself. Incline me to constant adoration and thanksgiving; pray in and through me. Let me live in you and keep me in this union always. Amen.
Take a moment to treasure up all these things and ponder them in your heart (cf Luke 2,19)
Let your speech always be gracious, seasoned with salt, so that you may know how you ought to answer everyone. Col 4:6