Day 4: ''Nevertheless not My will, but Yours be done.'' Luke 22 :42
Part 1: Gospel from Saint Luke 22 :42
And He was withdrawn from them about a stone's throw, and He knelt down and prayed saying : 'Father, if it is Your will, take this cup away from Me ; nevertheless not My will, but Yours be done.'
PART 2: MEDITATION (10 MIN)
The words from the 'Our Father' to meditate on this day : 'Thy will be done on earth as it is in Heaven'.
Let's put ourselves in a quiet environment and empty our minds.
Do the sign of the cross.
Plead the Virgin Mary to help us and be with us during our prayer. Meditate the extract from the 'Our Father' in our heart enjoying each word.
PART 3: REQUEST OF A SPECIAL INTENTION FOR THE FATHERS' FEAST.
Saint Francois de Sales's prayer to Saint Joseph : Glorious Saint Joseph
Glorious Saint Joseph, spouse of Mary, grant us your paternal protection, we pray you through the heart of Jesus Christ. You, whose infinite power covers all our needs, and you who make possible for us the most impossible things, open your eyes as a father on your children's interests. In embarassment and pain that press us, we come to you with confidence ; may you take us under your charitable care and solve this so important issue (your intention), source of our worries. May its successful end serves to glorify the Lord and benefits his devoted servants.
Amen
PART 4 (end): CHARLES DE FOUCAULD'S PRAYER OF SURRENDER
'Father I surrender myself into your hands
Do with me what you will
Whatever you may do I thank you
I am ready for all I accept all
Let only your will be done in me and in all your creatures. I wish no more than this, o Lord.
Into your hands I commit my soul; I offer it to you with all the love of my heart,
for I love you and it is right to give myself to you,
to surrender myself into your hands,
without reserve,
and with boundless confidence,
for you are my Father'. Amen
How to pray the Rosary of Mercy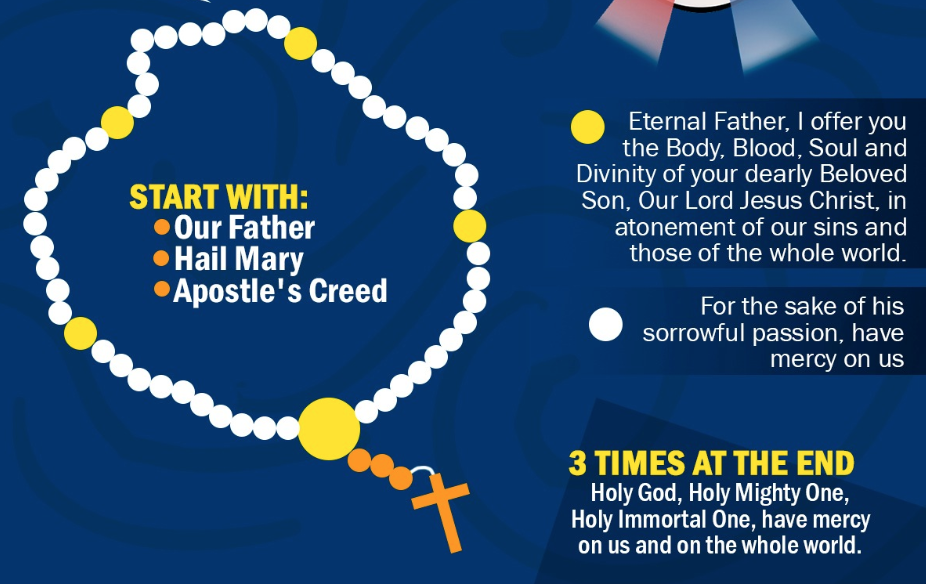 Take a moment to treasure up all these things and ponder them in your heart (cf Luke 2,19)
comments
Let your speech always be gracious, seasoned with salt, so that you may know how you ought to answer everyone. Col 4:6