Day 3: Novena to the Sacred Heart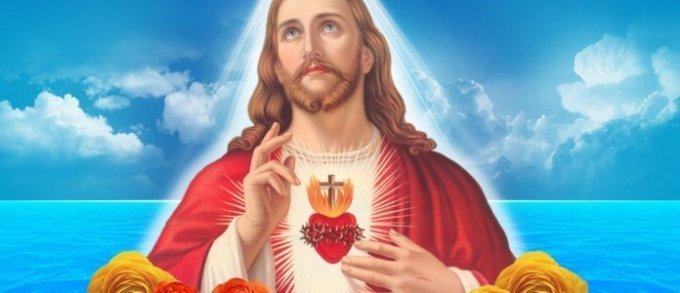 Let us pray to the Heart of our Lord Jesus Christ, Who was resurrected from the dead, and revealed his love for us through His glorious wounds.
O God, you repaid the sacrifice of Your Son with eternal glory. May the wound on His side always remind us of His unending love for us and the suffering He endured for our salvation. May we bring to fruition the graces He earned for us, and may we thus reach the Kingdom He prepared for us, where we will glorify You forever and ever.
Gospel according to John 20: 26-29
Now a week later his disciples were again inside and Thomas was with them. Jesus came, although the doors were locked, and stood in their midst and said, "Peace be with you". Then he said to Thomas, "Put your finger here and see my hands, and bring your hand and put it into my side, and do not be unbelieving, but believe." Thomas answered and said to him, "My Lord and my God!" Jesus said to him, "Have you come to believe because you have seen me? Blessed are those who have not seen and have believed."
Meditation
"My Lord and my God!" Someone whose faith is matured is a believer who understood and accepted the call to holiness addressed to them by God on the day of their baptism, and who work for it with impatience and an authentic passion. The great project of this life is their absolute priority, and they search for it through their daily activities.
Our faith must be infused in the very essence of our lives. It must influence our decisions, touch our hearts and our will. Our faith must help us embrace our own cross every day, with profound love. And though like Thomas we do not have the chance to see Jesus, we benefit from His Sacramental presence in the Eucharist. We must discover and fortify our faith precisely in the Communion, the great Sacrament of Love.
Pray the Sacred Heart Chaplet. Here's how to proceed:
Begin with the following prayer on the Crucifix (written by St. Ignatius of Loyola, or St. Thomas of Aquinas):
'Soul of Christ, sanctify me/Body of Christ, save me/Blood of Christ, inebriate me/Water from the side of Christ, wash me/Passion of Christ, strengthen me/O Good Jesus, hear me/Within your wounds, hide me/Permit me not to be separated from you/From the wicked foe, defend me/At the hour of my death, call me and bid me come to you/That with your saints I may praise you forever and ever. Amen.
'O sweetest Heart of Jesus, I implore that I may ever love you more and more.'
'Sweet Heart of Jesus, be my love.'
At the end of each decade, say:
'Sweet Heart of Mary, be my salvation'.
Upon completing the chaplet, say:
'May the Heart of Jesus in the Most Blessed Sacrament, be blessed, adored and praised with grateful affection, at every moment in all the tabernacles of the world, even to the end of time.'
Take a moment to treasure up all these things and ponder them in your heart (cf Luke 2,19)
Let your speech always be gracious, seasoned with salt, so that you may know how you ought to answer everyone. Col 4:6