Day 1: Novena to the Sacred Heart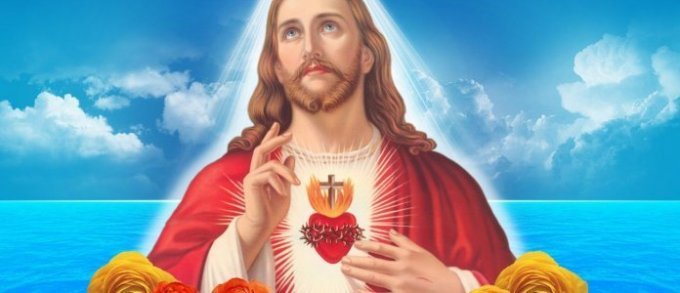 Let us pray to the Heart of our Lord Jesus Christ, who revealed his love by entering the world for our salvation.
God of love and mercy, You sent your only son into the world for our salvation. Ever since, he loved us with a human heart and verily displayed Your love for us. We thank You and glorify You for such a gift and we ask You to help us enter further into this mystery of love. We ask You, by Christ our Lord, Your son, who lives and reigns with You and the holy spirit, one God, forever and ever.
From the letter of Saint Paul to Titus, Chapter 3, 4-8
'But when the kindness and generous love of God our Savior appeared, not because of any righteous deeds we have done but because of his mercy, he saved us through the bath of rebirth and renewal by the Holy Spirit whom he richly poured out on us through Jesus Christ our Savior, so that we might be justified by his grace and become heirs in hope of eternal life.'
Meditation:
"If you knew the gift of God" (John 4,10).
Father of Mercy, look upon the Heart of your Son, and the love he expressed to mankind by becoming flesh. By virtue of that love, receive our prayer and help us love him back, he who lives and reigns with You forever and ever. Amen.
Pray the Chaplet of the Sacred Heart of Jesus. Here's how to proceed for the Chaplet:
- Begin with the following prayer on the Crucifix (written by St. Ignatius of Loyola, or St. Thomas of Aquinas):
'Soul of Christ, sanctify me/Body of Christ, save me/Blood of Christ, inebriate me/Water from the side of Christ, wash me/Passion of Christ, strengthen me/O Good Jesus, hear me/Within your wounds, hide me/Permit me not to be separated from you/From the wicked foe, defend me/At the hour of my death, call me and bid me come to you/That with your saints I may praise you forever and ever. Amen.
- On the large beads say:
'O sweetest Heart of Jesus, I implore that I may ever love you more and more.'
- On the small beads say:
'Sweet Heart of Jesus, be my love.'
- At the end of each decade, say:
'Sweet Heart of Mary, be my salvation'.
-Upon completing the chaplet, say:
'May the Heart of Jesus in the Most Blessed Sacrament, be blessed, adored and praised with grateful affection, at every moment in all the tabernacles of the world, even to the end of time.'
Take a moment to treasure up all these things and ponder them in your heart (cf Luke 2,19)
Let your speech always be gracious, seasoned with salt, so that you may know how you ought to answer everyone. Col 4:6