Day Six: Saint Thérèse of Lisieux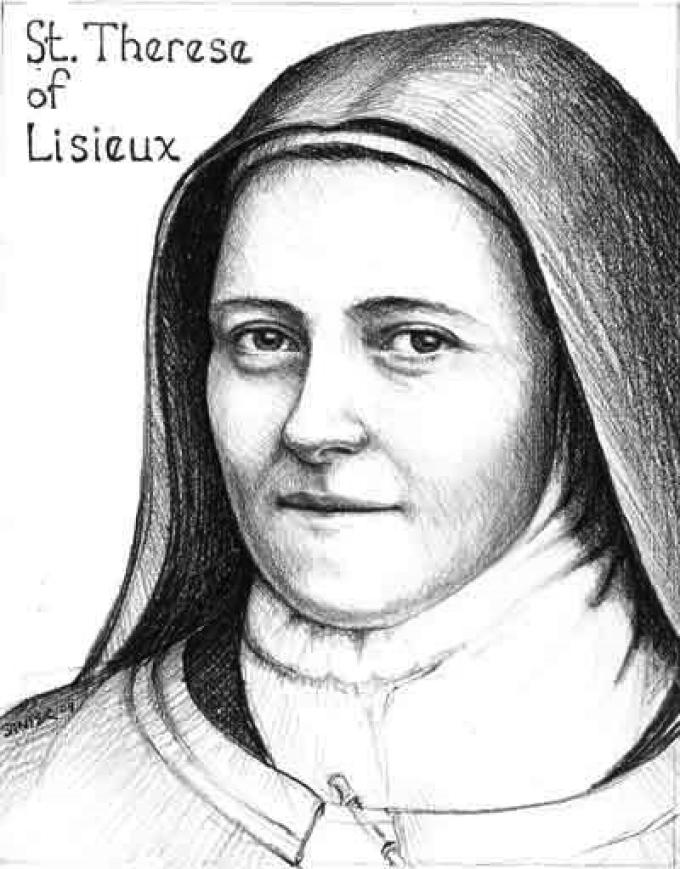 Saint Thérèse of Lisieux
Thérèse was born in Alençon, Normandy, the youngest of five daughters of Louis Martin, a watchmaker, and his wife Azélie-Marie Guérin, who died when Thérèse was only four years old.
Following Zélie's death, the family relocated to Lisieux. In her mother's absence, Thérèse looked to her elder sister Pauline as a mother. It was no wonder then that Thérèse, at the age of nine, suffered immensely when Pauline entered the Carmelite monastery in Lisieux. Marie, her second sister, soon followed Pauline.
Overall, Thérèse had an uneventful childhood in Lisieux. She was educated by the Benedictine Sisters of Notre-Dame-du-Pré. The young girl sometimes behaved like a spoiled child and displayed strong temperament. However, right before her 14th birthday, she received a vision, in which she saw herself standing at the foot of the Cross, collecting the blood of Jesus and giving it to souls. She understood that her prayers and sufferings could bring souls to Christ. She also understood the great sacrifice that had been made for her and developed an unshakeable faith.
Thérèse tried to join the Carmelites, in the footsteps of her sisters. but was turned down due to her age. However, it wasn't enough to deter the young girl. On a pilgrimage to Rome for the Jubilee of Pople Leo XIII, she made sure to meet with the pontiff and express to him her desire to become a nun. Although the Pope's reply was non-committal, she was allowed to enter the convent a year earlier, at the age of 15. At the age of 17, she took her final vows, and became the Novices Mistress at age 20.
Convent life was difficult for Thérèse. The prioress was severe and she herself had doubts about her vocation. But she soon came up with what she called her "little way" – not trying great mortifications, but accepting everything and doing God's will with great love, convinced that she was a "little soul". This was her way of combating the temptation to pride.
Once, Thérèse encountered a missionary priest, who gave her a copy of the Life and letters of Venerable Théophane Vénard, a priest of the Paris Foreign Missionary Society, who had been martyred in Vietnam some years previously. Thérèse was impressed and inspired by his example to volunteer for the new Carmelite monastery in Hanoi. Sadly, her health was declining from tuberculosis she had contracted, cutting her dreams short. However, she wrote a series of moving letters to two missionaries in Vietnam.
The last eighteen months of her life were a slow and painful agony. Besides the physical breathlessness and discomfort, she experienced a real dark night of the soul. Most of the pages of her book were written at this time.
She died on 30 September 1897, clutching the relic of Venerable Théophane. She was only 24 years old.
Prior to her death, she set down her "little way" in a book, The Story of A Soul, that became enormously popular when it was published (although with some doctoring) by the Carmelites soon after her passing. People loved the simplicity of her "little way" and were inspired by it. Countless cures took place through her intercession. When Pope Pius XI canonized Thérèse in 1925, he proclaimed her principal patron of all missionaries. In the centenary to mark her death, Pope John Paul II declared her a doctor of the Church.
Thérèse is the patron saint of missions and of children who lost their parents, among other patronages. She was also one of the patron saints of WYD 2013.
Teachings of Saint Thérèse
On prayer: "For me, prayer is a surge of the heart; it is a simple look turned toward heaven, it is a cry of recognition and of love, embracing both trial and joy."
On beauty: "What beauty? I don't see my beauty at all; I see only the graces I've received from God. You always misunderstand me; you don't know, then, that I'm only a little seedling, a little almond."
On taking action: "You know well enough that Our Lord does not look so much at the greatness of our actions, nor even at their difficulty, but at the love with which we do them."
On simplicity: "Our Lord needs from us neither great deeds nor profound thoughts. Neither intelligence nor talents. He cherishes simplicity."
Meditation
Since my longing for martyrdom was powerful and unsettling, I turned to the epistles of Saint Paul in the hope of finally finding an answer. By chance, the twelfth and thirteenth chapters of the first epistle to the Corinthians caught my attention, and in the first section, I read that not everyone can be an apostle, prophet or teacher, that the Church is composed of a variety of members, and that the eye cannot be the hand. Even with such an answer revealed before me, I was not satisfied and did not find peace. I persevered in the reading and did not let my mind wander until I found this encouraging theme: "Set your desires on the greater gifts. And I will show you the way which surpasses all others." For the Apostle insists that the greater gifts are nothing at all without love and that this same love is surely the best path leading directly to God. At length, I had found peace of mind. Love appeared to me to be the hinge for my vocation. Indeed, I knew that the Church had a body composed of various members, but in this body, the necessary and more noble member was not lacking; I knew that the Church had a heart and that such a heart appeared to be aflame with love. I knew that one love drove the members of the Church to action, that if this love were extinguished, the apostles would have proclaimed the Gospel no longer, the martyrs would have shed their blood no more. I saw and realized that love sets off the bounds of all vocations, that love is everything, that this same love embraces every time and every place. In one word, that love is everlasting.
From the autobiography of Saint Thérèse.
Prayer for the Youth with Saint Thérèse
May today there be peace within.
May you trust God that you are exactly where you are meant to be.
May you not forget the infinite possibilities that are born of faith.
May you use those gifts that you have received,
and pass on the love that has been given to you.
May you be content knowing you are a child of God.
Let this presence settle into your bones,
and allow your soul the freedom to sing, dance, praise, and love.
It is there for each and every one of us. Amen.
By Saint Thérèse of Lisieux.
Saint Thérèse of Lisieux, pray for our youth!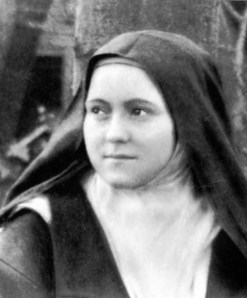 Pictures:
Top picture: Portrait of St. Thérèse of Lisieux, by Christopher Santer, Pacem Studio. Used with permission.
Bottom picture: A photograph of Thérèse, ca. 1890. Unknown photographer. CC0 Public domain.
Take a moment to treasure up all these things and ponder them in your heart (cf Luke 2,19)
Let your speech always be gracious, seasoned with salt, so that you may know how you ought to answer everyone. Col 4:6