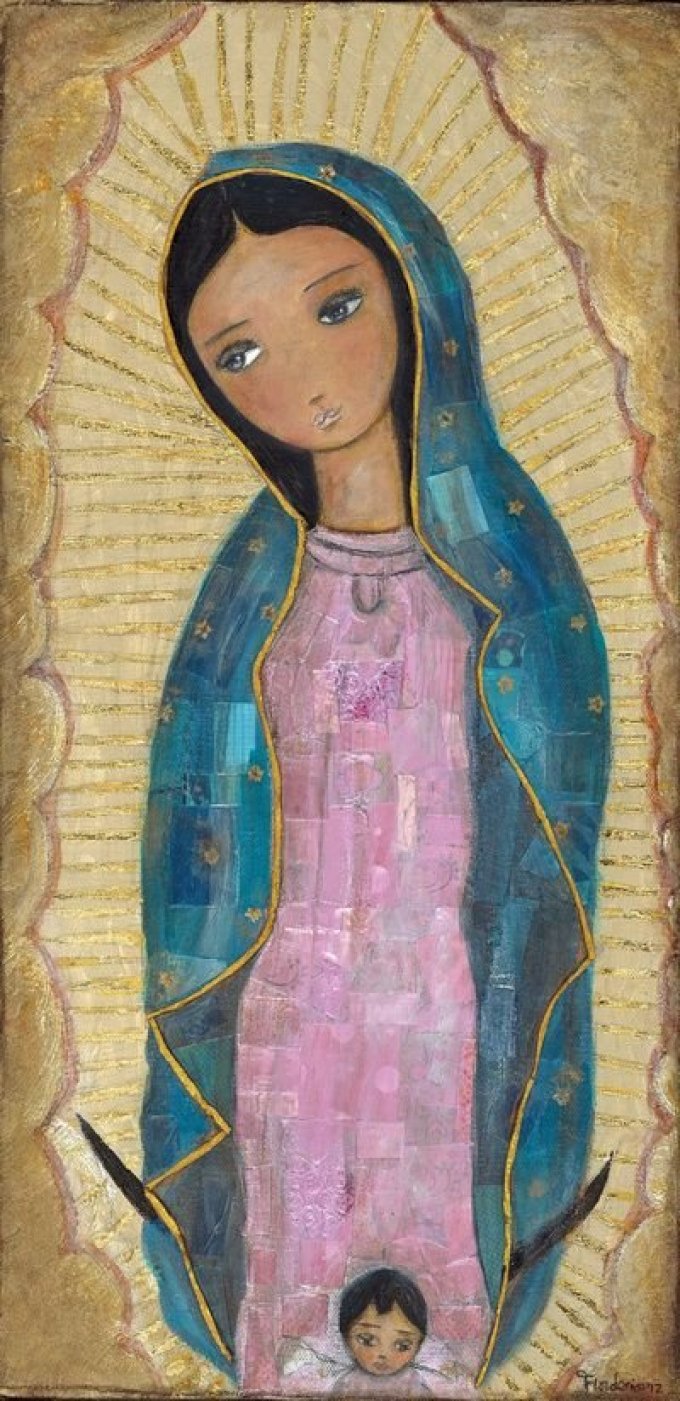 The Story of Our Lady of Guadalupe
She then spoke to him: 'Know and understand well, my xocoyote, that I am the ever virgin Holy Mary, Mother of the True God for whom we live, of the Creator of all things, Lord of heaven and the earth. I wish that a temple be built here quickly, so I may therein exhibit and give all my love, compassion, help, and protection, because I am your merciful mother, to you, and to all the inhabitants on this land and all the rest who love me, invoke and confide in me; I will listen there to their lamentations, and remedy all their miseries, afflictions and sorrows. And to accomplish what my clemency pretends, go to the palace of the bishop of Mexico, and you will say to him that I manifest my great desire, that here on this plain a temple be built to me; you will accurately relate all you have seen and admired, and what you have heard. Be assured that I will be most grateful and will reward you because I will make you happy and worthy of recompense for the effort and fatigue in what you will obtain of what I have entrusted. Behold, you have heard my mandate, my humble son; go and put forth all your effort.'
At this point, he bowed before her and said: 'My Lady, I am going to comply with your mandate; now I must part from you, I, your humble servant.' Then he descended to go to comply with the errand and went by the avenue which runs directly into Mexico City.
Having entered the city, and without delay, he went straight to the bishop's palace, who was the recently arrived prelate named Father Juan de Zumarraga, a Franciscan religious. On arrival, he endeavored to see him; he pleaded with the servants to announce him; and after a long wait, he was called and advised that the bishop had ordered his admission. As he entered, he bowed, and on bended knees before him, he then delivered the message from the lady from heaven; he also told him all he had admired, seen, and heard. After having heard his chat and message, it appeared incredible; then he told him: 'You will return, my son, and I will hear you at my pleasure. I will review it from the beginning and will give thought to the wishes and desires for which you have come.' He left and he seemed sad because his message had not been realized in any of its forms."
To be continued...
Opening Prayer
Mary, Mother of Compassion,
Hear the prayer of those most in need of God's mercy.
Hear the little child whose belly hungers,
The old man with no one to love,
The mother tempted to abandon her child.
Pray for them to the Author of Life,
That the fruit of your womb may save and protect them.
Novena Prayer
O Mary, most sorrowful, whose Immaculate Heart, was pierced by seven swords of grief, help me to walk valiantly amid the sharp thorns strewn across my pathway. Obtain for me the strength to be a true imitator of you. This I ask you, my dear Mother... (mention your request here).
Our Father...
Hail Mary... x3
Glory Be...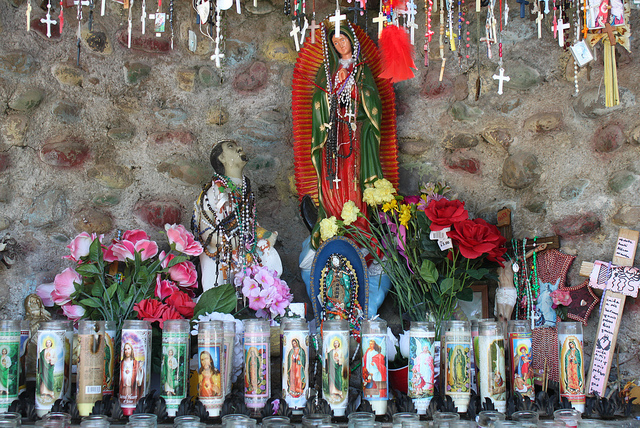 Meditation
Mary's appearance to Juan Diego as one of his people is a powerful reminder that Mary and the God who sent her accept all peoples. In the context of the sometimes rude and cruel treatment of the Indians by the Spaniards, the apparition was a rebuke to the Spaniards and an event of vast significance for Native Americans. While a number of them had converted before this incident, they now came in droves. According to a contemporary chronicler, nine million Indians became Christian in a very short time. In these days when we hear so much about God's preferential option for the poor, Our Lady of Guadalupe cries out to us that God's love for and identification with the poor is an age-old truth that stems from the Gospel itself.
Closing prayer
O Lady of Guadalupe,
Pray for the Church in America,
And walk with us in the new millennium of faith.
Memorare of Our Lady of Guadalupe: click the Pray button below.
Pictures:
1) Our Lady of Guadalupe, by Flor Larios.
2) Juan Diego receiving the vision of Our Lady, Sanctuary of Chimayó, New Mexico. Photograph by Fr. James Bradley.
Take a moment to treasure up all these things and ponder them in your heart (cf Luke 2,19)
Let your speech always be gracious, seasoned with salt, so that you may know how you ought to answer everyone. Col 4:6