Seventh Day: Totally Yours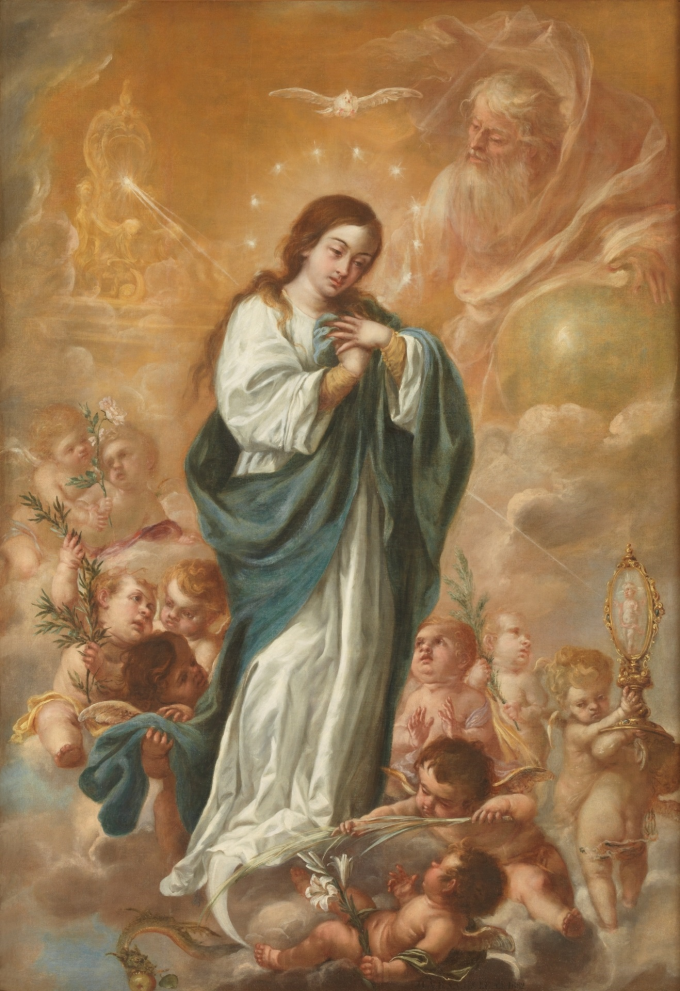 Opening Prayer
How fair are you, O Mary, the original stain is not in you. You are the glory of Jerusalem; you are the joy of Israel, you give honor to our people. You are the advocate of sinners. O Mary, Virgin most prudent, Mother most merciful, pray for us, intercede for us, with the Lord Jesus Christ. Holy Virgin, you were spotless from the very moment of your conception. Because you bore His Son, pray to the Father for us.
O God, who by the Immaculate Conception of the Blessed Virgin prepared a worthy dwelling for your Son, grant, we pray, that, as you preserved her from every stain by virtue of the death of your Son, which you foresaw, so, through her intercession, we, too, may be cleansed and admitted to your presence. Through our Lord Jesus Christ, your Son, who lives and reigns with you in the unity of the Holy Spirit, one God, forever and ever. Amen.
A Reading from the Writings of St. Maximilian Kolbe
A soul who has indeed offered itself up to the Immaculate to this point cannot but exert some influence on the environment around itself, albeit unwittingly. However, it is not content with that, but consciously strives and does all it can in order to win others, too, over to the Immaculata, so that others may become like it. For this reason, in the act of consecration, this soul prays to the Immaculata: "If it pleases you, use all that I am and have without reserve, wholly to accomplish what was said of you: 'She will crush your head' [Gn 3:15], and 'You alone have destroyed all heresies in the whole world' [Office of the B.V. Mary]. Let me be a fit instrument in your immaculate and merciful hands for introducing and increasing your glory to the maximum in all the many strayed and indifferent souls, and thus help extend as far as possible the blessed kingdom of the Most Sacred 6 Heart of Jesus. For wherever you enter you obtain the grace of conversion and growth in holiness since it is through your hands that all graces come to us from the Most Sacred Heart of Jesus." And it adds: "Allow me to praise you, O Sacred Virgin. Give me strength against your enemies." That soul desires to achieve all this at its own expense, at the cost of its own work, at the cost of sacrificing what it has, of the sacrifice of itself, until the last drop of blood is shed. Thus, it is ready to use all lawful means which its state in life, its condition, and circumstances afford. (KW 1329)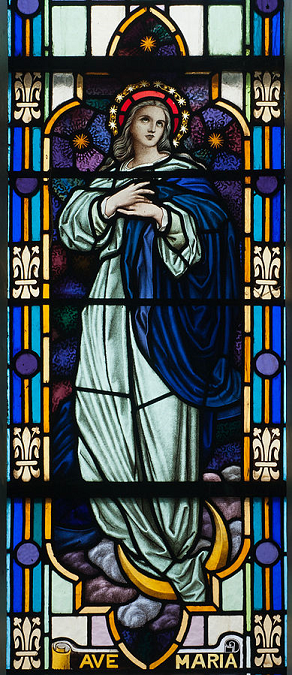 Prayer Intention
For all people seeking proper employment, education, and housing. May the Lord grant them wisdom to guide their footsteps along the right path, and lead them to find the proper things to say and do in their quest, while using the gifts and talents bestowed upon them. Amen.
Our Father...
Hail Mary...
Glory Be...
O Mary, conceived without sin, pray for us who have recourse to you, and for all those who do not have recourse to you, especially the enemies of Holy Church and all those recommended to you.
Meditation
"This Mother of fair love will take away from your heart all scruple and all disorder of servile fear. She will open and enlarge it to run the way of her Son's commandments with the holy liberty of the children of God. She will introduce into it pure love, of which she has the treasure; so that you shall no longer be guided by fear, as hitherto, in your dealings with the God of charity, but by pure love. You will look on Him as your good Father, whom you will be incessantly trying to please, and with whom you will converse confidently, as a child with its tender father. If unfortunately, you offend Him, you will at once humble yourself before Him. You will ask His pardon with great lowliness, but at the same time you will stretch your hand out to Him with simplicity; and you will raise yourself up lovingly, without trouble or disquietude, and go on your way to Him without discouragement." St. Louis Marie Grignion de Montfort, in "Treatise on the True Devotion to the Blessed Virgin", § 215.
Closing Prayers
Novena Prayer to the Immaculate
I greet you, ever-blessed Virgin, Mother of God throne of grace, miracle of almighty power! I greet you, sanctuary of the most Holy Trinity and Queen of the universe, Mother of mercy and refuge of sinners! Most loving Mother, attracted by your beauty and sweetness and by your tender compassion, I confidently turn to you, and beg of you to obtain for me of your dear Son the favor I request in this novena (here mention your request).
Obtain for me also, Queen of Heaven, the most lively contrition for my many sins and the grace to imitate closely those virtues which you practiced so faithfully especially humility, purity, and obedience. Above all, I beg you to be my mother and protectress, to receive me into the number of your devoted children, and to guide me from your high throne of glory. Do not reject my petitions, Mother of mercy! Have pity on me, and do not abandon me during life or at the moment of my death.
Daughter of the Eternal Father, Mother of the Eternal Son, Spouse of the Holy Spirit, temple of the adorable Trinity, pray for me. Immaculate and tender Heart of Mary, refuge of the needy and hope of sinners, filled with the most lively respect, love, and gratitude, I devote myself forever to your service, and I offer you my heart with all that I am and all that belongs to me. Accept this offering, sweet Queen of Heaven and earth, and obtain for me of your dear Son, Jesus Christ, the favors I ask through your intercession in this novena. Obtain for me also a tender, generous, constant love of God, perfect submission to his adorable will, the true spirit of a Christian, and the grace of final perseverance. Amen.
Closing Prayer of Identification with the Immaculate
O Immaculate Conception, Mary, my Mother, live in me, act in me, speak in and through me. Think your thoughts in my mind, love through my heart. Give me your own dispositions and feelings. Teach, lead and guide me to Jesus. Correct, enlighten and expand my entire personality and life. Replace me with yourself. Incline me to constant adoration and thanksgiving; pray in and through me. Let me live in you and keep me in this union always. Amen.


Pictures:
1) The Immaculate Conception, by Juan de Valdés Leal, 17th Century - CC0 Public Domain.
2) Center light of the triple window in the north-west gable, depicting the Immaculate - St. James' Church, Glenbeigh, County Kerry, Ireland. Photograph by Andreas F. Borchert, CC BY-SA 4.0
Take a moment to treasure up all these things and ponder them in your heart (cf Luke 2,19)
Let your speech always be gracious, seasoned with salt, so that you may know how you ought to answer everyone. Col 4:6