Fifth Day: Among her Children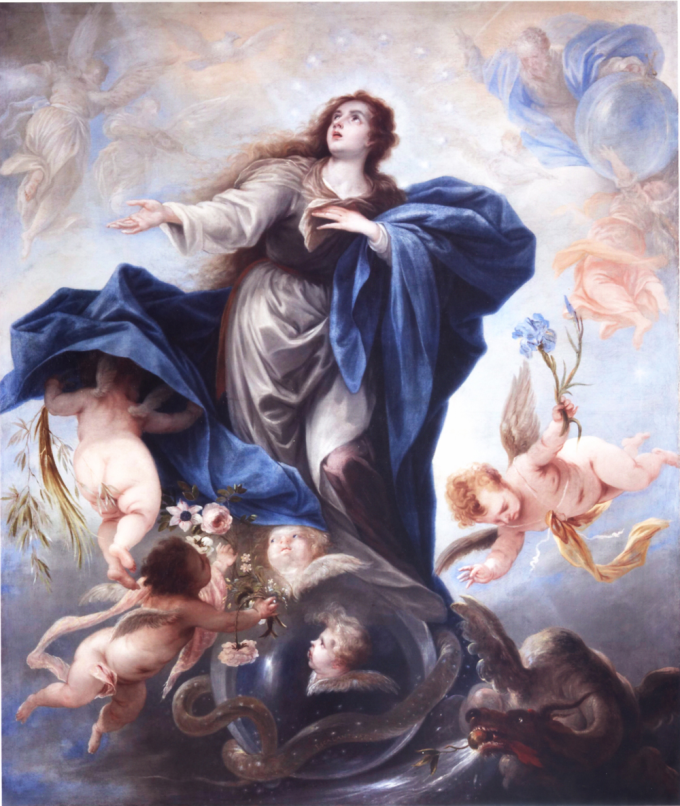 Opening Prayer
How fair are you, O Mary, the original stain is not in you. You are the glory of Jerusalem; you are the joy of Israel, you give honor to our people. You are the advocate of sinners. O Mary, Virgin most prudent, Mother most merciful, pray for us, intercede for us, with the Lord Jesus Christ. Holy Virgin, you were spotless from the very moment of your conception. Because you bore His Son, pray to the Father for us.
O God, who by the Immaculate Conception of the Blessed Virgin prepared a worthy dwelling for your Son, grant, we pray, that, as you preserved her from every stain by virtue of the death of your Son, which you foresaw, so, through her intercession, we, too, may be cleansed and admitted to your presence. Through our Lord Jesus Christ, your Son, who lives and reigns with you in the unity of the Holy Spirit, one God, forever and ever. Amen.
A Reading from the Writings of St. Maximilian Kolbe
The Immaculate descends on earth as a good Mother among her children, to help them save their souls. Thus, she desires the conversion and sanctification of all souls, without exception. In order to carry out that work, though, she uses the tools taken from among men, as we see in the apparitions [to Bernadette]. At any rate, those are extraordinary events. Most often, she urges the children who love her to cooperate with her in situations of normal everyday life. These same souls consecrated to her, live by her, often think of her, love her wholeheartedly, and endeavor to discern her desires—either voiced from her own lips or offered to them in silent inner inspirations. They propagate thus her will, attracting an ever larger number of souls to ever more perfect knowledge and ever more ardent love toward her, and in her and through her, to ever deeper love toward the Divine Heart of Jesus. At all times, the Immaculate inspires thousands of such souls devoted to herself. Many of them also come together more or less closely with one another to serve their Lady even better, in concerted effort. For this reason, the associations that work exclusively for her are many and varied. One of the youngest groups that aim to win souls over to the Immaculate and, through her, to the Most Sacred Heart of Jesus, is the Militia of the Immaculate. (KW 1323)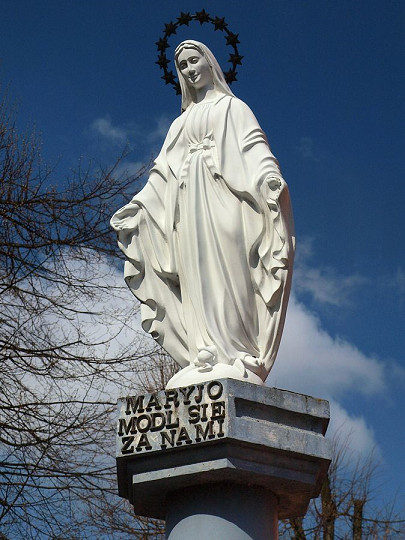 Prayer Intention
For all unborn children and their parents, for the terminally ill and their caregivers; for the protection of the sacredness of human life from conception to natural death. May we recognize that life is a gift from God, renewing in us a deep respect for all persons, especially the unborn, the young, the sick, the disabled, the abused, the aged, and the dying. May all our words and actions foster reverence for human life, may its sacredness be enshrined in the laws of our country. Amen.
Our Father...
Hail Mary...
Glory Be...
O Mary, conceived without sin, pray for us who have recourse to you, and for all those who do not have recourse to you, especially the enemies of Holy Church and all those recommended to you.
Meditation
"O soul, ponder how Mary who, after Her Son, is the first-born Daughter of the Most High God, is called par excellence Daughter of the Prince, that is, the most beloved, dearest, worthiest of Her Prince Father, God. And this filiation which Mary had by Her Immaculate Conception She always kept inviolate...never did She weaken it by disobedience. Rather, She continued wondrously to enhance it through the complete observance of the Law and absolute conformity to the will of Her heavenly Father.
O Mary, most beautiful, You were always a Daughter and never a slave, always a Daughter of grace and never a slave of sin!
And you, O soul who meditate on Her filiation, how have you treasured the filiation God gave you through grace at your Holy Baptism? ... Whose son or daughter have you been for so long a time?... And whose child are you now? ... In charity recover anew that divine sonship. Never lose it again... Propose now, firmly, nevermore to be a child of Eve, a slave of sin, but a child of Mary, first-born Daughter among all creatures, and Mother of all graces." - From the Mariale of St. Francis Anthony of Lucera, 18th-century Franciscan preacher.
Closing Prayers
Novena Prayer to the Immaculate
I greet you, ever-blessed Virgin, Mother of God throne of grace, miracle of almighty power! I greet you, sanctuary of the most Holy Trinity and Queen of the universe, Mother of mercy and refuge of sinners! Most loving Mother, attracted by your beauty and sweetness and by your tender compassion, I confidently turn to you, and beg of you to obtain for me of your dear Son the favor I request in this novena (here mention your request).
Obtain for me also, Queen of Heaven, the most lively contrition for my many sins and the grace to imitate closely those virtues which you practiced so faithfully especially humility, purity, and obedience. Above all, I beg you to be my mother and protectress, to receive me into the number of your devoted children, and to guide me from your high throne of glory. Do not reject my petitions, Mother of mercy! Have pity on me, and do not abandon me during life or at the moment of my death.
Daughter of the Eternal Father, Mother of the Eternal Son, Spouse of the Holy Spirit, temple of the adorable Trinity, pray for me. Immaculate and tender Heart of Mary, refuge of the needy and hope of sinners, filled with the most lively respect, love, and gratitude, I devote myself forever to your service, and I offer you my heart with all that I am and all that belongs to me. Accept this offering, sweet Queen of Heaven and earth, and obtain for me of your dear Son, Jesus Christ, the favors I ask through your intercession in this novena. Obtain for me also a tender, generous, constant love of God, perfect submission to his adorable will, the true spirit of a Christian, and the grace of final perseverance. Amen.
Closing Prayer of Identification with the Immaculate
O Immaculate Conception, Mary, my Mother, live in me, act in me, speak in and through me. Think your thoughts in my mind, love through my heart. Give me your own dispositions and feelings. Teach, lead and guide me to Jesus. Correct, enlighten and expand my entire personality and life. Replace me with yourself. Incline me to constant adoration and thanksgiving; pray in and through me. Let me live in you and keep me in this union always. Amen.


Pictures:
1)The Immaculate Conception, by Juan Antonio de Frías y Escalante, 17th Century - CC0 Public Domain.
2) Statue of the Immaculate Conception, St. Bartholomew Church in Samocice, Poland. Photograph by Henryk Żychowski, CC BY-SA 4.0
Take a moment to treasure up all these things and ponder them in your heart (cf Luke 2,19)
Let your speech always be gracious, seasoned with salt, so that you may know how you ought to answer everyone. Col 4:6