Third Day: Daughter and Instrument of God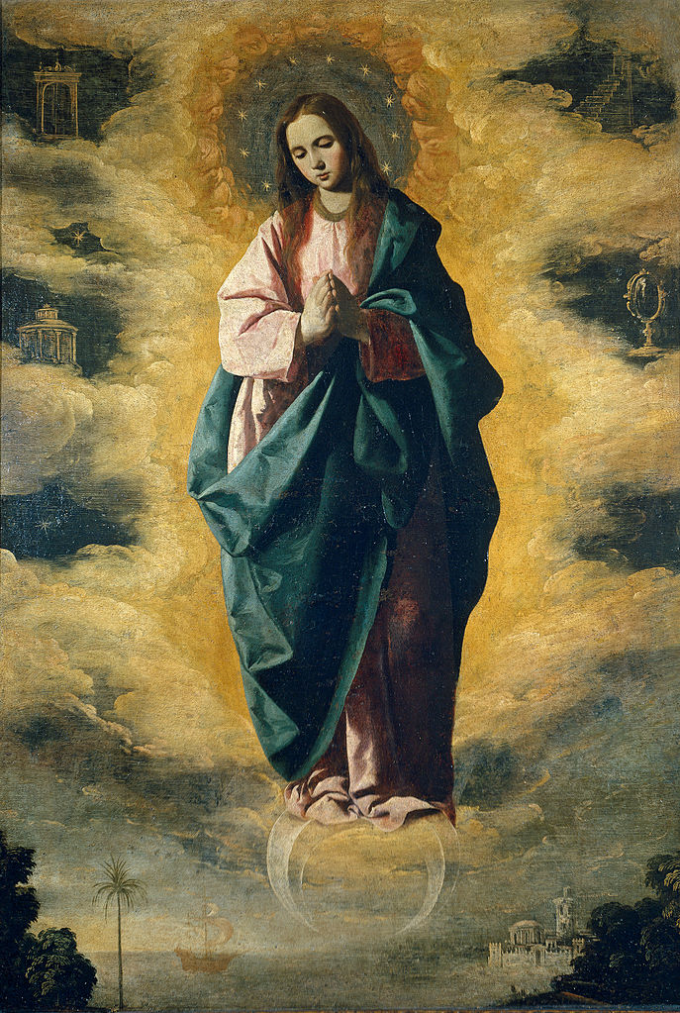 Opening Prayer
How fair are you, O Mary, the original stain is not in you. You are the glory of Jerusalem; you are the joy of Israel, you give honor to our people. You are the advocate of sinners. O Mary, Virgin most prudent, Mother most merciful, pray for us, intercede for us, with the Lord Jesus Christ. Holy Virgin, you were spotless from the very moment of your conception. Because you bore His Son, pray to the Father for us.
O God, who by the Immaculate Conception of the Blessed Virgin prepared a worthy dwelling for your Son, grant, we pray, that, as you preserved her from every stain by virtue of the death of your Son, which you foresaw, so, through her intercession, we, too, may be cleansed and admitted to your presence. Through our Lord Jesus Christ, your Son, who lives and reigns with you in the unity of the Holy Spirit, one God, forever and ever. Amen.
A Reading from the Writings of St. Maximilian Kolbe
"She is, therefore, a creature of God, the property of God, the semblance of God, the image of God, the daughter of God, in the most perfect way possible for a mere human being. She is God's instrument. In full awareness, she lets herself be guided by God. She conforms to His will. She desires only what He wants; operates in accordance with His will and in the most perfect way possible, without the slightest blemish, without any deviation of her will from His. [She is God's instrument] in the perfect use of her faculties and privileges she was granted, in order to carry out always and in all things, solely and exclusively God's Will, out of love toward God One and Triune. Such love toward God reaches such heights that it produces divine fruits of love. Her union of love with God reaches such point that she becomes the Mother of God. The Father entrusts her own Son to her, the Son descends into her womb, while the Holy Spirit, from the body of her, shapes the most holy body of Jesus. (KW 1320)"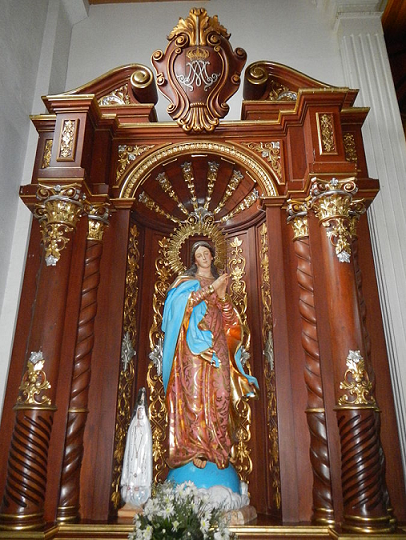 Prayer Intention
For our persecuted brothers and sisters. May the Holy Spirit fortify them with the courage to remain strong in faith and grant them a spirit of patience and charity, that they may be found true and faithful witnesses to the promises the Lord made. For those who persecute Christians, may the light of God's truth and mercy penetrate their hearts, and may they come to recognize the common humanity fo all peoples and cease committing acts of hatred. Amen.
Our Father...
Hail Mary...
Glory Be...
O Mary, conceived without sin, pray for us who have recourse to you, and for all those who do not have recourse to you, especially the enemies of Holy Church and all those recommended to you.
Meditation
"It was indeed befitting the three divine persons to preserve Mary from original sin. It was befitting the Father, for Mary was his first-born daughter. As Jesus was the first-born of God, so Mary, being destined to become the mother of Jesus, God always considered her as his adopted first-born daughter, and therefore always possessed her by his grace. It was, then, befitting the honor of the Son that the Father should preserve the mother from every stain of sin. It was also fitting because he destined this his daughter to crush the head of the infernal serpent which had seduced man. How could he then permit that she should first be his slave? Moreover, Mary was also destined to be the advocate of sinners; and for this reason, also it was meet that God should preserve her from sin, that she might not appear guilty of the very sin of those for whom she was to intercede." St. Alphonsus Liguori, in "The Glories of Mary."
Closing Prayers
Novena Prayer to the Immaculate
I greet you, ever-blessed Virgin, Mother of God throne of grace, miracle of almighty power! I greet you, sanctuary of the most Holy Trinity and Queen of the universe, Mother of mercy and refuge of sinners! Most loving Mother, attracted by your beauty and sweetness and by your tender compassion, I confidently turn to you, and beg of you to obtain for me of your dear Son the favor I request in this novena (here mention your request).
Obtain for me also, Queen of Heaven, the most lively contrition for my many sins and the grace to imitate closely those virtues which you practiced so faithfully especially humility, purity, and obedience. Above all, I beg you to be my mother and protectress, to receive me into the number of your devoted children, and to guide me from your high throne of glory. Do not reject my petitions, Mother of mercy! Have pity on me, and do not abandon me during life or at the moment of my death.
Daughter of the Eternal Father, Mother of the Eternal Son, Spouse of the Holy Spirit, temple of the adorable Trinity, pray for me. Immaculate and tender Heart of Mary, refuge of the needy and hope of sinners, filled with the most lively respect, love, and gratitude, I devote myself forever to your service, and I offer you my heart with all that I am and all that belongs to me. Accept this offering, sweet Queen of Heaven and earth, and obtain for me of your dear Son, Jesus Christ, the favors I ask through your intercession in this novena. Obtain for me also a tender, generous, constant love of God, perfect submission to his adorable will, the true spirit of a Christian, and the grace of final perseverance. Amen.
Closing Prayer of Identification with the Immaculate
O Immaculate Conception, Mary, my Mother, live in me, act in me, speak in and through me. Think your thoughts in my mind, love through my heart. Give me your own dispositions and feelings. Teach, lead and guide me to Jesus. Correct, enlighten and expand my entire personality and life. Replace me with yourself. Incline me to constant adoration and thanksgiving; pray in and through me. Let me live in you and keep me in this union always. Amen.


Pictures:
1) The Immaculate Conception, by Francisco de Zurbarán, 17th Century - CC0 Public Domain.
2) Altar of the Immaculate Conception, Christ the King Parish in Muzon, Philippines. Photograph by Ramon F. Velasquez, CC BY-SA 3.0.
Take a moment to treasure up all these things and ponder them in your heart (cf Luke 2,19)
Let your speech always be gracious, seasoned with salt, so that you may know how you ought to answer everyone. Col 4:6