Day Nine - Saint Charbel and the Eucharist - His last mass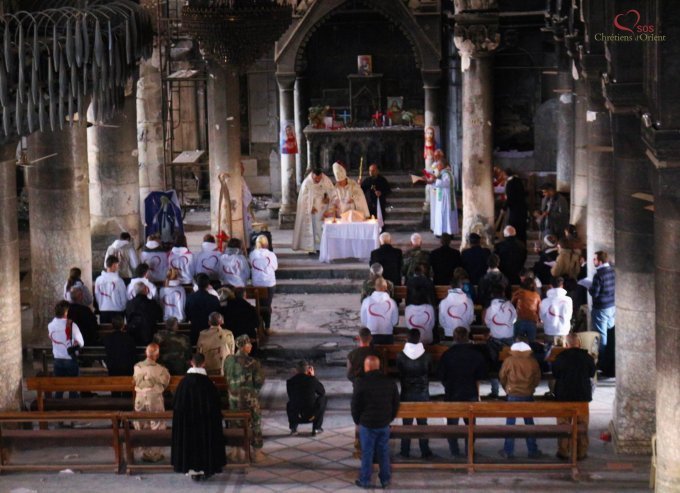 One Sunday, I joined a group of people, and we headed to the hermitage of Sts. Peter and Paul, a dependence of the convent of St. Maron in Annaya. We intended to celebrate the mass with Father Charbel.
As soon as he finished pronouncing the words of consecration, Father Charbel felt a sudden weakness. Father Makarios, his acolyte, hurried to him, undressed him from his heavy vestments, and helped him kneel. A few minutes later, as he was feeling better, Father Charbel stood up and resumed mass. He was lifting the Holy Host when all his muscles stiffened, causing him intense pain. When his acolyte wondered why Father Charbel was prolonging the host elevation, he checked on him and realized that Father Charbel was in extreme suffering, unable to move. Father Makarios gently removed the host from Father Charbel's hand and laid it on the paten. Then, assisted by Father Butros, another priest, they made Father Charbel rest on a chair by the altar. Half an hour later, Father Charbel was already feeling better, and he was able to complete the mass.
The next Sunday, I came back with other women to attend the mass at the Hermitage. Upon entering the church, we found Father Charbel prostrated in prayer. We asked a man there if he knew when mass would begin: it was so cold that I didn't believe I could wait for too long. He told us not to leave, as Father Charbel was about to celebrate the mass very soon.
Indeed, shortly after that, the hermit appeared wearing mass vestments and proceeded. But before the words of consecration, Father Charbel displayed the same symptoms as last Sunday. Service came to a halt, and we were about to head home when Father Makarios asked us to stay, as Father Charbel would resume mass after a short rest.
At the time of elevation of the chalice and the host, Father Charbel stood still, paler than usual. He remained paralyzed for several minutes until Father Makarios went to check on him. He asked Father Charbel to give him the chalice, but the hermit's hands clenched the chalice as firm as a rock. Father Makarios repeated: "Give me the chalice, Father Charbel, give me the body of Christ, do not worry." He then pried open the hermit's hands to release the chalice and the host, which caused Father Charbel much pain. The hermit was then seated by the altar to rest. Father Makarios was blushing and shaking with fear.
Father Charbel was able to resume mass, but as he was trying to consume the blood of Christ, his body stiffened again. Gathering all his strength, he maintained the chalice and got it close to his lips. He was able to drink the blood of Christ before Father Makarios tore the chalice from his hands again.
Father Charbel was removed from the service, carried to the hermitage by the other priests. He almost lost consciousness, yet he kept repeating: "O Father of truth, O Jesus, O Mary, O Joseph." His companions laid him on a carpet made of goat hair to keep him warm, in the kitchen. Outside, it was nothing but snow storms and ice, and the snow was quickly accumulating. But Father Charbel threw away the blankets and asked his acolytes to prepare the altar for him, for he had to celebrate mass. In Syriac, he repeated endlessly: "Praise the Lord of Heaven, praise Him to the highest Heavens; Lord, have mercy on me."
He didn't cease repeating these words for the last six days of his life.
Saint Charbel, increase the love of mass and Eucharist in our hearts and our volunteers' hearts, as you loved them yourself until the end. In Jesus' name, Amen.
Closing words:
Dear friends,
Our novena to Saint Charbel is now over. I hope that you enjoyed discovering this modest Saint. May he become a source of inspiration on your faith journey.
Please leave a comment to share your experience and your opinion about this novena, what you liked, what you liked less, it will help me adapt the content for future prayer communities.
Thanks for being a part of this spiritual adventure!
Until we meet again,
United in prayer,
- Danielle.
Take a moment to treasure up all these things and ponder them in your heart (cf Luke 2,19)
3 comments
Let your speech always be gracious, seasoned with salt, so that you may know how you ought to answer everyone. Col 4:6