Day Seven - The burial of Christ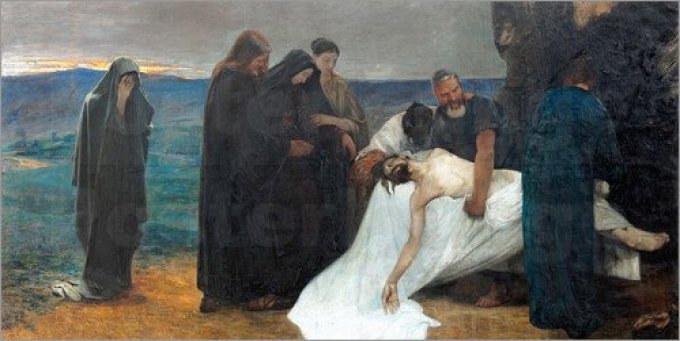 The Gospel
Mark 15:42 -47
When it was already evening, since it was the day of preparation, the day before the sabbath, Joseph of Arimathea, a distinguished member of the council, who was himself awaiting the kingdom of God, came and courageously went to Pilate and asked for the body of Jesus. Pilate was amazed that he was already dead. He summoned the centurion and asked him if Jesus had already died. And when he learned of it from the centurion, he gave the body to Joseph. Having bought a linen cloth, he took him down, wrapped him in the linen cloth and laid him in a tomb that had been hewn out of the rock. Then he rolled a stone against the entrance to the tomb. Mary Magdalene and Mary, the mother of Joses, watched where he was laid.
Matthew 27:57-61
When it was evening, there came a rich man named Joseph of Arimathea, who was himself a disciple of Jesus. He went to Pilate and asked for the body of Jesus; then Pilate ordered it to be handed over. Taking the body, Joseph wrapped it in clean linen and laid it in this new tomb that he had hewn in the rock. Then he rolled a huge stone across the entrance to the tomb and departed. But Mary Magdalene and the other Mary remained sitting there, facing the tomb.
Meditation
When the guards come to remove the body of Jesus off the cross, Mary Magdalene is still there. The guards give Jesus' corpse to Mary his mother, who takes her son on her knees, cradles him in her arms, and weeps. Mary Magdalene, kneeling by her side, cries too.
Joseph of Arimathea gently takes Jesus' body from his mother's arms, wraps him in a shroud and deposit him in a rocky tomb.
Mary Magdalene follows Joseph closely and sees where he put Jesus' body. She decides to sit for a moment near the tomb. She is exhausted, desperate, shocked, heartbroken and somber. Her gaze is fixed and empty. Tears pour down her face. Her Lord is now lying in the tomb, lifeless. She recalls in her mind those moments, from Jesus' arrest up to his death on the cross. Dozens of questions are crossing her mind: why did he shout to his Father "Father, forgive them, they know not what they do" (Luke 23,34)? Why did he tell one of the thieves "Today you will be with me in Paradise" (Luke 23,43)? Why did he cry "Eli, why have you forsaken me?" (Matthew 27,46)?
She keeps wondering: why, when he expressed thirst, was he given vinegar? Why did he tell his mother, while looking at John "Woman, here is your son", and likewise, he told John while looking at his mother: "John, here is your mother"?
Why did the soldiers not break his legs as they did for both thieves? Why did they pierce his side with a spear, knowing that he was already dead?
Why did he proclaim, in a last effort, "Father, into your hands I commend my spirit"? What did he mean when he said: "It is finished"?
Mary Magdalene has no answer. Her spirit is in turmoil. Raising her eyes, she sees the tomb, and reconnects with reality: he's dead. For real.
She feels a terrible void in her heart: Jesus is no more. Absent. Not beside her. What should she do without him? Who will she follow? Who will she listen to? Moreover, she cannot comprehend how the one who had the words of eternal life, the one who was the way, the truth and the life, is now laying in the coldness of the tomb!
Mary Magdalene is at the threshold of a stunning revelation: O Lord, how can I be without you? O Lord, what a painful experience to go through life without your Word, without your love. O Lord, I am aware of my human weakness. Without you, I am nothing.
Artwork by August von Brandis, Entombment of Christ,
Take a moment to treasure up all these things and ponder them in your heart (cf Luke 2,19)
Let your speech always be gracious, seasoned with salt, so that you may know how you ought to answer everyone. Col 4:6