Day Four - The Resurrection of Lazarus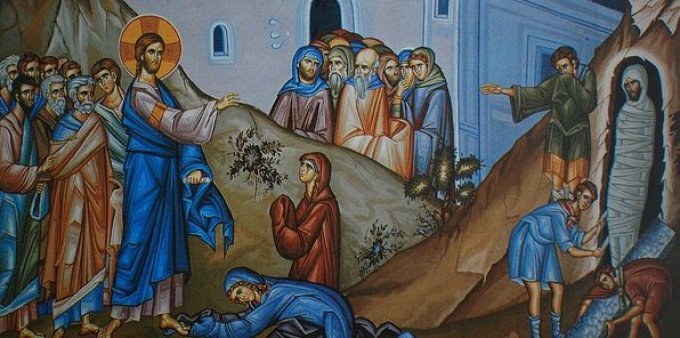 The gospel
John 11, 1-4; 32-35; 39; 42-44
Now a man was ill, Lazarus from Bethany, the village of Mary and her sister Martha. Mary was the one who had anointed the Lord with perfumed oil and dried his feet with her hair; it was her brother Lazarus who was ill. So the sisters sent word to [Jesus], saying, "Master, the one you love is ill." When Jesus heard this, he said, "This illness is not to end in death, but is for the glory of God, that the Son of God may be glorified through it."[…]
When Mary came to where Jesus was and saw him, she fell at his feet and said to him, "Lord, if you had been there, my brother would not have died." When Jesus saw her weeping and the Jews who had come with her weeping, he became perturbed and deeply troubled, and said, "Where have you laid him?" They said to him, "Sir, come and see". And Jesus wept. […]
Jesus said, "Take away the stone." Martha, the dead man's sister, said to him, "Lord, by now there will be a stench; he has been dead for four days."[…]
I know that you always hear me; but because of the crowd here I have said this, that they may believe that you sent me." And when he had said this, he cried out in a loud voice, "Lazarus, come out!" The dead man came out, tied hand and foot with burial bands, and his face wrapped in a cloth. So Jesus said to them, "Untie him and let him go."
Meditation
Jesus knows what true friendship is, the proof is in his relationship with Lazarus and his sisters. John the evangelist highlights this friendship four times in his gospel. On the first time, Jesus is informed of Lazarus' illness by Mary and Martha, in these words "Master, the one you love is ill." (John 11, 3) Then, John continues: "Now Jesus loved Martha and her sister and Lazarus." (John 11,5) When Jesus talks about Lazarus to his disciples, he describes him as a friend: "Our friend Lazarus is asleep, but I am going to awaken him." (John 11,11) Jesus is deeply saddened by his friend's demise. In the last occurrence, John says: "And Jesus wept. So the Jews said, 'See how he loved him.'" (John 11, 35-36)
Let's analyze this friendship: knowing that his friend Lazarus was ill, Jesus doesn't rush immediately at his bedside. Instead, he prays for his friend. He entrusts him to God. Why? Jesus teaches us here that the best we could wish for a friend is what God wants for him. Jesus could have run to deliver Lazarus from his illness and prevent his death.
Christ let Lazarus die; this is how we may see it. But if we give his behavior some thought, this is what we find: Jesus decides to meet Lazarus' sister when they need his presence the most. The two sisters have lots of friends who came to offer their condolences. But are these friends enough to ease their sorrow? Not really. When Jesus arrives at the city's gates, Martha rushes to welcome him. She then secretly informs Mary that the master is there.
Christ meets with each member of the family. He listens, he consoles. He absorbs their grief. He weeps with them. He understands the state of their heart, the state of their soul. He cries with those who cry. It is not some display of polite social expectation, but rather a demonstration of trust, of understanding, of love.
The two sisters are disappointed: "Lord, if you had been there, my brother would not have died." (John 11, 32)
We all know what happens next: Jesus revives Lazarus. Some would say that he did that taunted by the people in the crowd who doubted his powers. But we choose to see in it a beautiful friendship gift. It is also very symbolic of Christ's identity: he is the giver of life. He gave his own life, so that we may live. By leading us to the Father, he gives us eternal life. After all, didn't he say: "No one has greater love than this, to lay down his life for his friends." (John 15, 13)
And that's precisely what he did.
Take a moment to treasure up all these things and ponder them in your heart (cf Luke 2,19)
comments
Let your speech always be gracious, seasoned with salt, so that you may know how you ought to answer everyone. Col 4:6