Day Eleven - Spiritual Work of Mercy - To bear wrongs patiently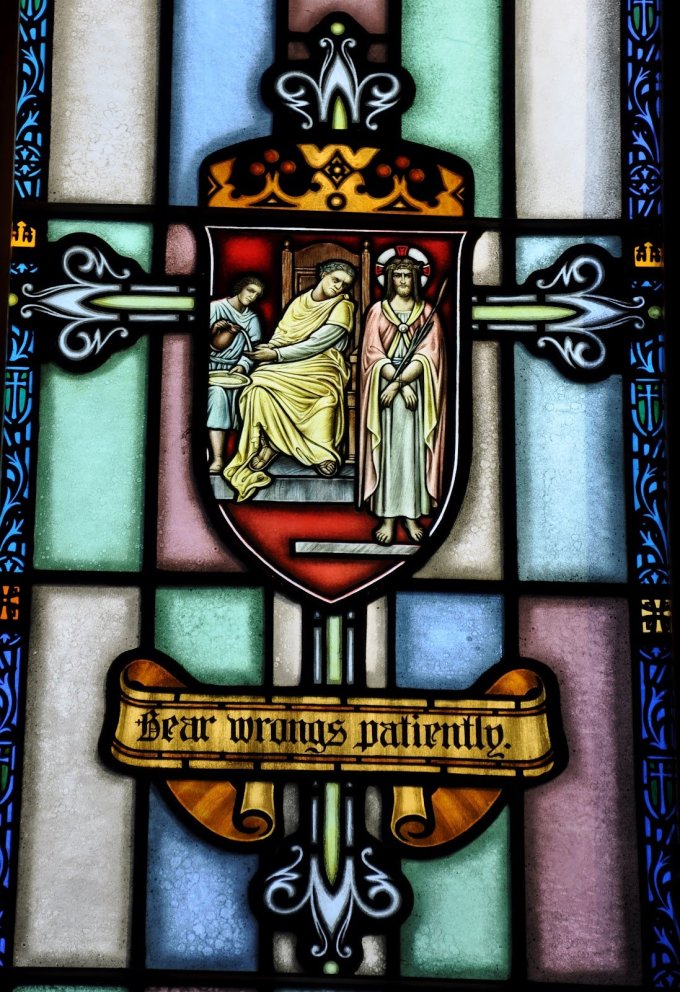 Dear Participants,
While most of the spiritual works of mercy are directed outward, aiming to help another person, this spiritual work of bearing wrongs patiently is directed inward, for our own spiritual benefit.
While this work of mercy seems easy in theory, it is relatively hard to put into practice. How many times have we been wronged, in how many ways? Our human nature would advise us to treat those who hurt us as badly as they have treated us. Yet, this is not what Jesus asked us to do: instead, he told us that we are to "turn the other cheek." Why would we do that? What's the point of being patient when someone mistreats us?
Only to get a glimpse into God's love. What did God do, even though we wronged Him on a daily basis, as individuals, groups, societies, countries? He sent His Son to die on the Cross for our salvation.
Today, we will be meditating on the following spiritual work of Mercy: to bear wrongs patiently.
From the Old Testament:
"The patients are better than warriors, and those who rule their temper, better than the conqueror of a city." Proverbs 16,32.
"My child, if you aspire to serve the Lord, prepare yourself for an ordeal. Be sincere of heart, be steadfast, and do not be alarmed when disaster comes. Cling to him and do not leave him, so that you may be honored and the end of your days. Whatever happens to you, accept it, and in the uncertainties of your humble state, be patient." Ecclesiasticus 2, 1-4
From the New Testament:
Then Peter approacher asked [Jesus], "Lord, if my brother sins against me, how often must I forgive him? As many as seven times?" Jesus answered, "I say to you, not seven times, but seventy-seven times.". Matthew 18, 21-22
Quotes from the Saints:
Thérèse de Lisieux: "I prefer to be accused unjustly, for then I have nothing to reproach myself with, and joyfully offer this to the good Lord. Then I humble myself and the thought that I am indeed capable of doing the thing of which I have been accused."
Edith Stein: "It is good to think about having our citizenship in Heaven and the saints of Heaven as our fellow citizens… Then it is easier to bear the things that are on Earth."
Josemaria Escriva: "You can be sure you are a man of God if you suffer injustice gladly, and in silence."
Saint Teresa of Avila: "Let us consider what the glorious Virgin endured, and what the holy apostles suffered, and we shall find that they who were nearest to Jesus Christ were the more afflicted."
Padre Pio: "Do not let your heart become troubled by the sad spectacle of human injustice. Even this has its value in the face of all else. And it is from his that one day you will see the justice of God rising with unfailing triumph."
Francis of Assisi: "Our Lord Jesus, whose footsteps we ought to follow, called his betrayer 'friend' and offered himself willingly to his executioners. Therefore all those who unjustly inflict upon us tribulations, anguish, shame and injuries, sorrows and torments, martyrdom and death, are our friends who we ought to love much because we shall gain eternal life by those things which they make us suffer."
St. Jerome: "Thank God I am deemed worthy to be hated by the world."
Take a moment to treasure up all these things and ponder them in your heart (cf Luke 2,19)
Let your speech always be gracious, seasoned with salt, so that you may know how you ought to answer everyone. Col 4:6