Day 6 : His spirituality (part 1) / Let's pray with Saint Josemaría Escrivá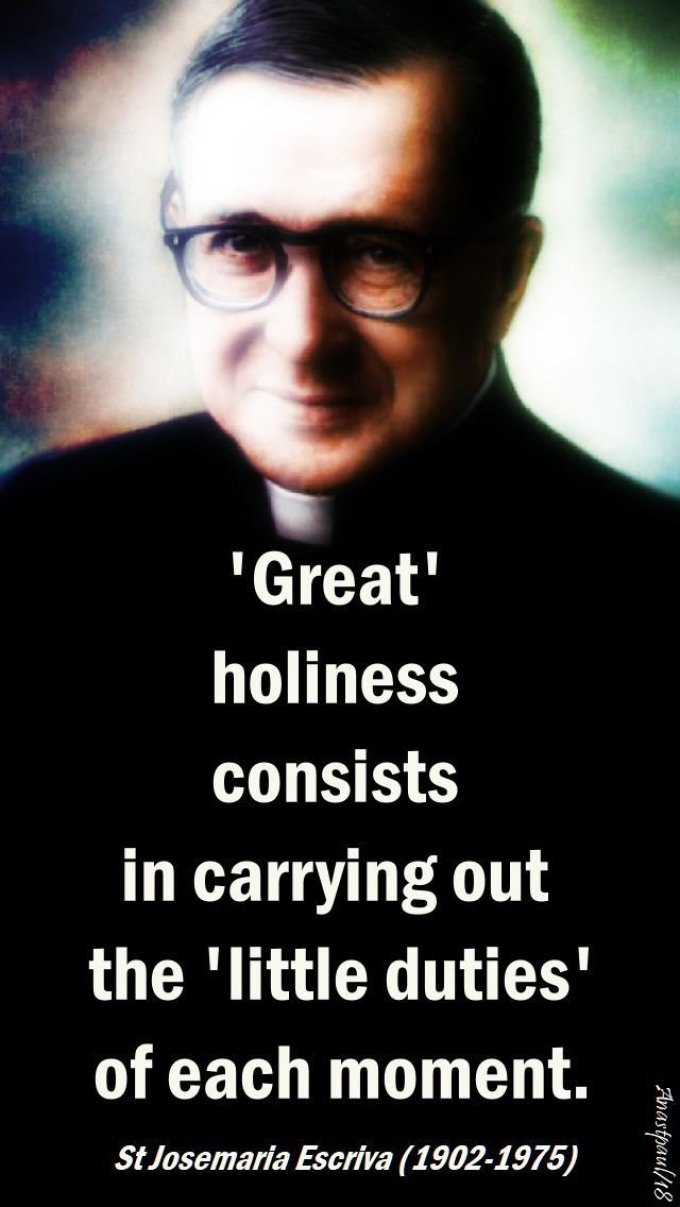 Holiness for everyone
"Holiness is not reserved to privileged persons, each way on earth can be divine : every condition, every profession, every honest task". This is taking Christ's teaching at face value, when he recommended to his disciples : "You must be perfect, just as your heavenly Father is perfect" (Mt 5, 48). (Conversations with Monsignor Escriva, n°62)
The sanctification of the ordinary life
In his preaching and in his writings, Saint Josemaría makes sure every Christian hears this insistent invitation, in particular those who maybe are not conscious to be called to holiness, because they are not attracted to priesthood, or to religious life. Giving oneself to God does not necessarily imply spending a more or less important amount of one's time to the realisation of good deeds, while neglecting others, starting by one's civil duties. The Christian calling asks to model one's entire life to God's plan expressed by the personal calling. It is blended with the human calling, and especially with "the professional one".
If you are there in the middle of ordinary life, it doesn't mean Christ has forgotten about you or hasn't called you. He has invited you to stay among the activities and concerns of the world. He wants you to know that your human vocation, your profession, your talents, are not omitted from his divine plans. He has sanctified them and made them a most acceptable offering to his Father. (Christ is Passing By, 20). "We urged you when we were with you not to let anyone eat who refused to work", admonished Saint Paul. Very early, Christians did not look at work for its own sake, but as an ascetic means allowing first to fight idleness, mother of all vices. For a long time, work has been accepted only as a penitence task, to repair sins ; even if, during the XVIIth century, some personalities had the will to bring Christians back on the prayer tracks, with, for example, someone like Saint Francis de Sales. Nevertheless, Cardinal Luciani (soon to be Pope John Paul I) perceived an essential difference between simply « getting closer to the world » and « sanctifying the world and in the world ». Francis de Sales "preached for holiness for all", but he seemed to envisage a "spirituality for laymen", when Escriva wanted a "lay spirituality".
Francis, indeed, suggests almost all the time to laymen the same means used by clergymen, with the appropriate modifications. Escriva is more radical : he talks straight of "materialising" - in a good way- sanctification. For him, it is work itself that has to transform into prayer and holiness. In 1965, the Second Vatican Council calls solemnly laymen to holiness in the world and proclaims the dignity for the human work.
Let's pray with saint Josémaria Escriva
(in The Forge)
Come Holy Spirit ! Give light to my understanding, to understand His commandments. Strenghten my heart against the traps of the ennemy.
Set ablaze my will.
I heard your voice and do not want to harden myself, to resist saying : after..., tomorrow.
Nunc coepi ! Now ! For fear of not having a tomorrow. Oh Spirit of truth and wisdom,
Spirit of understanding and of advice, Spirit of joy and of peace, I want what You want I want because You want I want as You shall want I want when You shall want
Holy Mary seat of Wisdom, pray for me.
Holy Joseph my Father and lord, pray for me.
My guardian angel, pray for me.
Take a moment to treasure up all these things and ponder them in your heart (cf Luke 2,19)
Let your speech always be gracious, seasoned with salt, so that you may know how you ought to answer everyone. Col 4:6