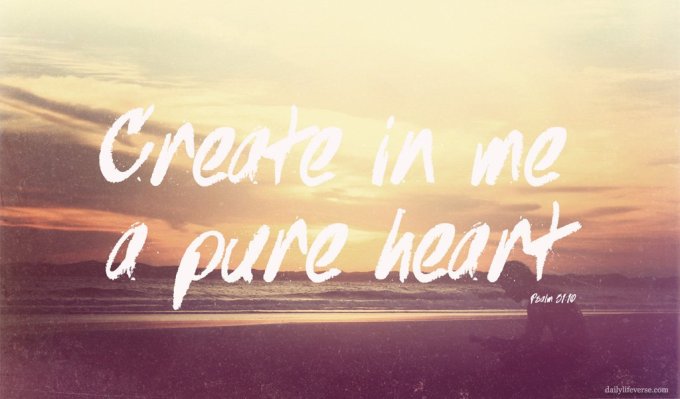 " Create in me a pure heart, O God; and renew a right spirit within me" Psalm 51:10
This "miserere" verse invites us to turn our hearts toward the Lord and beseech Him to strengthen our will and let ourselves be renewed by His Holy Spirit who is awake in us.
The psalmist asks for nothing less than a new creation!
"Create in me a pure heart, O God", that is an unadulterated, unduplicitous and unhypocritical heart, freely and purposefully progressing toward the fleetingly glimpsed at Goodness and undistractedly so. With the psalmist let us ask the Lord, He who guards our souls, to purify us from everything that might hinder our freedom and the unreserved gift of ourselves to Him and our brothers.
Clara urges and encourages us not to forget:
"Remember your calling, do not forget the fervour of your early days: carefully preserve what you have acquired; do thoroughly what you do; never shrink away; on the contrary make haste, delicately run without stumbling on the stones in your way, without even stirring the dust that might defile your feet; go with confidence, elation and joy. Progress with caution though on the path of happiness: do not trust and do not give yourself up to anyone who would purport to distract you from your calling, impede your progress and prevent you from being faithful to the Most High in the state of perfection which the Spirit of the Lord has called you to acquire".


PRAYER
Spirit of Holiness, come and cleanse my heart of what defiles, divides and tears it! Put upright what has been twisted! Strengthen my will to do Good and allow me to persevere in my progress in order to follow Christ.
Descend with all Thy gifts; particularly enlighten the young people who try to discover what their calling is within the Church.
Strengthen those who hesitate, fortify those who doubt, let Thy Fire set alight those Thou call to give themselves totally for the glory of the Father, for their own joy and for the life of the world.
MEDITATION OF THE DAY
In my life I keep an eye on what hinders or threatens to hinder my path to Happiness.
In the Bible the opposite of purity is not impurity but hypocrisy. A pure heart is unified.
Where lies the distance between what I think, what I do and what I say? Where lie my contradictions? Am I dependent on the perception and opinion of others? Or am I burning with the desire that everything be accomplished in me according to the loving design of the Father, following Christ and obeying the Holy Spirit? What hinders my freedom? In what fields do I feel the need to unify my life?
What if I took advantage of this novena week to experience the sacrament of reconciliation?
Take a moment to treasure up all these things and ponder them in your heart (cf Luke 2,19)
Let your speech always be gracious, seasoned with salt, so that you may know how you ought to answer everyone. Col 4:6