Joyful Mysteries: Nativity (Korean & Filipino Communities)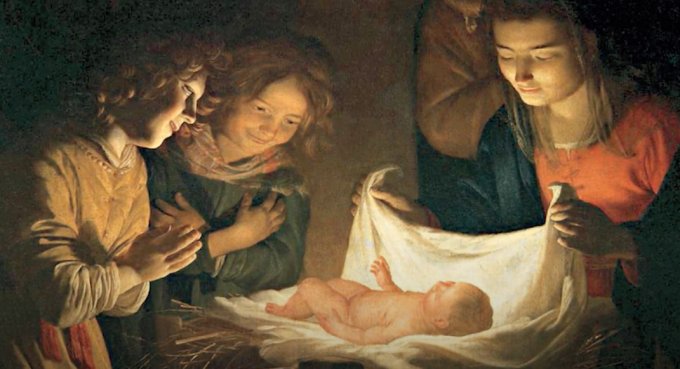 Scripture:
Luke 2:6-7. "And it came to pass while they were there, that the days for Mary to be delivered were fulfilled. And she brought forth her firstborn son, and wrapped him in swaddling clothing and laid him in a manger, because there was no room for them in the inn."
Reflection:
Mary and Joseph are far from home and she is about to give birth. They find nowhere to stay. Rather than panicking, they rely on God who leads them to a safe, warm place for his son's birth. I imagine their worry but also their sense of calm. They know God cares for them and he will not abandon them on this holy journey. As the angels announce Jesus' birth and the shepherds come to pay him homage, Mary and Joseph are surrounded by God's love. I pray for the grace to depend on God completely.
Intercession:
For the human family all over the world. May we grow as nations, peoples, and communities in the likeness of God, recognizing the preciousness of life and sharing all our gifts in love. Let us pray to the Lord.
Rosary Prayer
Our Father
10x Hail Mary's
Fatima Prayer
Take a moment to treasure up all these things and ponder them in your heart (cf Luke 2,19)
Let your speech always be gracious, seasoned with salt, so that you may know how you ought to answer everyone. Col 4:6