Day 1 - St. Michael, Who Shields Us Against Evil: Pray for Us!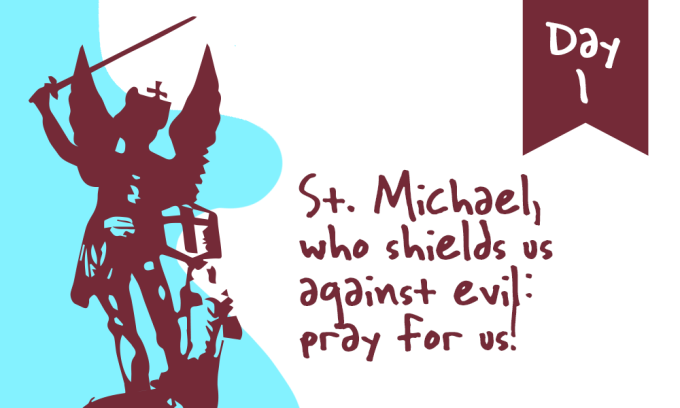 Say 'The Lord's Prayer'
Say three 'Hail Marys'
Say one 'Glory Be'
Prayer of Intercession
Most glorious Prince of the Celestial Militia, Saint Michael the Archangel, defend us in the fight we maintain combating against the principalities and powers, against the rulers of this world of darkness, against the malignant spirits dispersed through the airs. Come to the assistance of men whom God has created incorruptible in His image and likeness and rescued at such a high price from the tyranny of the devil.
Amen - Extract from Pope Leo XIII's exorcism
Meditation
The fiery passion of the Seraphim has them commune lovingly with the Divine Life. (Seraphim, from Saraph in Hebrew: "the burning one")
We, who God created in His image, but whose resemblance to Him was tainted by the Original Sin, are called to answer to the Divine Initiative with that same passion.
In the Book of Genesis, God offers 'every tree of the Garden' to Man, including the tree of life: Man experiences life as a gift to him, but, seduced by the Malign One, he also experiences evil, and dies... And to think he had God's protection...
Indeed, the Malign One is cunning enough to seduce, to lead humans away from God by attracting them to autonomous, 'Godless' lifestyles. But without God, human creatures are dispersed, clarity dims in their minds, individuals recoil and become defiant, as they think of God as their opponent; they want to keep happiness to themselves, and see other humans are seen as enemies when we are all called to become brothers and sisters in Christ.
Humans will progress on their path to salvation through selfless, repeated, daily acts of Charity.
We can only learn to know ourselves and do what we can - namely, surrender our will and fulfill God's will in us - St. Teresa of Ávila
Name Your Request... and Press "Pray"!
Take a moment to treasure up all these things and ponder them in your heart (cf Luke 2,19)
12 comments
Let your speech always be gracious, seasoned with salt, so that you may know how you ought to answer everyone. Col 4:6