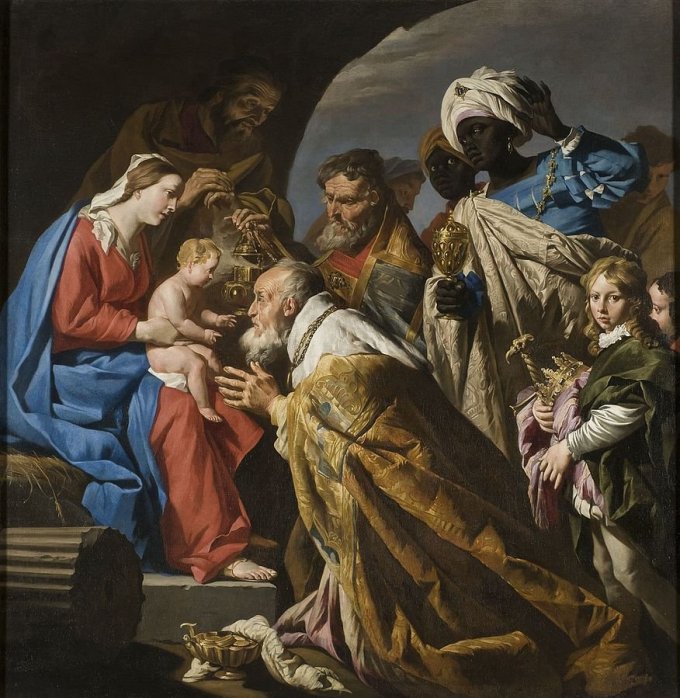 Prayer of the Novena
O holy Magi,
who were the first among the Gentiles
called to the knowledge of Jesus Christ,
and who persevered in the faith until your deaths,
obtain for us from the Lord
the grace of living always in conformity
to the baptismal promises
and especially in accordance with our religious vows
(or 'the duties of our state of life'),
leading ever a life of faith,
that like you, we may attain to the beatific vision
of that God Who now is the object of our faith.
Meditation
Whatever terrors the Arabian desert held for our soldiers during the Gulf War of 1991, it did hold out one reward. In that place where the horizon is absolutely endless, the sky incredibly wide and all-embracing, and where artificial lights of filament and neon are absent, the stars are a sight to see. They are brilliant, bright, multitudinous, magnificent, and seemingly almost within touch. Any soldier in the desert could appreciate why the ancient travelers over that ocean of sand navigated their caravans by these brilliant stars and learned to read the sky as well as we can read a Rand-McNally map.
At this time of the year, of course, we are interested in a certain group of travelers in that desert, travelers conjured up by Matthew to provide all generations with an ancient insight to the Child who was about to be born, that this Child was indeed for all ages, for all peoples, for all places, for all times. From north to south, from east to west, God is Emmanuel, "with us."
In any case, who would these prophetic figures of high imagination be for Matthew? What would be their context, their origin, and what would subsequent ages make of them?
The context is an old one. One of the great religions of the time was the Persian one, Zoroastrianism. There are probably only about a hundred twenty thousand followers today of the Persian prophet, Zoroaster, who lived about six hundred years before Christ. Most of them are now in India because there was a Muslim uprising and they fled to India; most of them are in Bombay. They are among the most intelligent and cultured people on Earth. They are exceedingly bright, sophisticated, and very generous. In fact, they are the highest philanthropic group on record; and so if the ideal is that you live what you say and preach, these Zoroastrians come off very well.
However, if you're thinking of joining them, you can't because you can only come into this religion by birth, not by conversion. That's why their numbers are small; and, like most sophisticated and well-off people everywhere, they have few children. The well-known conductor, Zubin Mehta, is a Zoroastrian.
The reason I mention the Zoroaster religion is because Matthew says in his gospel that when Jesus was born, Wise Men came from the East to Jerusalem asking, "Where is he who has been born the King of the Jews? We have seen his star in the East." Now, although many translations are given–Magi, magicians, astrologers—it is very likely that these so-called wise men were priests of the Zoroaster religion. And one of the clues to this guess is their constant reference to the star because it is their belief that every good person has a guiding light in the heavens that appears as a star; and the greater the person born, the brighter the star in the heavens. Now that would figure: as Zoroastrian priests, they saw this bright star and knew that there was a great person who had been born somewhere. As a matter of fact, the Zoroastrians worship the god of light, Ahura Mazda, which is one of the early names for the electric light, and it's also the name of a company that produces electric bulbs today. The reference is to the Zoroastrian god of light.
And so the most intelligent guess about Matthew's symbol of a universal salvation, which included such gentiles as the Magi, is that as Zoroastrian priests they worshipped the god of light and believed that every great person had a bright star. No wonder they trekked across the desert in search of the one whose bright star was extraordinary.
Their number? That has varied with imagination. Sometimes the number was given as twelve, but often the number was given as six. The six got entrenched because in Milan, Italy, supposedly, three relics of the Magi were honored. But in 1164 there was an uprising and the relics were moved to Cologne, Germany. But in time people didn't know that bit of history and so they figured there were three relics in Italy and three in Germany and that equals six Magi. Finally, imagination worked backwards and figured that since there were three gifts mentioned –gold, frankincense, and myrrh– this suggested Three Givers. Thus our Zoroastrian priests have come down to us as the Three Wise Men.
But the impulse of storytelling could never let Matthew's tale rest there, and in fact it took a clue from Matthew himself by reaching back to the Old Testament. There it found a psalm, the very responsorial psalm we used today, Psalm 72, whose refrain says, "The Kings of Arabia will come bearing gifts." This psalm was applied to the Magi and so the unnumbered priests of Zoroaster were turned into Three Kings. "We Three Kings of Orient Are" is our musical testimony to this development.
How about their names? In Matthew's version there are no names. Some would speculate that this was done on purpose and was consistent with Matthew's story. Since mad King Herod was running all over killing anybody connected with the Christ Child, Matthew didn't want to use the names of the Magi since they and their descendants would thereby be in peril of their lives. But once more imagination could not abide that lack for long and thus long after wicked Herod died, names were found. In fact, the names we have today were first found in those fabulous sixth-century mosaics in Ravenna, Italy: Balthazar, Melchior, and Gaspar.
Even the gifts took on symbolism. Gold equals the virtue of these travelers. Frankincense, which is like incense going up to heaven, says they were a people of prayer, daily lifting their prayers to God. And myrrh, which is bitter and a kind of mineral, means they were willing to take on the bitterness and sacrifice necessary in their pursuit of the Holy One of Light.
Other stories and legends clustered around these very exotic people. One legend says that when they were over a hundred years old, they met again in 54 A.D. in Armenia to attend Midnight Mass, and then died shortly after. Another says they went to India where they were consecrated bishops by Thomas the Apostle and they died in their dioceses. Another legend, which I like, says that they were of three different ages. Gaspar was a very young man. Balthazar was in his middle age, and Melchior was an old man. When they arrived at Bethlehem, the three of them betook themselves into the cave of the Savior's birth and they went in one at a time. When Melchior, the old man, went into the cave, there was no one there but a very old man his own age with whom he was quickly at home. And they spoke together of memory and of gratitude. The middle-aged Balthazar encountered a middle-aged teacher when he went into the cave and they talked passionately of leadership and responsibility. And when young Gaspar entered, he met a young prophet, and they spoke words of reform and promise. And then when they had all gone outside after going in one by one, the three of them took their gifts and went in together. And when they went in together there was nobody there but a twelve-day-old infant. And later on, they understood. The Savior speaks to every stage of life. The old hear the call to integrity and wisdom. The middle-aged hear the call to generativity and responsibility. And the young hear the call to identity and intimacy.
Truly, the Three Wise Men have caught our imagination, and noticeably more so than the other group in Matthew's Christmas story. And there is, I think, a powerful reason for that. That other group is the shepherds. Have you noticed that the shepherds have never really caught our imaginations and that we have few stories about them? The reason is that, in the gospels, the shepherds are told everything. They are encountered by a very talkative angel. And this angel tells them every detail: where the Child is to be found, who's there, how to get there. When the shepherds arrive at the cave, the angel appears again to verify the place, and when the shepherds return they're guided by a whole heavenly choir of angels singing to them along the way. So these shepherds have no doubts, no questions, no problems, no persecutors, no mystery. They didn't have to seek information. It was handed to them. They had it made.
That's not our experience. The easy-come, easy-go shepherds are not for us. Our experience is more likely the struggling Magi. We, like them, are searchers. We have difficulty with the large questions of life. We are harassed by our modern Herods who seek to destroy our children with consumerism, materialism, greed. We wonder about family life, AIDS, crime in the streets, illness, cancer, war, recession, death. Yes, we too would like heavenly messengers and heavenly assurances such as the shepherds got, but the fact is we experience neither. No, no doubt about it, it's the Magi, the struggling band crossing a hot desert with only a vision and hope to guide them, that resonates with us. They're our kind of people and we'll never tire of telling stories about them.
So, we'll stick with them because the bottom line is that they are searchers and so are we. But they are searchers who have taught us something. They searched together and have left us the clear message that we must always do the same. We can't search, we can't travel, and we can't find alone. We need one another and that's why we're here this morning. This is why we "come to church." Alone, we tend to become idiosyncratic, distorted, and lost. We need the collective wisdom of the community. We need the collective support and prayers of our fellow pilgrims. There's more than the sum total of people here when all of us chorus together, "Lord, have mercy on us!" and, like the Magi, search the ancient Scriptures together. We are a caravan. We are a church. We listen together. We pray together. We cry out together. We are strengthened and comforted by each other. There's no other way to travel.
The Magi didn't have all the answers. Neither do we. They had a wicked King after them. In many ways so do we. But on their life travels what they did have was fellowship and the light of Christ to guide them. And so do we. But the best part of the wondrous Magi story comes at the end: they left us a promise. For at last they found what they were looking for. And so will we. - Slouching Toward Bethlehem, by Fr. William J. Bausch, in More Telling Stories, Compelling Stories, Connecticut: Twenty-Third Publications, 2000, pp. 66-71).
Epiphany Carol: We Three Kings of Orient Are
We three kings of Orient are
Bearing gifts we traverse afar
Field and fountain, moor and mountain
Following yonder star

O Star of wonder, star of night
Star with royal beauty bright
Westward leading, still proceeding
Guide us to thy Perfect Light

Born a King on Bethlehem's plain
Gold I bring to crown Him again
King forever, ceasing never
Over us all to rein

O Star of wonder, star of night
Star with royal beauty bright
Westward leading, still proceeding
Guide us to Thy perfect light

Frankincense to offer have I
Incense owns a Deity nigh
Pray'r and praising, all men raising
Worship Him, God most high

O Star of wonder, star of night
Star with royal beauty bright
Westward leading, still proceeding
Guide us to Thy perfect light

Myrrh is mine, its bitter perfume
Breathes of life of gathering gloom
Sorrowing, sighing, bleeding, dying
Sealed in the stone-cold tomb

O Star of wonder, star of night
Star with royal beauty bright
Westward leading, still proceeding
Guide us to Thy perfect light

Glorious now behold Him arise,
King and God and sacrifice,
Heaven sings, "Halleluiah!"
"Halleluiah!" Earth replies.

O Star of wonder, star of night
Star with royal beauty bright
Westward leading, still proceeding
Guide us to Thy perfect light
Picture: The Adoration of the Magi, by Matthias Stomer, 17th century. CC0 Public domain.
Take a moment to treasure up all these things and ponder them in your heart (cf Luke 2,19)
Let your speech always be gracious, seasoned with salt, so that you may know how you ought to answer everyone. Col 4:6