Sorrowful Mystery: the Agony of Jesus in the Garden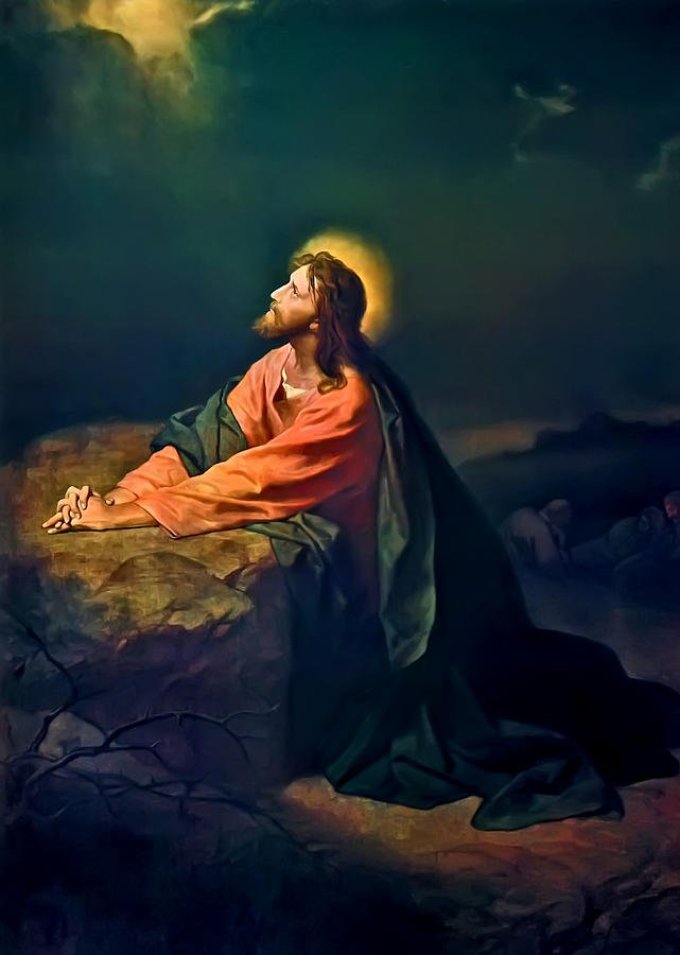 With this first sorrowful mystery, we are invited to meditate on contrition, which is the repentance of past sins.
Benedict XVI explains that, in Jesus falling prostrate on the ground in the garden of Gethsemane, before his Passion, we are to see "a position of prayer that expresses obedience to the Father and abandonment in him with complete trust."
And so we, to continue quoting Benedict XVI, "should be able [in prayer] to lay before God our labours, the suffering of certain situations, of certain days, the daily commitment to following him, to being Christian, and also the weight of the evil that we see within ourselves and around us, so that he may give us hope and make us feel his closeness and give us a little light on the path of life." Excerpt from Benedict XVI General Audience, 02/01/2012
Today, let us pray for contrition for our sins:
O Jesus agonizing in the Garden of Olives, grant us the strength to overcome the dereliction and griefs of the heart, and give us the regret of having offended God - Padre Pio
Prayer intention: for the victims of abuse
Father, we entrust to Your healing care all person victim of sexual abuse and/or power abuse from Church persons or Church institutions. We lay before You their suffering, including having been ignored by the Church authorities, thus allowing the injury to be perpetuated on them or others.
Please lay Your hand on them, relieve their immense pain, and heal their wounds. Grant these persons to fully recover and blossom. May this extremely traumatizing contact with the Church not prevent them from knowing Your special love for them. Please put in their life people who will support them, who will show them the real face of Your Son within the Church. Finally, grant them to find one day the strength, with Your grace, to forgive their torturer.
With Mary and Saint Michael Archangel, we ask You in the name of Jesus. Amen.
Let us pray:
One Our Father.
Ten Hail Mary.
The special prayers to the Blessed Virgin and St. Michael Archangel by clicking on the button "Pray" below.
Please share on social media: those who are not part of the community will at least be able to meditate on the content.
Picture: Christ in the Garden of Gethsemane, by Heinrich Hofmann.




Take a moment to treasure up all these things and ponder them in your heart (cf Luke 2,19)
comments
Let your speech always be gracious, seasoned with salt, so that you may know how you ought to answer everyone. Col 4:6