Day 5 - St. Michael, Protector of the Church, Crush Satan Under Your Feet!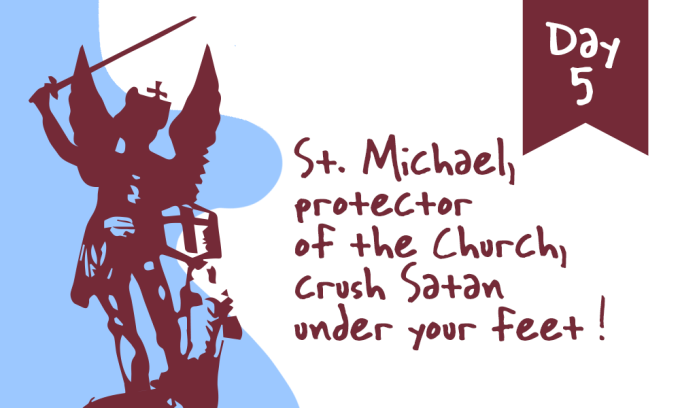 Say 'The Lord's Prayer'
Say three 'Hail Marys'
Say one 'Glory Be'
Prayer of Intercession
Saint Michael Archangel, the Holy Church venerates you as Her guardian, patron and protector; be the glory that you are as Her defender against the toxic terrestrial and infernal powers; God has entrusted to you the souls of the redeemed to place them in the state of their deserved supreme happiness. Plead to the God of Peace that He crush Satan beneath our feet, so that he may no longer retain men captive nor harm Your Church. Offer our prayers to the Most High so that without any delay the mercies of the Lord may descend on us, and hold captive the dragon, the old serpent, which is the devil and Satan and, once enchained, cast him into the abyss so that he may never again be able to seduce the nations.
Amen.
From the Exorcism Prayer by Pope Leo XIII
Meditation
Looking at all the upsetting events that have happened lately (namely the indecent behaviours that have been reported within the Church), one might think that God Himself is seeking to purify His own Church! But as a Parisian Vicar would have it: "Our sins hurt the Church much more than the fires damaged Notre-Dame".
The saints would wait and offer their suffering, they did not raise dissent within the Church, arguing with one another or with their superiors over who or what is more right or wrong. Indeed, gathering in like-minded crowds to impose ideas through the strength of numbers is an attractive thought : "pride gives birth to dissension while love generates unity." said St. Augustine in his sermon 'On Pastors'. God may ask us what we have done for His body, i.e. the Church...
1 Corinthians 13:2 : "If I have the gift of prophecy and can fathom all mysteries and all knowledge, and if I have a faith that can move mountains, but do not have love, I am nothing". John Paul II, in his address to Bishop Clergy and lay faithful Novo Millenio Ineunte, reminds us of the "spirituality of communion" mentioned by Vatican II. Quoting St. Paul, he said:
"If we are without love, all (that we are doing) will come to "nothing" .
Love is truly the "heart" of the Church, as was well understood by Saint Thérèse of Lisieux, whom I proclaimed a Doctor of the Church precisely because she is an expert in the Scientia Amoris."
I understood that the Church had a Heart and that this Heart was aflame with Love. I understood that Love alone stirred the members of the Church to act... I understood that Love encompassed all vocations, that Love was everything - St. Therese of Lisieux
Name Your Request... and Press "Pray"!
Take a moment to treasure up all these things and ponder them in your heart (cf Luke 2,19)
16 comments
Let your speech always be gracious, seasoned with salt, so that you may know how you ought to answer everyone. Col 4:6