Day 7: Our Lady Untier of Knots Novena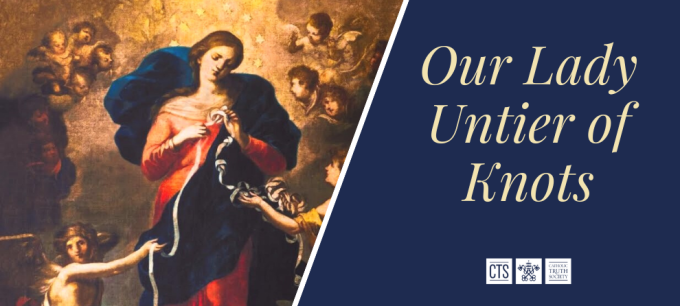 In the name of the Father, and of the Son, and of the Holy Spirit. Amen.
Act of Contrition
O my God, I am heartily sorry for having offended You and I detest all my sins, because I dread the loss of heaven and the pains of hell, but most of all because they offend You, my God, who are all good and deserving of all my love. I firmly resolve, with the help of Your grace, to confess my sins, to do penance and to amend my life.
Amen.
Recite the first three decades of the Holy Rosary.
Meditation
Mother most pure, I turn to you today: I beseech you
to untie this "knot" of my life (name it if possible...)
and to free me from the influence of evil.
God has granted you great power
over all the demons.
Today I renounce the demons and all of the ties
I have had with them.
"Mary untier of knots," pray for me.
I proclaim that Jesus is my only Saviour
and my only Lord.
O "Mary untier of knots,"
crush the head of the devil.
Destroy the traps caused
by these "knots" in my life.
Thank you, Mother most beloved.
Lord, free me with your precious Blood!
You are the glory of Jerusalem, you are the honour of our people.
Recite the last two decades of the Holy Rosary.
Click Pray to pray the Closing Prayer of Supplication.
Take a moment to treasure up all these things and ponder them in your heart (cf Luke 2,19)
3 comments
Let your speech always be gracious, seasoned with salt, so that you may know how you ought to answer everyone. Col 4:6