31st May: My Month With Mary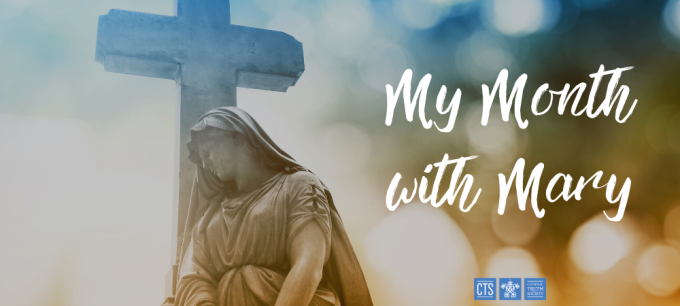 Opening Prayer
Come Holy Spirit, come by means of the powerful intercession of the Immaculate Heart of Mary your well-beloved spouse. (3 times)
Quote from a Saint
"When you are assailed by poverty, disrepute, sorrow, temptation, and other crosses, arm yourselves with the shield, breastplate, helmet and two-edged sword, which is the remembrance of Christ crucified. It is there you will find the solution of every problem and the means to conquer all your enemies."
(St Louis de Montfort)
Reflection
Many people look at the cross and see their salvation, but do not see the humble figure of Mary with her hand stretched out to us, asking us to take her hand and journey through that crucifixion to the resurrection that Christ's death brought each one of us. Once, a person was very impressed with a woman filled with the grace of God, and said to her "I want your peace." She replied, "Are you willing to be crucified to receive it?"
Resolution
Mary, help us take you by the hand; lead us through the crucifixion where we will find the freedom that Christ's death brought each one of us.
Marian Prayer: Ave Maris Stella
Hail, bright star of ocean,
God's own Mother blest,
Ever-sinless Virgin,
Gate of heavenly rest.
Taking that sweet Ave
Which from Gabriel came,
Peace confirm within us,
Changing Eva's name.
Break the captives' fetters,
Light on blindness pour,
All our ills expelling,
Every bliss implore.
Show thyself a Mother;
May the Word Divine,
Born for us thy Infant,
Hear our prayers through thine.
Virgin all excelling,
Mildest of the mild,
Freed from guilt, preserve us,
Pure and undefiled.
Keep our life all spotless,
Make our way secure,
Till we find in Jesus,
Joy for evermore.
Through the highest heaven
To the Almighty Three,
Father, Son and Spirit,
One same glory be. Amen.
Click the orange "Pray" button below to recite the prayer of consecration.
Take a moment to treasure up all these things and ponder them in your heart (cf Luke 2,19)
Let your speech always be gracious, seasoned with salt, so that you may know how you ought to answer everyone. Col 4:6