Day 9 - Saint Peregrine Novena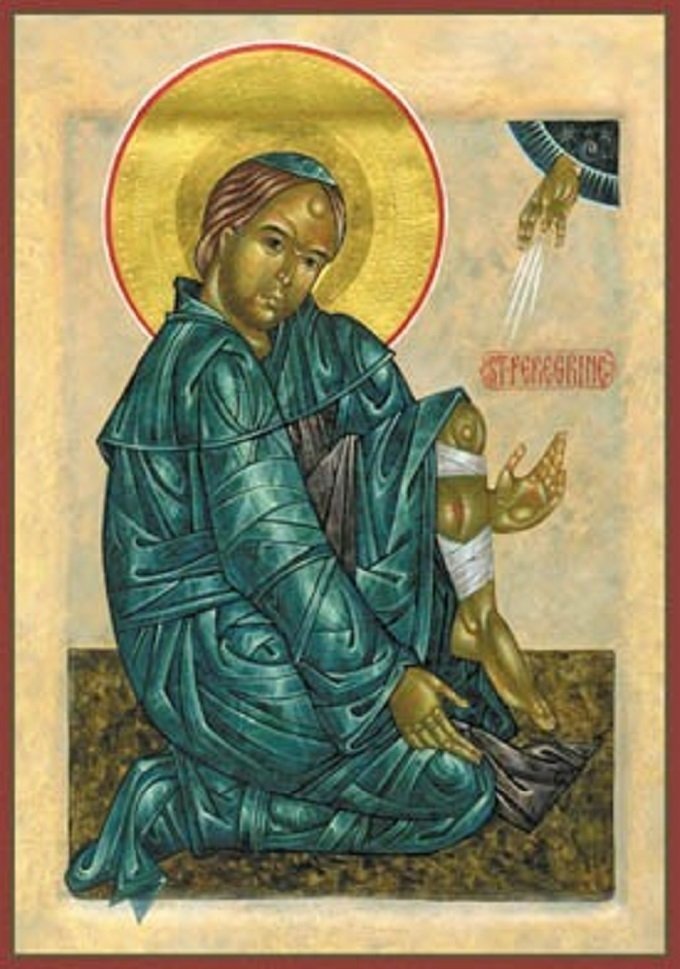 In the name of the Father, the Son and the Holy Spirit. Amen.
I put myself in the presence of the Lord Jesus,
I remain in silence to let myself be invaded by the presence of Jesus, Mary, Saint Peregrin,
« Son, here is Your Mother. « (John 19, 27)
To love Mary: to love like the Lord Jesus, to be like Him, source of joy, to share everything with Her, even the Cross. I have my cross to bear: it is the sign of my belonging. I need Mary to help me do it ... Holiness is not a luxury, but a duty. Great holiness always becomes simple if I truly belong to Mary. I give my Mother complete freedom so that She can use Me as I want.
Prayer of the day:
Lord Jesus, You who in your great goodness gave your servant Saint Peregrine a great and deep devotion to the Blessed Virgin Mary, grant me this same favor. Train me the child of Mary. Good and Most Merciful Jesus, give me Your Most Holy Mother, the Blessed and Immaculate Virgin Mary, who is also mine. Amen.
Our Father, Hail Mary, Glory be to the Father
Saint Peregrine, pray for me.
Saint Peregrine, pray for all those who suffer.
Saint Peregrine, you who suffered, put in my heart, Faith, Hope and Peace.
Suggestion:
Offer up a small sacrifice, a resolution for this day.
When we think about it, we will find lots of resolutions to offer, "just for today". Some examples: going to mass, a visit to the Blessed Sacrament, quitting smoking or watching TV for a day, a gesture of love towards someone who needs it, a phone call or a short prayer ...
Let us pray:
Prayer for healing of people with cancer
Lord Jesus, it is with confidence that I begin this novena with You and Mary, our Holy and Virgin Mother, to obtain, by the intercession of Saint Pérégrin, the healing of ……. suffering from cancer.
Lord Jesus, save me from this terrible disease and above all keep me in Your Love.
Amen
Prayers to be said each day of the novena: click on "I pray"
THANK YOU, for your presence, your thoughts, prayers, comments, as well any of your suggestions, which we will take into account.
This novena was not easy; neither for you nor for me. I know some topics are difficult to be approached, please know that I am always in union of prayer with You All.
Last but not least,
Let us finish our novena with the Litanies of Saint Peregrine:
Lord, have mercy on us.
Christ, have mercy on us.
Christ, listen to us.
Christ, hear us
God, Heavenly Father, have mercy on us.
God, the Son, Redeemer of the world, have mercy on us.
God, the Holy Spirit, have mercy on us.
Holy Trinity, one God, have mercy on us.
Saint Mary, Mother of God, pray for us.
Saint Mary, Mother of Sorrows, pray for us.
Saint Peregrin, (after the invocations, we say: pray for us).
Converted by the prayers of Saint Philip Benizi,
Afflicted with a cancerous tumor,
Completely healed by the outstretched hand of the crucified Jesus,
Who has performed many miracles in your life,
Who multiplied food and drink,
Who healed the sick by the power of the Name of Jesus,
Who converts sinners hardened by prayer and fasting,
Full of confidence in prayer,
Full of austerity in penance,
Patient in suffering,
Humble in the holy priesthood,
Zealous for souls,
Relief of the afflicted,
Dedicated to the Passion of Jesus and the pain of Mary,
Victim with Jesus and Mary for the salvation of souls,
Healer of the sick,
Hope of incurable cases
Universal patron of all who suffer from cancer,
Glory of the Order of the Servites of Mary,
Lamb of God who take away the sins of the world, forgive us Lord.
Lamb of God who takes away the sins of the world, hear us Lord.
Lamb of God who takes away the sins of the world, have mercy on us Lord.
Pray for us, O glorious Saint Peregrine,
So that we may be worthy of the promises of Christ.
Let us Pray
O God, be good and listen to the prayers that we present to you in honor of Saint Peregrine, your beloved servant. We confide in his intercession, he whose life was so pleasant for you. Through Christ our Lord. Amen.
Take a moment to treasure up all these things and ponder them in your heart (cf Luke 2,19)
1 comment
Let your speech always be gracious, seasoned with salt, so that you may know how you ought to answer everyone. Col 4:6