9th day: I am the Immaculate Conception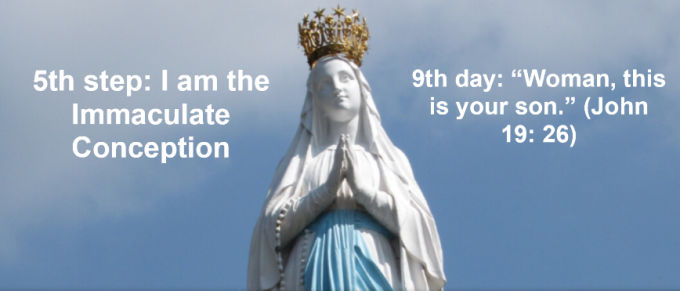 Verse
"Woman, this is your son." - John 19: 26
Meditation
Mary in Lourdes tells her name to Bernadette on the morning of the 25th March. She does not come only to confirm Pope Pius IX's declaration (who had proclaimed that the Immaculate Conception of Mary was a dogma, a truth belonging to the essence of the Catholic faith). The Lady is not simply showing herself, but indicating within herself the little embryo who will be born nine months later. On the 25th March, we celebrate the conception of Jesus in the womb of the Virgin Mary.
In the Grotto, we must perform a spiritual ultrasound in order to recognise the little one that we cannot see yet, the Son of God! If Mary is immaculate, transparent in Love, it is to allow this free Gift to pass through her. In her, there is no hesitation, no doubt, no pulling away: God had prepared her, he had preserved her from sin, and she had let it be done; God's coast is clear in her! This woman is completely taken, identified by her mission: she is the mother, she is the conception of the Son of God. And she is also the mother of believers, of those who let themselves be taken by the gift of love. She is my mother, whom Jesus presents to me from the top of the Cross: the Mother of God is our mother! Let us tell her again of our trust, let us return to her like little children in the family home. In Mum's arms, we recognise our brother, Jesus, the Son of God.
Prayer
Say three Our Father, three Hail Marys, three Glory Be.
We invite you to recite a prayer to Our Lady of Fatima to entrust your petitions to her, by clicking on the orange "Pray" button at the bottom of this post.
Take a moment to treasure up all these things and ponder them in your heart (cf Luke 2,19)
1 comment
Let your speech always be gracious, seasoned with salt, so that you may know how you ought to answer everyone. Col 4:6