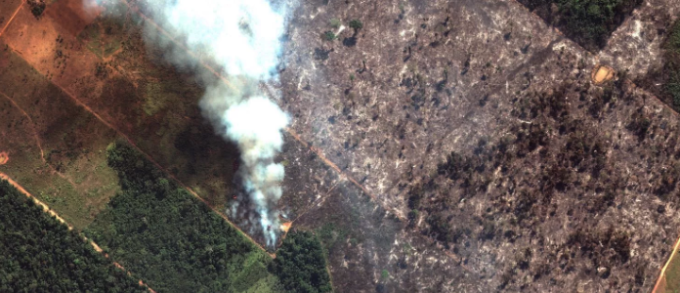 News
The Amazon rainforest has been on fire for the past month, and Brazil has declared a state of emergency in the region. The fires are destroying the homes of indigenous tribes and threatening millions of animal species.
There are so many fires burning right now, that smoke is visible from space. The haze is so widespread, it resembles clouds in some of the photos.
People around the globe took to the streets in protest, demanding action to stop the fires. Eventually, foreign leaders began to speak out on social media and develop a plan to help put out the fires.
The fires have spread to Bolivia and Paraguay, according to a report from Telesur on last Wednesday. The smoke can be felt in Uruguay and Argentina. Previously, satellite images showed fires in the Brazilian states of Amazonas, Rondonia, Para and Mato Grosso.


Laudato Si

Everything is related, and we human beings are united as brothers and sisters on a wonderful pilgrimage, woven together by the love God has for each of his creatures and which also unites us in fond affection with brother sun, sister moon, brother river and mother earth. (92)
We are not faced with two separate crises, one environmental and the other social, but rather one complex crisis which is both social and environmental. Strategies for a solution demand an integrated approach to combating poverty, restoring dignity to the underprivileged, and at the same time protecting nature. (139)
Take a moment to treasure up all these things and ponder them in your heart (cf Luke 2,19)
Let your speech always be gracious, seasoned with salt, so that you may know how you ought to answer everyone. Col 4:6
Would you like to receive more posts from this community of prayer?
#PrayForAmazonia
Summary - Wildfires have been spreading across Brazil's Amazon rainforest, and there are no signs of the fires stopping any time soon. Let's create a worldwide chain of prayer!  Discover the community