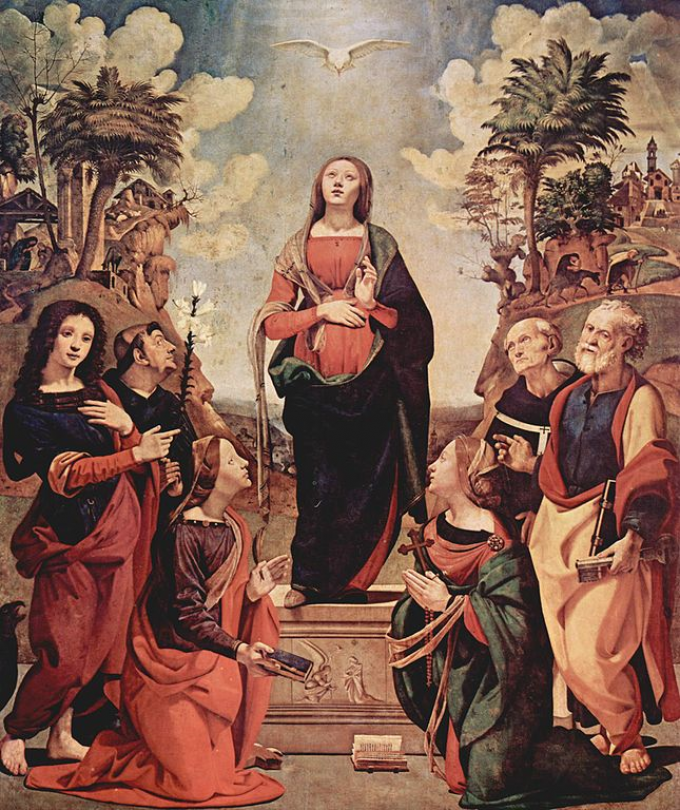 Opening Prayer
How fair are you, O Mary, the original stain is not in you. You are the glory of Jerusalem; you are the joy of Israel, you give honor to our people. You are the advocate of sinners. O Mary, Virgin most prudent, Mother most merciful, pray for us, intercede for us, with the Lord Jesus Christ. Holy Virgin, because you bore His Son, pray to the Father for us.
A Reading from the Writings of St. Maximilian Kolbe
"Human words cannot describe who the one is, who became the true Mother of God. Of course, taken by herself, she is merely a creature. Yet, she was raised up so high by God that one would need to understand who God is to comprehend who the Mother of God is. Also, she is the true Mother of God. It is a dogma of faith.
Although the dignity of divine motherhood accounts for most of her privileges, the first grace she received from God was her Immaculate Conception, her exemption from any blemish, even from original sin, since the first moment of her existence. Such privilege, moreover, must be very dear to her, for in Lourdes she named herself: 'I am the Immaculate Conception.' On that occasion, she did not say, 'I was conceived without sin,' but 'I am the Immaculate Conception;' it follows of necessity that she is immaculateness itself.
In fact, she is a conception, since she came into existence in time. However, she is the Immaculate Conception. God said to Moses: 'I am Who I am' [Ex 3:14]: I am existence itself, so I am without beginning. Instead, the Immaculate says of herself, 'I am Conception,' but, unlike all other human beings, the 'Immaculate Conception.'" (KW 1292)
Prayer Intention
For the Catholic Church throughout the world and in our country, for His Holiness Pope Francis, the Bishops, the Priests, the Consecrated. May the Lord keep them faithful to their vocation and the proclamation of His message, may He strengthen them with the gifts of the Spirit and help them serve their subjects, especially the poor and lowly.
Our Father...
Hail Mary...
Glory Be...
O Mary, conceived without sin, pray for us who have recourse to you, and for all those who do not have recourse to you, especially the enemies of Holy Church and all those recommended to you.
Take a moment to treasure up all these things and ponder them in your heart (cf Luke 2,19)
comments
Let your speech always be gracious, seasoned with salt, so that you may know how you ought to answer everyone. Col 4:6
 Brick Township, 1 year ago
Helene Thank you for the prayers Blessed grace-filled day of joy!
 Brick Township, 1 year ago
Blessings to all my brother and sisters in Christ Jesus...I love this website Praise God I found it...In Jesus Name...AMEN!
Would you like to receive more posts from this community of prayer?
Novena for the Assumption with St Maximilian Kolbe
Summary - Join us for a Solemn Novena in the honor of the Assumption of Our Lady, under the guidance of the devoted Marian Apostle, St. Maximilian Kolbe. Discover the community