DAY 5: ''Do not worry saying : 'what shall we eat ?'' Matthew 6,31
Part 1: Gospel from Saint Matthew 6, 25-34
''Therefore I say to you, do not worry about your life, what you will eat or what you will drink ; nor about your body, what you will put on. Is not life more than food and the body more than clothing? Look at the birds of the air, for they neither sow nor reap nor gather into barns ; yet your heavenly Father feeds them. Are you not of more value than they ? Which of you by worrying can add one cubit to his stature ? So why do you worry about clothing ? Consider the lilies of the field, how they grow : they neither til nor spin ; And yet I say to you that even Solomon in all his glory was not arrayed like one of these. Now if God so clothes the grass of the field, which today is, and tomorrow is thrown into the oven, will He not much more clothe you, O you of little faith ? Therefore do not worry saying, 'What shall we eat ?' or 'What shall we drink ?' or 'What shall we wear ?' For after all these things the Gentiles seek. For your heavenly Father knows that you need all these things. But seek first the kingdom of God and His righteousness, and all these things shall be added to you. Therefore do not worry about tomorrow, for tomorrow will worry about its own things. Sufficient for the day is its own trouble''.
PART 2: MEDITATION (10 MIN)
The words from the 'Our Father' to meditate on this day : 'Give us this day our daily bread'.
Let's put ourselves in a quiet environment and empty our minds.
Do the sign of the cross.
Plead the Virgin Mary to help us and be with us during our prayer. Meditate the extract from the 'Our Father' in our heart enjoying each word.
PART 3: REQUEST OF A SPECIAL INTENTION FOR THE FATHERS' FEAST.
Saint Francois de Sales's prayer to Saint Joseph : Glorious Saint Joseph
Glorious Saint Joseph, spouse of Mary, grant us your paternal protection, we pray you through the heart of Jesus Christ. You, whose infinite power covers all our needs, and you who make possible for us the most impossible things, open your eyes as a father on your children's interests. In embarassment and pain that press us, we come to you with confidence ; may you take us under your charitable care and solve this so important issue (your intention), source of our worries. May its successful end serves to glorify the Lord and benefits his devoted servants.
Amen
PART 4 (end): CHARLES DE FOUCAULD'S PRAYER OF SURRENDER
'Father I surrender myself into your hands
Do with me what you will
Whatever you may do I thank you
I am ready for all I accept all
Let only your will be done in me and in all your creatures. I wish no more than this, o Lord.
Into your hands I commit my soul; I offer it to you with all the love of my heart,
for I love you and it is right to give myself to you,
to surrender myself into your hands,
without reserve,
and with boundless confidence,
for you are my Father'. Amen
How to pray the Rosary of Mercy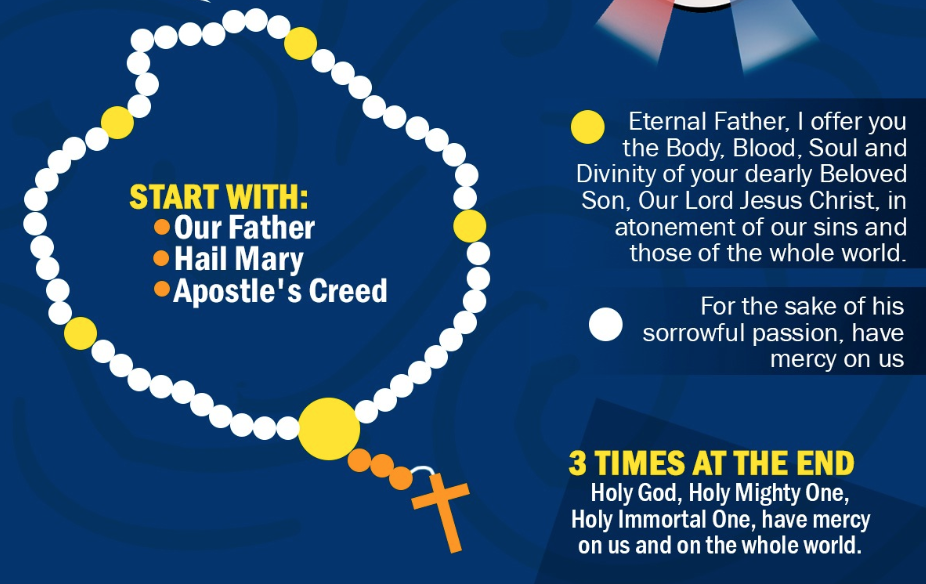 Take a moment to treasure up all these things and ponder them in your heart (cf Luke 2,19)
Let your speech always be gracious, seasoned with salt, so that you may know how you ought to answer everyone. Col 4:6