Day 4: Novena to the Sacred Heart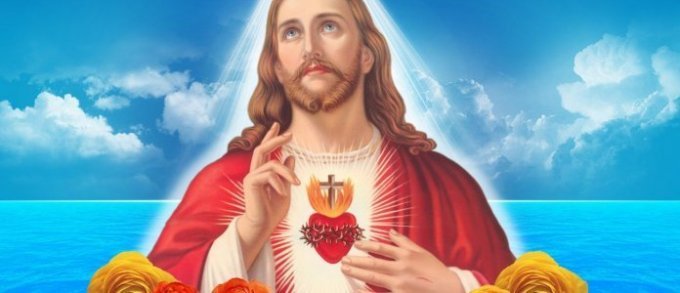 Let us pray to the Heart of our Lord Jesus Christ who sent the Holy Ghost as the first bestowal of his love.
God, in the beginning, your Holy Spirit was hovering over the waters. At the dawn of our redemption, it covered the Virgin Mary with its shadow, created into her the Heart of her Son and filled it with love. May your Holy Spirit come unto us and pour your love into our hearts. We ask you by the power of Our Lord Jesus Christ, Your Son who lives and reigns with You and the Holy Spirit, one God, forever and ever.
From the Gospel of John 7,37-39
"On the last and greatest day of the feast, Jesus stood up and exclaimed, "let anyone who thirsts come to me and drink. Whoever believes in me, as scripture says: 'Rivers of living water will flow from within him'. He said his in reference to the Spirit that those who came to believe in him were to receive. There was, of course, no Spirit yet, because Jesus had not yet been glorified."
Meditation with St John Paul II:
We can put our hope in the Heart of Christ. This Heart is the salvation for those who believe in him.
The Lord, who asked the Apostles to trust him the day before enduring his Passion -"Do not let your hearts be troubled. Have faith in God; have faith also in me." (Jn 14,1)- asks us today to trust him entirely. He asks us because he loves us: indeed, for our salvation, his Heart was pierced, his feet and hands nailed to the tree...
Whoever believes in Christ and believes in the power of his love, relives the experience of Maria Magdalena, as shown in the paschal liturgy: "Christ, my hope, is risen!"
Let us then take refuge in the Heart of Christ! He offers us an eternal Word (cf Mt 24,25), an endless love, a perpetual friendship, an everlasting presence (Mt 28,20).
O God, Your Son didn't reject Thomas for his lack of faith but instead allowed him to touch His hands and His side. Our faith is frail, we beg You to strengthen it. We ask this through Jesus Christ Your Son, standing by your throne, bearing the glorious scars of his wounds, now and forever and ever.
Chaplet of the Sacred Heart. Here's how to proceed for the Chaplet:
- Begin with the following prayer on the Crucifix (written by St. Ignatius of Loyola, or St. Thomas of Aquinas):
'Soul of Christ, sanctify me/Body of Christ, save me/Blood of Christ, inebriate me/Water from the side of Christ, wash me/Passion of Christ, strengthen me/O Good Jesus, hear me/Within your wounds, hide me/Permit me not to be separated from you/From the wicked foe, defend me/At the hour of my death, call me and bid me come to you/That with your saints I may praise you forever and ever. Amen.
- On the large beads say:
'O sweetest Heart of Jesus, I implore that I may ever love you more and more.'
- On the small beads say:
'Sweet Heart of Jesus, be my love.'
- At the end of each decade, say:
'Sweet Heart of Mary, be my salvation'.
-Upon completing the chaplet, say:
'May the Heart of Jesus in the Most Blessed Sacrament, be blessed, adored and praised with grateful affection, at every moment in all the tabernacles of the world, even to the end of time.'
Take a moment to treasure up all these things and ponder them in your heart (cf Luke 2,19)
Let your speech always be gracious, seasoned with salt, so that you may know how you ought to answer everyone. Col 4:6