Day 2: Novena to the Sacred Heart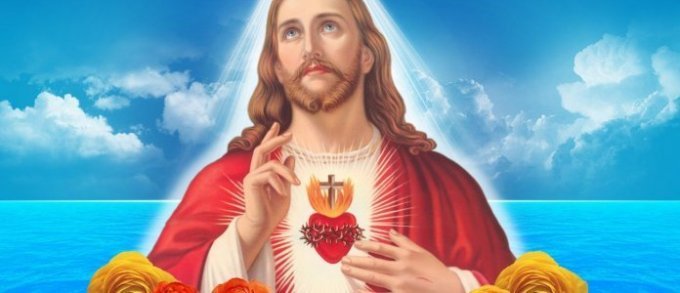 Let us pray to the Heart of our Lord Jesus Christ, whose side was pierced when he was crucified for our salvation.
Father, Your Son loved us and gave himself for our salvation by dying on the cross. May his wounded heart be an everlasting reminder of his immense love, and an inspiration to love him as he loved us, he who lives and reigns with You and the Holy Spirit, one God, forever and ever.
From the book of Zechariah 12, 9-10; 13,1
The Lord says: 'I will pour out on the house of David and on the inhabitants of Jerusalem a spirit of mercy and supplication so that when they look on him whom they have thrust through, they will mourn for him as one mourns for an only child, and they will grieve for him as one grieves over a firstborn.
On that day a fountain will be opened for the house of David and the inhabitants of Jerusalem, to purify from sin and uncleanness.'
A reading from the gospel according to John 19, 32-34
'So the soldiers came and broke the legs of the first and then of the other one who was crucified with Jesus. But when they came to Jesus and saw that he was already dead, they did not break his legs, but one soldier thrust his lance into his side, and immediately blood and water flowed out.'
Meditation with Pope Emeritus Benedict XVI:
He who accepts God's love is modeled by it. Man's experience of God's love is akin to a 'calling', which must be answered.
Gazing upon the Lord, who took away our infirmities and bore our diseases (Mt 8,17), we're becoming more mindful of the suffering and the needs of others. By gazing into the deeply pierced side of Christ, we become able to understand the will of God to save us. It enables us to trust his saving, merciful love, and at the same time, strengthens our desire to partake in his deed of salvation, by becoming his instruments.
The offerings that flew from the pierced side of Christ, blood, and water, transform our life into a living spring for others. By the power of these very offerings, we become more available to others, and we don't give into the temptation of withdrawal from incessantly serving others. We learn to 'live for others'.
'The way we came to know love was that he laid down his life for us; so we ought to lay down our lives for our brothers' (1 Jn 3,16).
Lord Jesus, you said that upon your nailing on the cross, you would draw all mankind to you. We beg you, hasten the coming of the day when all men will be drawn to your open heart, to find the riches of your love, and a safe dwelling, now and forever, you who live and reign forever and ever.
Pray the Sacred Heart of Jesus. Here's how to proceed for the Chaplet:
- Begin with the following prayer on the Crucifix (written by St. Ignatius of Loyola, or St. Thomas of Aquinas):
'Soul of Christ, sanctify me/Body of Christ, save me/Blood of Christ, inebriate me/Water from the side of Christ, wash me/Passion of Christ, strengthen me/O Good Jesus, hear me/Within your wounds, hide me/Permit me not to be separated from you/From the wicked foe, defend me/At the hour of my death, call me and bid me come to you/That with your saints I may praise you forever and ever. Amen.
- On the large beads say:
'O sweetest Heart of Jesus, I implore that I may ever love you more and more.'
- On the small beads say:
'Sweet Heart of Jesus, be my love.'
- At the end of each decade, say:
'Sweet Heart of Mary, be my salvation'.
-Upon completing the chaplet, say:
'May the Heart of Jesus in the Most Blessed Sacrament, be blessed, adored and praised with grateful affection, at every moment in all the tabernacles of the world, even to the end of time.'
Take a moment to treasure up all these things and ponder them in your heart (cf Luke 2,19)
Let your speech always be gracious, seasoned with salt, so that you may know how you ought to answer everyone. Col 4:6