Day 8 - Saint Rita, Pierced with Christ's Thorn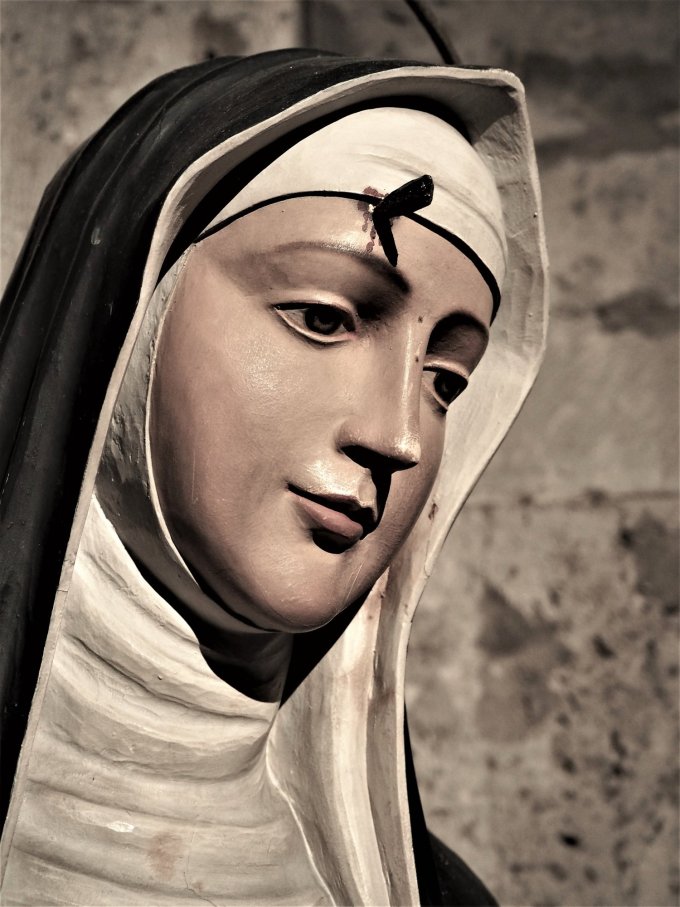 In the name of the Father, and of the Son and of the Holy Spirit. Amen.
1 Peter 2, 21-24
For to this you have been called, because Christ also suffered for you, leaving you an example that you should follow in his footsteps. He committed no sin, and no deceit was found in his mouth.When he was insulted, he returned no insult; when he suffered, he did not threaten; instead, he handed himself over to the one who judges justly. He himself bore our sins in his body upon the cross, so that, free from sin, we might live for righteousness. By his wounds you have been healed.
Prayer of this day
Saint Rita, patroness of the forgotten and lonely, through your intercession, help me in these moments of affliction, doubt, loneliness, confusion, to always know how to fight against all forms of evil.
Merciful God, do not allow me, as a Christian, subject of a King crowned with thorns, and baptized in his blood, to flee from the Cross. Blessed Rita, you have asked the Lord to help him carry his Cross. He sent you a thorn from His crown, you welcomed it with joy and carried it for fifteen years, may your holy intercession help me to accept to follow Jesus in all His wills.
What merit is there in choosing His way if I only have to follow Him on a path dotted with roses?
To unite yourself to Heaven, heroic Rita, you have acted by imitating our Savior, you have accepted to let yourself be touched by Him; every time we refuse to do so, it is Christ whom we refuse.
May your holy example surely guide my steps towards hope and trust. Amen.
Saint Rita, pierced with Christ's thorn, pray for us.
Recite 3 'Our Father', 'Hail Mary' and 'Glory to the Father'
Take a moment to treasure up all these things and ponder them in your heart (cf Luke 2,19)
15 comments
Let your speech always be gracious, seasoned with salt, so that you may know how you ought to answer everyone. Col 4:6