In the Spirit, consecration for our sanctification.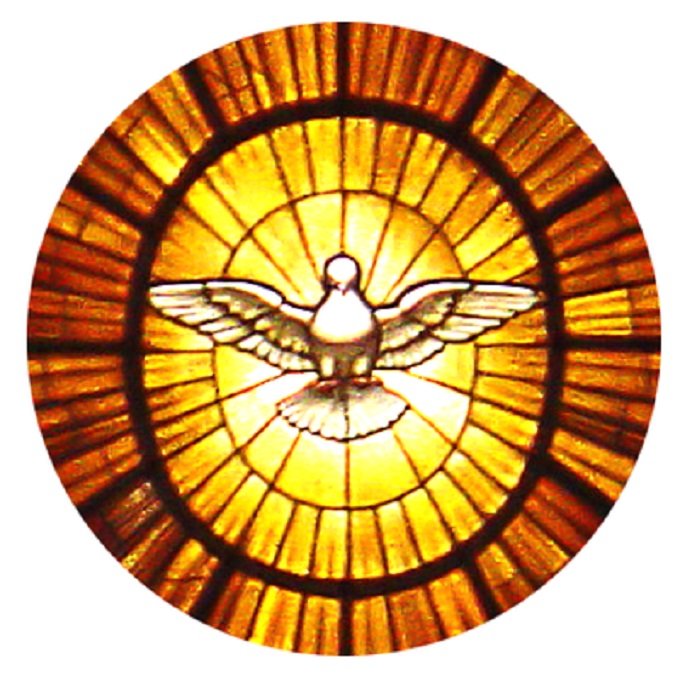 'If we live in the Spirit, let us also follow the Spirit.' (Galatians 5,25)
Invocation to the Holy Spirit:
In the Name of the Father, and the Son, and the Holy Spirit, Amen.
Come, Holy Ghost, Creator, come/from thy bright heavenly throne;/come, take possession of our souls,/and make them all thine now./Thou who art called the Paraclete,/best gift of God above,/the living spring, the living fire,/sweet unction and true love./Thou who art sevenfold in thy grace,/finger of God's right hand;/his promise, teaching little ones/to speak and understand./O guide our minds with thy blest light,/with love our hearts inflame;/and with thy strength, which never decays,/confirm our mortal frame./Far from us drive our deadly foe;/true peace unto us bring;/and through all perils lead us safe/beneath thy sacred wing./Through thee may we the Father know,/through thee the eternal Son,/and thee the Spirit of them both,/thrice-blessed three in One./All glory to the Father be,/With his coequal Son;/The same to thee, great Paraclete,/While endless ages run./Amen.
Veni Creator Spiritus, Version II
Psalm 103 (104):
Bless the Lord, my soul!/Lord, my God, you are great indeed!/[...]How varied are your works, Lord!/In wisdom you have made them all;/the earth is full of your creatures./[...]May the glory of the Lord endure forever;/may the Lord be glad in his works!/[...]May my meditation be pleasing to him;/I will rejoice in the Lord.
Reading: 1 Thessalonians 4,1-3;8
Finally, brothers, we earnestly ask and exhort you in the Lord Jesus that, as you received from us how you should conduct yourselves to please God - and as you are conducting yourselves - you do so even more. For you know what instructions we gave you through the Lord Jesus. This is the will of God, your holiness [...]. Therefore, whoever disregards this, disregards not a human being but God, who [also] gives his Holy Spirit to you.
Meditation:
Faithful soul, living image of God, redeemed by the Precious Blood of Jesus Christ, it is the will of God that you be holy like Him in this life and glorious like Him in the next. Your sure vocation is the acquisition of the holiness of God, and unless all your thoughts and words and actions, all the sufferings and events of your life tend to that end, you are resisting God by not doing that for which He has created you and is now preserving you.
Oh, what an admirable work! To change that which is dust into light, to make pure that which is unclean, holy that which is sinful, to make the creature like its Creator, man like God! Admirable work, I repeat, but difficult in itself, and impossible to mere nature; only God by His grace, by His abundant and extraordinary grace, can accomplish it. Even the creation of the whole world is not so great a masterpiece as this.
It all comes to this, then: that you should find an easy means for obtaining from God the grace necessary to make you holy; and this means I wish to make known to you. Now, I say that to find this grace of God, we must find Mary. Almighty God and his holy Mother are to raise up great saints who will surpass in holiness most other saints as much as the cedars of Lebanon tower above little shrubs.
St. Louis-Marie Grignion de Montfort, The Secret of Mary, §3;6 - Treatise on True Devotion, §47.
Consecration prayer:
From your Immaculate Conception to your Glorious Assumption, Virgin Mary, you lived in the intimacy of the Holy Spirit. I hereby consecrate to you all within me in need of transformation by the grace of God, so that I may become holy, so that I may become the Saint God wants me to be. Queen of the saints, grant me to believe in the power of the Spirit and to undertake all measures to answer the call to holiness.
Pray a chaplet decade.
Take a moment to treasure up all these things and ponder them in your heart (cf Luke 2,19)
Let your speech always be gracious, seasoned with salt, so that you may know how you ought to answer everyone. Col 4:6