Rebuilding foundations of hope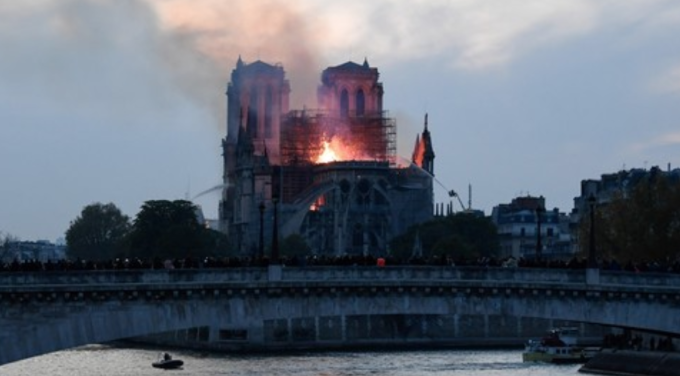 Dear Friends,
In light of the recent news regarding the terrible fire at Notre Dame de Paris, we must unite together in prayer not just for the people of France, but for the needs of the whole world. I would like to share with you a thought from Bishop Barron of Los Angeles.
He said, "I just think of Our Lady of Sorrows, Mary accompanying Jesus to the cross-especially on Holy Week: how can you not be moved?"
He went on to express the hope that in the same way that the trials of Holy Week lead to the Resurrection, Monday's tragedy might be an opportunity for God to bring life out of death. "I can't help but think, might it awaken within the French people and the people of Europe a deeper sense of connection to the Christian faith--the faith that made that building possible? Will the loss of it awaken in people a reappreciation of the faith? My hope is yes."
Brothers and sisters, let us unite in prayer that God will bring new life and faith out of this situation. That the people of France and of the Church will arise in unity and witness to Gods love and mercy.
Prayer
When he first came to Paris on May 30, 1980, St. John Paul II prayed this prayer at the foot of the statue of Our Lady of Paris:
Virgin Mary, in the heart of the City
We pray for this capital city
You, the Untainted, keep to him the purity of faith!
Virgin Mary, from this edge of the Seine,
We pray you for the country of France.
You, Mother, teach him hope!
Virgin Mary, in this high place of Christendom,
We pray for all the peoples of the earth.
You, full of grace, get them to be one in Love.
Take a moment to treasure up all these things and ponder them in your heart (cf Luke 2,19)
Let your speech always be gracious, seasoned with salt, so that you may know how you ought to answer everyone. Col 4:6