Day Two: The Immaculate Conception
On the second day of this novena, let us remember the Blessed Virgin's revelation of herself to Bernadette as the Immaculate Conception.
In the words of St. Bernadette
"Love overcomes, love delights. Those who love the Sacred Heart of Jesus rejoice."
Daily Prayer
In the name of the Father, and of the Son, and of the Holy Spirit. Amen.
Our Lady of Lourdes, we come to you like little Bernadette at the grotto. We pray with childlike trust in you.
Our Lady of the Immaculate Conception, when you appeared in Lourdes, you made it a holy sanctuary where many have obtained the cure of their infirmities, both spiritual and corporal. We pray with confidence for your holy intercession. Holy Mother of the Rosary, we feel confident that your prayers on our behalf will be graciously heard by God.
Immaculate Mother, comfort us in our affliction.
Remember, O most gracious Virgin Mary, that never was it known that anyone who fled to your protection, implored your help, or sought your intercession was left unaided. Inspired by this confidence, we fly unto you, O Virgin of virgins, my mother; to you do we come, before you we stand, sinful and sorrowful. O Mother of the Word Incarnate, despise not our petitions, but in your mercy, hear and answer us. Amen.
Be blessed, O most pure Virgin, for having vouchsafed to manifest yourself shining with light, sweetness, and beauty, in the Grotto of Lourdes, saying to the child Saint Bernadette: "I am the Immaculate Conception!" O Mary Immaculate, inflame our hearts with one ray of the burning love of your pure heart Let them be consumed with love for Jesus and for you, in order that we may merit one day to enjoy your glorious eternity. O dispenser of His graces here below, take into your keeping and present to your Divine Son the petition for which we are making this novena.
(State your request here)
O Brilliant star of purity, Mary Immaculate, Our Lady of Lourdes, glorious in your assumption, triumphant in your coronation, show unto us the mercy of the Mother of God, Virgin Mary, Queen and Mother, be our comfort, hope, strength, and consolation. Amen.
Our Lady of Lourdes, pray for us.
Saint Bernadette, pray for us.
Picture: Saint Bernadette in a non-dated photograph. CC0 Public domain.
Take a moment to treasure up all these things and ponder them in your heart (cf Luke 2,19)
Let your speech always be gracious, seasoned with salt, so that you may know how you ought to answer everyone. Col 4:6
Would you like to receive more posts from this community of prayer?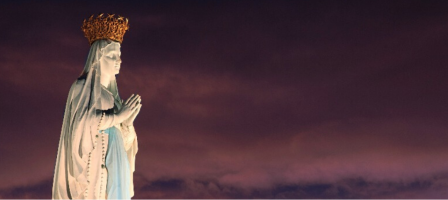 Our Lady of Lourdes Novena
Summary - For nine days, join us as we kneel before Our Lady of Lourdes and present our petitions to her, with the childlike trust of young Bernadette.  Discover the community