Day One: Saint Aloysius Gonzaga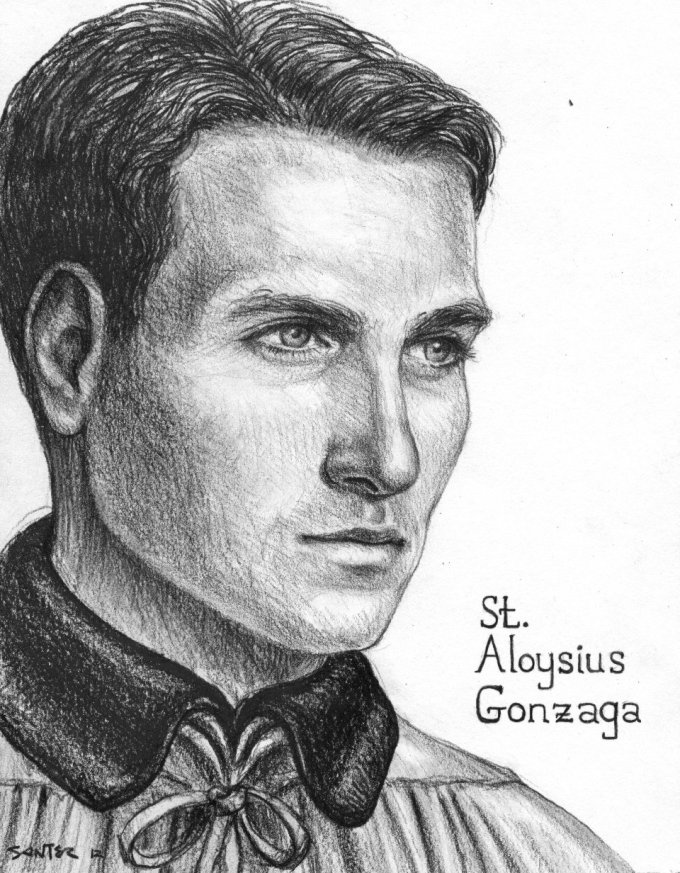 Saint Aloysius Gonzaga
As soon as Aloysius was born, his parents began planning for his future. His mother wanted him to be a priest. His father was determined to have his oldest son become a military leader or famous political figure—anything but a priest.
At the age of five, Aloysius was sent to a military camp to get started on his career. His father must have been very pleased to see his son marching at the head of the platoon of soldiers around the campgrounds. His mother and his tutor were extremely displeased, however, when Aloysius came home using the rough, coarse language of the camp. At the age of seven, Aloysius received a special insight from God. While other boys were dreaming about being military heroes or heads of wealthy estates, Aloysius thought of other matters. He decided to become a saint, and he began acting on that decision. He prayed long hours at night and fasted several times a week.
While he was on a visit to Spain with his parents, Aloysius read the lives of saintly Jesuit missionaries, and he decided to become a Jesuit. His father and some other relatives tried hard to change his mind. It was a fierce battle of wills, but after several years, Aloysius won. With his father's permission, Aloysius gave his large inheritance to his brother and joined the Jesuit order at 17 years of age. The novice director, who was in charge of training Aloysius, told him to cut down on his long hours of prayer and to give up some of his fasting and other penances. Aloysius obeyed willingly. He understood that obedience was better than "doing his own thing."
When Aloysius was 23, a serious epidemic broke out in Rome. Aloysius volunteered at once to help in the hospital. At that time hospitals were not the clean, orderly places with which we are familiar today. It was very easy to catch an illness. That is what happened; Aloysius became very ill. No medicine could help him. Aloysius was not afraid to die.
Aloysius shows that young people are not too young to become saints. During his life, he had focused on doing what God wanted—serving and loving God and his neighbor.
Saint Aloysius is the patron saint of young people, Jesuit students, AIDS patients and caregivers.
From Saints and Feast Days, by the Sisters of Notre Dame of Chardon, Ohio
Teachings of Saint Aloysius
On mental prayer: "A want of due attention to mental prayer is the reason why some have so little fervor in the service of God and give so great scope to their passions."

On confidence in God: "He who falls into a fault, however light it may be, ought to rise immediately, have recourse to God, beg pardon of Him, and ask grace never to commit it again."


Meditation
"So what did Aloysius do with his lovely light? From surface facts, he did not contribute to world peace or environmental causes. He did nothing to save the dolphins or the Lombardy Poplar or promote democratic government. Aloysius' mission was in being rather than doing, and in following God's will."—Ethel Pochocki
Prayer for the Youth with St. Aloysius
Dear Christian youth, you were a faithful follower of Christ in the Society of Jesus. You steadily strove for perfection while generously serving the plague-stricken. Help our youth today who are faced with a plague of false cults and false gods. Show them how to harness their energies and to use them for their own and others' fulfillment - which will redound to the greater glory of God. Amen.
Saint Aloysius Gonzaga, pray for our youth!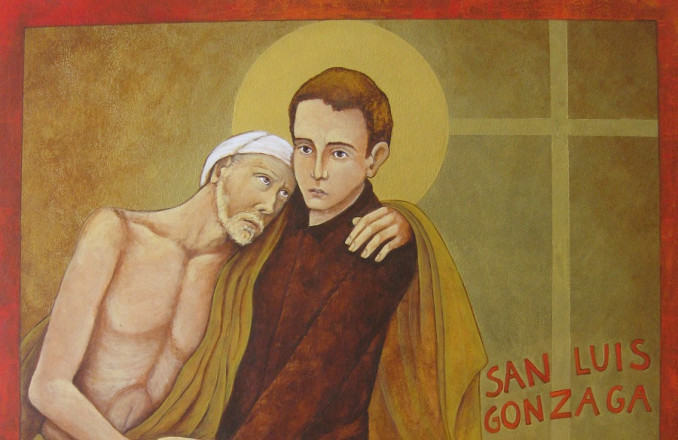 Pictures:
Top picture: Portrait of St. Aloysius Gonzaga, by Christopher Santer, Pacem Studio. Used with permission.
Bottom picture: Saint Aloysius assisting a sick person, the very act that cut short his earthly life - taken from the Company of Jesus website in Chile.
Take a moment to treasure up all these things and ponder them in your heart (cf Luke 2,19)
Let your speech always be gracious, seasoned with salt, so that you may know how you ought to answer everyone. Col 4:6