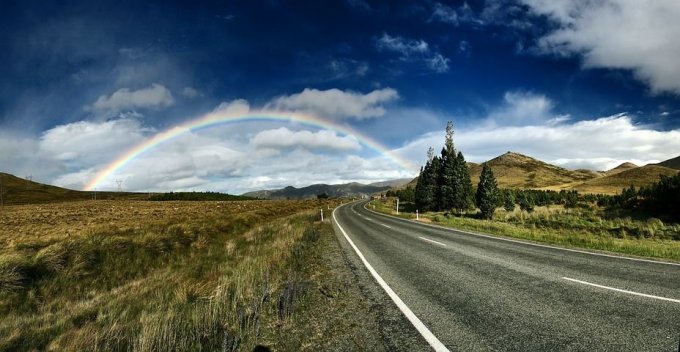 Daily Verse
"Be strong and steadfast; have no fear or dread of them, for it is the Lord, your God, who marches with you; he will never fail you or forsake you." Deuteronomy 31,6
Prayer
God, who is more than we can ever comprehend,
help us to seek you,
and you alone.
Help us to stand before all that we could do
and seek what you would do,
and do that.
Lift from us our need to achieve all that we can be
and instead,
surrender to what you can be in us.
Give us ways to refrain from the busyness
that will put us on edge and off center,
give us today your peace. Amen.
Author unknown.
Meditation
Let us go forward in peace, our eyes upon heaven, the only one goal of our labors. - St. Thérèse of Lisieux
Picture: Rainbow over a road path. CC0 Picture domain.
Take a moment to treasure up all these things and ponder them in your heart (cf Luke 2,19)
Let your speech always be gracious, seasoned with salt, so that you may know how you ought to answer everyone. Col 4:6
Would you like to receive more posts from this community of prayer?
Novena for Peace of Mind
Summary - During nine days, join us in prayers to ease anxiety and worry. Learn to rely on the Lord, our shelter against the storms of life.  Discover the community