Welcome to the Matt Talbot Prayer Group!
Like the description says, this is a place where Hozana members who are touched by alcoholism and other addictions can share: prayers, things they are going through, favorite devotions and anything that they think and feel can help other manage their recovery.
I am Paul S., the Community Creator and Manager. I have been sober since 22 May 2002, which is the Feast Day of St. Rita of Cascia. She is known as the "patron saint of hopeless and impossible causes," and I was one. After a few years of sobriety I decided to start a blog telling how I used the Catholic Faith to maintain my sobriety. It has been running for nearly twelve years (5 January 2007) and I think does a good job. ;-) You can find it here SoberCatholic.com. It's story is here: about SoberCatholic My drinking story is here: My Drinking Story
I hope to come up with a variety of topics to assist others in their journey. I do hope that members make good use of the "comments" area of the posts, as that is where I think the "heart and soul of the Prayer Group will be. Please feel free to start right away in the comments, asking questions and so forth. This is not a "12 Step" Group, but 12 Step material can be shared here.

One thing you must know, I am NOT a certified or "credentialed" recovery specialist. I hold no degrees in psychology or have any recovery certifications. I am not a trained professional. All I am is an orthodox Roman Catholic with years of recovery experience involving Catholic faith and spirituality. Anything I say is about as credible as anything you might hear in a recovery meeting room.
Thank you for being here!
Take a moment to treasure up all these things and ponder them in your heart (cf Luke 2,19)
comments
Let your speech always be gracious, seasoned with salt, so that you may know how you ought to answer everyone. Col 4:6
Paul how do I help an abusive alcoholic who now has breast cancer and checked out of a rehab that the DR put her in? I am weary and love her dearly, but she usually uses the money to get booze or sells things to get it...I am not an addict by Gods Grace and Love, and have gone to AA alon but I learned there thatI cant make the decision for her...I pray always and in the past when I wasnt as ill as I am, I tried to help her and her children. But I no longer seem to be able to influence her...I ask your advice ...Please pray for us both... She is abusive and gets very angry then estranges herself from us all, if she doesnt get her way... I have no more answers or energy for her , but I know God can intervene tho she says that is MY way, not hers...?
Hello Jay; first of all I am sorry that you are enduring this pain. It is indeed a heavy cross that you bear but that may be all you can do for now. Pray and offer it all up to God. One thing that people discover in addiction recovery is that people cannot quit until they are ready. Sometimes addicts and alcoholics need to hit 'rock bottom' before they can stop; they need to finally reach that place where they realize that "If I continue with this addiction I will die, if I stop it, and may only wish I were dead. I choose to live." You should just pray that you, or someone else, is available and ready when she arrives at that point. If she is that trapped and stubborn in her addiction, there's not much that you can do at this point. Of course I will pray for you both; that is what Hozana is for!
Would you like to receive more posts from this community of prayer?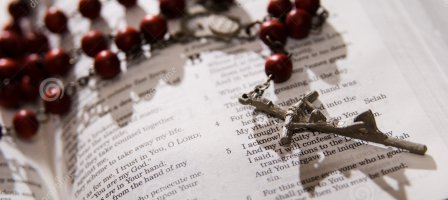 Alcoholism and Addiction Prayers and Support
Summary - Strengthen your sobriety and recovery through the power of prayer and spiritual growth! Discover the community