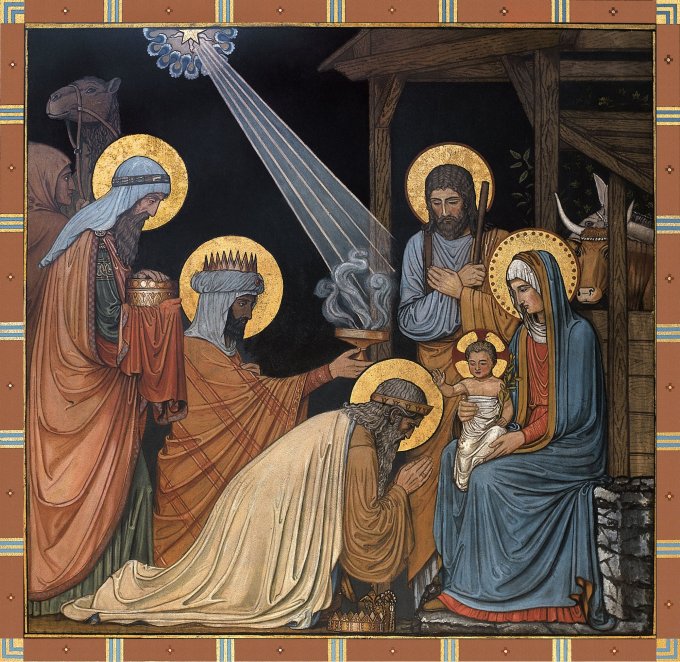 Prayer of the Novena
O holy Magi,
who at the first appearance of the wondrous star
left your native country to go and seek
the newborn king of the Jews,
obtain for us the grace of corresponding
with alacrity to every divine inspiration.
Glory be to the Father, and to the Son, and to the Holy Spirit, as it was in the beginning, is now, and ever shall be, world without end. Amen.
Meditation
I salute Thee, O divine Heart, with the three Magi who offered their homage to Thee. Regard me, I beseech Thee, with the same love and kindness with which Thou didst receive them, that I may offer with my heart, gold, frankincense, and myrrh; that is to say, my intellect, my memory, and my will, in complete subjection to Thee, in faith, hope, charity, in thought, word, and deed. Accept my offering, accept my heart, and grant that I may live and die thanking Thee for the invaluable favor of being called to the true faith. Hence, I beg of Thee, by the joy which filled Thy heart, when Thou didst see the first of the Gentiles at Thy feet, to hear my prayer and grant the requests I make during this Novena.
Amen.
Music: Magi Viderunt Stellam
This is the Magnificat Antiphon at First Vespers on the feast of the Epiphany.
Latin text:
Magi vide[runt] stellam,
[qui] dixerunt ad invicem:
'Hoc signum magni Regis est,
eamus et inquiramus eum,
et offeramus ei munera:
aurum, thus et myrrham.'
English Translation:
The magi, [having seen] the star,
said, each in turn:
"This is the sign of a great king!
Let us go and look for him
and offer him gifts,
gold, frankincense and myrrh."
Picture: "Adoration of the Magi", mural artwork in the Basilica of the Immaculate Conception in Conception, Mo. Painted by Benedictine monks in the late 1800s, the artwork is the first appearance of the German Beuronese style in a U.S. church.
Take a moment to treasure up all these things and ponder them in your heart (cf Luke 2,19)
Let your speech always be gracious, seasoned with salt, so that you may know how you ought to answer everyone. Col 4:6